Posted on
Blood donations in need, especially plasma from those who had COVID-19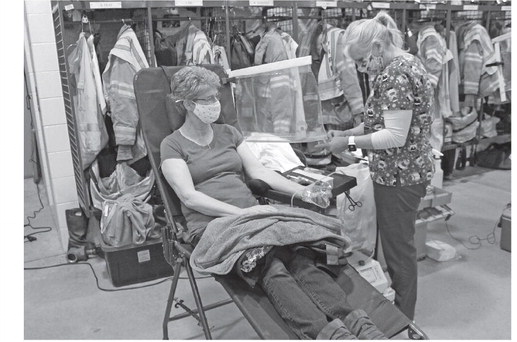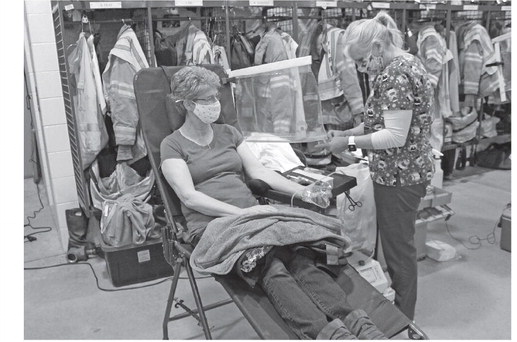 December may be the season of giving - but it's typically a challenging time to collect enough blood donations. Add in a pandemic, and this year could be even tougher than usual. That's why the American Red Cross is urging those who are feeling well to give the gift of life by donating blood this holiday season.
The need for blood doesn't stop for holidays. Between Thanksgiving and Christmas, more than 1 million blood transfusions will be given in the United States. Donations of all blood types are needed to ensure hospital shelves remain stocked to meet patient blood needs.
Make your appointment to give blood, platelets or plasma with the Red Cross by downloading the Red Cross Blood Donor App, visiting RedCrossBlood.org, calling 1-800-RED CROSS (1-800-733-2767) or enabling the Blood Donor Skill on any Alexa Echo device.
To encourage donations this holiday season, those who come to donate blood, platelets or plasma with the Red Cross Dec. 18-Jan. 4 will receive a long-sleeved Red Cross T-shirt, while supplies last.
In addition to the Red Cross, the Blood Center of Northcentral Wisconsin provides essential blood products to patients in Marathon, Langlade, Portage, Taylor, and Wood Counties. For over 65 years, they have partnered with blood donors to maintain a safe and adequate local blood supply. The Blood Center holds drives monthly in Taylor County on the first Wednesday of the month at the Medford Area Fire Department and in Rib Lake on the last Wednesday of the month. The next community blood drive in Rib Lake will occur at the Rib Lake Fire Hall from 3:30 to 6:30 p.m. on Wednesday, Dec. 30.
COVID-19 plasma needed
As COVID-19 hospitalizations increase, hospital demand for convalescent plasma has also grown. COVID- 19 convalescent plasma is a type of blood donation given by those who've recovered from this coronavirus. Their plasma contains antibodies that may help patients actively fighting the virus.
During a plasma donation, blood is drawn from an arm and sent through a high-tech machine that collects your plasma and then safely and comfortably returns your red cells back to you, along with some saline.
Historically, convalescent plasma has been used as a potentially lifesaving treatment in some situations when new diseases or infections develop quickly, and no treatments or vaccines were available yet. Convalescent plasma is plasma collected from patients who have recovered from an infection and have antibodies that might help fight that infection—in this case patients who have fully recovered from COVID-19. More recently, some information suggests that convalescent plasma could help some coronavirus patients - especially those who are seriously ill.
Plasma is the liquid portion of your blood. It helps with clotting and supports immunity. It contains antibodies that fight off infections, so those who have recovered from this new coronavirus will have antibodies in their blood plasma that help protect them against future infections.
Eligible individuals can donate their COVID-19 plasma as often as every seven days for up to three months donating a maximum of eight times. Prior convalescent plasma donations made within the standard donation interval period of 28 days, do not count toward the eight donations or three-month totals.
After three months or eight donations - whichever comes first - the donor will be deferred from all types of blood donations for six months. The Red Cross urges all convalescent plasma donors to take advantage of this new opportunity - frequent convalescent plasma donations will help meet the growing need for this potentially lifesaving product.
The Red Cross will be holding a blood drive at Immanuel Lutheran Church in Medford on Monday, Dec. 21 from noon to 6 p.m.
Ann Harris of Medford donated her blood plasma during the community blood drive at the Medford Fire Hall on Dec. 2. Their donation will help provide treatments for others who are seriously ill with COVID-19.
DONALD WATSON/THE STAR NEWS
Katie Zenner donated blood plasma at the community blood drive in Medford last week. There is a critical need for blood plasma from those who have recovered from COVID-19.
DONALD WATSON/THE STAR NEWS