Posted on
Sending a message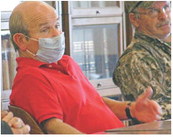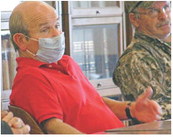 County board leadership emphasizes severity of COVID-19 in community
With COVID-19 cases on the rise, Taylor County's county board leadership committee is refining its message regarding virtual-only meetings.
Previously, the county's executive committee had directed all county board members to appear virtually at meetings to reduce the number of people entering the courthouse. This was part of an overall attempt to reduce public access to the courthouse as part of a continuity of government plan to prevent the disease from spreading and shutting down government.
Public access to county buildings was reduced to appointment-only with a county courthouse staff member watching the door to allow people in as needed.
However, concerns were raised by county board members who wanted inperson meetings, or at least the option to have them. For months, the county has provided board members and the public the option to attend meetings virtually through the GoTo Meeting platform where people can either dial in over the phone or through an online interface. At the November 25 county board executive committee meeting, board chairman Jim Metz said he had been contacted by at least two county board members who were uneasy with not being able to go to meetings in person and expressed that he also prefers to be at meetings in person.
Committee member Chuck Zenner suggested a change in wording that would have the executive committee strongly recommending that board members and guests attend remotely but leaving the door open for those who are unable to attend remotely to attend in person.
Committee member Scott Mildbrand suggested using unwilling in place of unable to give more flexibility, however he said the goal is to reduce having people come into the courthouse as much as possible. "We would like them not to come if they don't have to," Mildbrand said.
Committee member Lester Lewis said he didn't like using the word "unwilling" because he said it has the wrong connotation. "Unwilling sounds like you are being contrary," he said.
In the end, the committee settled on allowing board members to attend meetings in person if they are "unable or uncomfortable with attending virtually."
There was also discussion about making sure the public was able to continue to get access to the courthouse as needed. The plan was to have a doorbell placed so that the public can contact someone to let them in. County clerk Andria Farrand said they had different staff members watching the door as duties permit including court security officer Lisa Kauffman.
Mildbrand said he knows this puts a burden on county employees but said access is important. "I think it is still important that people get access to what they need in the courthouse," he said.
Taylor County health director Patty Krug also addressed committee members emphasizing the severity of the COVID-19 crisis in the county.
She noted that as of 1 p.m. that day, the county had received 33 new cases with many more expected to come. She said the county needs to be the leader in the community in how to ensure workplace safety. She noted that when they get a department with two to three people out due to exposure to COVID-19, they will quickly run into not being able to have those departments function.
"We need to show people and demonstrate our leadership in order to maintain services in the county," Krug said. She spoke of talking with a doctor from Los Angeles who was in Taylor County as part of the DMAT team assisting with the overload of cases from around the region at Aspirus Medford Hospital. She said the doctor asked why there wasn't a mask mandate in place noting that the medical personnel would go out to eat and see servers and others without masks in restaurants and businesses. "We don't have the authority to do that," she said in reply to the doctor's question.
"They are here to help because our healthcare system is overwhelmed. I think it gives our community a black eye," she said, referring to medical people from outside the area noting the lack of people wearing masks.
She said that if the area wants to keep the schools and businesses open, mask wearing must occur.
As of Tuesday afternoon, Taylor County was at 1,323 positive cases, up 127 from the prior week. As of Tuesday, the health department had been notified of 64 new cases that day. There are currently 483 people in quarantine and 15 local residents hospitalized due to COVID-19. There were no new COVID-19 deaths reported by the medical examiner in the past week with the local total remaining at 17.
In light of the increasing number of cases, the question was raised if the county should continue renting out the fairgrounds buildings for events. Committee members were concerned with sending the wrong message by allowing groups to continue to rent the buildings while at the same time discouraging people from having gatherings. A suggestion was made to allow rentals for under 10 people. However, Mildbrand expressed doubt that groups would want to rent a space like that for groups of less than 10. Lewis gave the example of people having sales in the buildings where there may only be a handful of people there at any one time but more than 10 over the course of the day.
Lewis said the county should go through the rentals through the end of the year and cancel any that are for groups larger than 10 people. "I don't think we as a county want to have a super spreader event," he said. Other committee members agreed and voted unanimously to cancel future rentals that will have more than 10 people at them.