Posted on
Five deer taken in local deer hunt for disabled veterans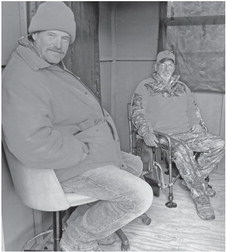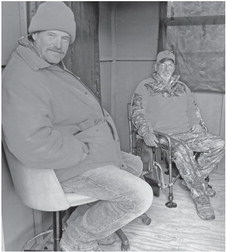 In year one, a steady opening-day rain didn't stop participants from filling their tags. In year two of the Bear Crossing Outdoors gun deer hunt for disabled veterans, COVID-19 was the minor obstacle that was easily overcome.
Held this year on 436 acres of combined properties just northwest of Medford, the only deer hunt for disabled hunters held in the Taylor/Price/ Lincoln tri-county produced five harvested deer amongst four hunters and good memories for those involved. The majority of the hunting action took place on the opening weekend of the nine-day hunt, Oct. 3-4.
"We had five deer shot on the first weekend by four hunters," said Peter Roepke, one of the hunt's organizers. "We had four guys get five deer. One of those was a buck. No significant rack on it, but for those guys, they had a blast."
In all, six hunters wound up participating in this year's hunt, two more than last year. The group included local returnees Jim Frischmann, Ron Bremer and Paul Dixon as well as Carmon McCurrie, who came up from his home in Arkansas for the second straight year. Duane Pecher of Stetsonville and Dan Schmidt of southern Wisconsin were the new participants.
The hunt is hosted by Jim and Lori Livingston on their 400 acres of land. Neighbors Jack and Carol Johnson added their 36 acres this year as well. Two 6-foot by 8-foot ground blinds with wheelchair accessible ramps were added this year for a total of four that hunters could use. One new one overlooked a food plot on the Johnson property. Large pop-up blinds were also available if hunters desired.
The only unfortunate part of the weekend were the COVID-related precautions that needed to be taken this year to keep everyone safe. One of the highlights of the 2019 hunt were the meals and group socialization opportunities hosted on the Strebig property, located next to the Livingston land. Organizers were able to rent the Hammel Town Hall for two days to use as a central location for the hunters and their assistants.
"We were trying to keep the contact to a minimum out there," Roepke said. "So it wasn't like last year where we had the brunch and the supper and all the frills of fine food that Jenna Wieting cooked last year. That didn't happen this year. We were able to get them a box lunch. Jim Livingston coordinated that with Cravings. They did a wonderful job with that. We said, 'you can either come into the town hall to pick up your lunch or we can deliver it to the blinds.' Most of them, by that time, needed a change of pace and they came in and got their lunch. The town hall was big enough where you could keep people far enough apart. "(The socialization) is part of the deer hunt," he added. "But these guys still had a blast. They were like little kids on Christmas morning opening up their Christmas presents."
Many contributors help make the hunt possible.
"We got a lot of these local clubs and sportsman's clubs to help us as far as backing. These clubs have been fantastic," Roepke said. "The groups that we asked this year for assistance they were pretty generous with the money even though they didn't have any fundraisers. They did a wonderful job. North Central Outdoors bought us another permanent blind. Central Wisconsin Fur, Fins and Feathers is going to kick in some money for deer processing. Right now we're planning about $250 a hunter for the deer processing. Northwoods Archers kicked in some money for us to help us out with food and things like that.
"Those local sports clubs last year and the ones we had this year, they've done a wonderful job of backing this hunt."
Kurt Staab, John Staab, Frank Werner, Mike Czerniak, Roepke, Steve Homeyer and Erik and Blaine Seidl are credited with construction and preparation of the permanent blinds prior to this year's hunt. Kurt Staab was involved with Johnson in getting the new food plot established. Matt Tacke helped the hunters sight in their rifles. Scott and Dot Thompson manned the town hall during the weekend.
"The property owners, Jack and Carol Johnson and Jim and Lori Livingston, need to be mentioned for letting people go in there and hunt," Roepke said. "There's a lot of guys won't let people in to hunt on their property. Jack and Jim and the wives they've been very gracious in allowing that."
Wisconsin sets aside nine days in early October each year for the gun hunt for disabled hunters. The annual process starts with landowners enrolling their property for the hunts with the Department of Natural Resources by June 1. After the land is enrolled, the property list is made public and interested hunters who possess a valid Class A, C, D or long-term Class B shoot from a stationary vehicle disability hunting permit have until Sept. 1 to contact sponsoring landowners and set up potential October hunts.
More information on the deer hunts for the disabled can be found on the DNR's website, dnr.wi.gov. Search key words "disabled deer hunt."
Roepke urged those who qualify for the permits and have an interest in hunting to take advantage of the opportunity as additional spots are expected to be available. The contact for this year's hunt was Matt Livingston (715-560-3134 or livingstonmatt@ outlook.com).