Posted on
MAKING AN EARLY SPLASH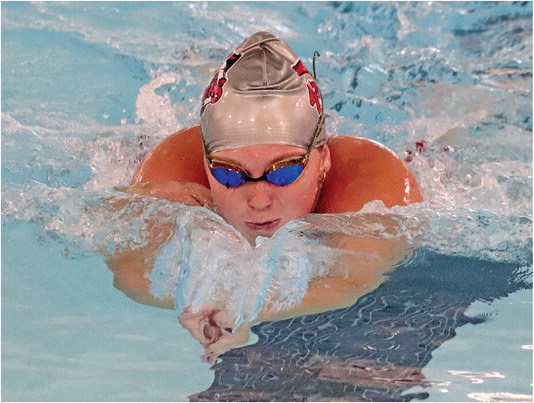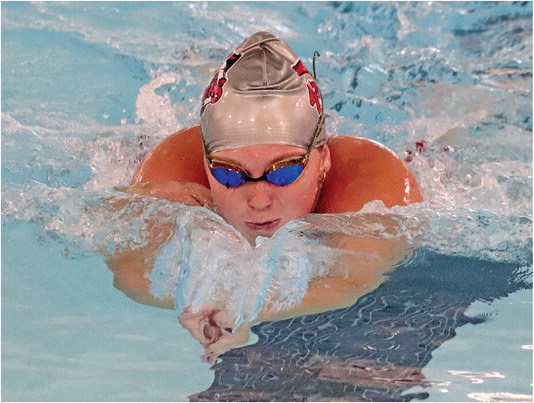 MEDFORD GIRLS SWIMMING
Newcomers help Raiders cruise in opener
The Medford Raiders dove into Great Northern Conference competition Thursday with more uncertainty than usual. Fortunately, they opened with the perfect meet to figure some things out in a 122-48 win over Mosinee.
In just their third varsity season, the Indians have built some depth but aren't yet in a position to challenge the top tier of teams in the conference. The Raiders took advantage, winning all 11 events and earning top-two finishes in seven of those to easily take the first fanless meet of this unique 2020 season.
Without having some early non-conference meets to get a feel for where everyone fits, especially the newcomers, head coach Betsy Meinel said this was one of the most difficult lineups she and assistant Morgan Wilson may ever have to fill out.
"It was hard to make this lineup, I'm not going to lie, because I had nothing to go off of," Meinel said. "Normally we have Menomonie, we have the Marshfi eld Relays, I have splits on the new kids and I've got the old kids coming through. It was a gamble. It really was. It was like, 'do you think they can swim butterfly without disqualifying?' And they did. We went back and forth on this lineup about six times."
Ultimately, the coaches allowed the veterans to pick one event they don't normally swim, kept most of the sophomores in their familiar events to see how they compared to last year and took their best shots in finding the right places for the six newcomers. And, it all worked out.
"It was nice to be in the pool," Meinel said. "It was nice to see what they can do. We saw what we have to work on still. The habits that they do in practice came out tonight. But overall they did really, really well. I was very impressed with them, especially the freshmen."
Individually, juniors Kami Razink and Lacey Brandner each won two events. Razink led a Medford sweep of the 200-yard freestyle with her winning time of 2:27.5. Sophomore Kirsten Weix took second in 2:46.99, edging junior newcomer Lydia Pernsteiner (2:49.16).
"I think that's her new event, I really do," Meinel said of Pernsteiner. "I think she's going to be a distance swimmer. She's got the runner's endurance."
Razink added a comfortable win in the 100-yard freestyle with her time of 1:02.35, which beat Mosinee's Mirela DaNobeitia by 11.64 seconds. Olivia Rau started out about seven seconds faster than she did last year with her third-place time of 1:15.01 and freshman Kaya Fortin got the fifth-place point in 1:21.7, 0.02 seconds ahead of Mosinee's Amanda Stubbe.
Brandner's wins came in the most varied of freestyles. First, she sprinted to victory in the 50-yard freestyle in 30.27 seconds, 0.73 seconds ahead of Mosinee's Olivia Daul. Fortin was fifth in 34.21 seconds and Pernsteiner was sixth in 34.6 seconds. Later, Brandner pulled away from Mosinee's Haylie Kluz and won the 500-yard freestyle by 5.89 seconds in 6:37.7. Freshman Jordyn Johnson was a solid third in 7:05.19 and Weix was fourth in 7:15.45.
"Jordyn did really well," Meinel