Posted on
FIRST FINAL OF THE FALL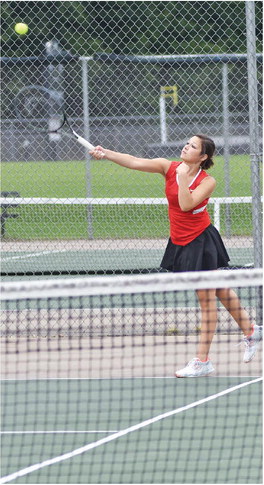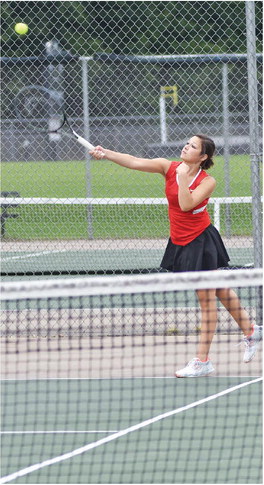 MEDFORD GIRLS TENNIS
Tennis team gets year started in 4-3 loss to T-Birds
The first official final score in a local high school sporting event since March was recorded Tuesday afternoon.
Though the 4-3 result didn't go the way the Medford girls tennis team hoped, the Great Northern Conference dual meet at Lakeland served as valuable starting points for the Raiders, who had just two seniors in the opening- day varsity lineup.
Medford and Lakeland split the two singles matches in Tuesday's meet, but the Thunderbirds took the dual with victories in two of the three doubles matchups, both of which featured Raider sophomores making their varsity debuts.
Juniors Sophie Brost and Lindsey Wildberg picked up the singles wins with straight-set victories. In flight two, Brost earned a competitive 7-5, 6-4 win over Lakeland's McKenzie Walters. At number-four, Wildberg earned a 6-2, 6-4 win over Julianna Ouimette, Lakeland's sophomore basketball standout.
T-Bird Maria Gironella defeated Medford senior Brooke Sommer 6-2, 6-3 in the number-one match between GNC award winners from a year ago. Sommer was part of Medford's flight-two conference championship team with Kailee Mann last fall, while Gironella, a sophomore, earned honorable mention at number-three singles.
In the third singles flight, Lakeland's Jenna Seidl defeated varsity newcomer Kenya Mann 6-0, 6-1.
Medford's top doubles team of senior Jordaan Clark and junior Kelsey Jascor picked up where they left off after a 19-4 season at number-three doubles in 2019. Their 2020 debut in the top flight started a little rocky with a 7-5 loss to Lakeland's Amaya White and Britta Salquist. But the Raiders found their groove at the start of the second set and didn't look back, rolling to 6-0, 6-0 wins to take the night's lone three-set match.
At number-two, Medford's Myah Smith and Autumn Higgins got better as their first varsity match went along. Lakeland's Hailey Curtis and Phoebe Wirtz won the first set 6-3 and then had to go to a tiebreaker before sealing the match with a 7-6 (3) win over the Raider duo.
At number-three, Medford's Christine Czeshinski and Makayla Motte were competitive but fell short against Lakeland's Katie McMahon and Malina Reynolds, who won 6-2, 6-3.
The Raiders will continue their busiest and most challenging week of the regular season by hosting defending GNC champion Rhinelander today, Thursday, at 4:30 p.m. The team is off to the Altoona Quad on Friday where it will play Amery and Onalaska Luther as well as host Altoona in three dual meets.
Medford is at Eau Claire Regis Tuesday before hosting Newman Catholic in GNC play Sept. 3.
The season preview for the team appears on page 25.