Posted on
Repeat lopsided results for the Reds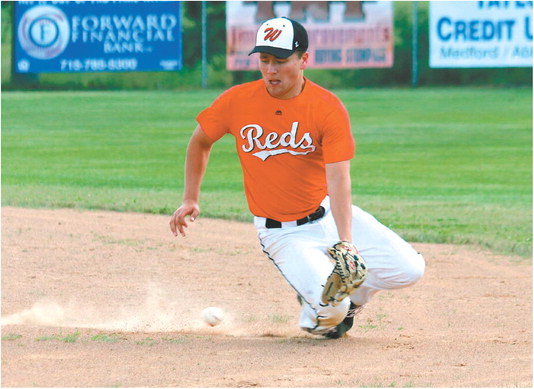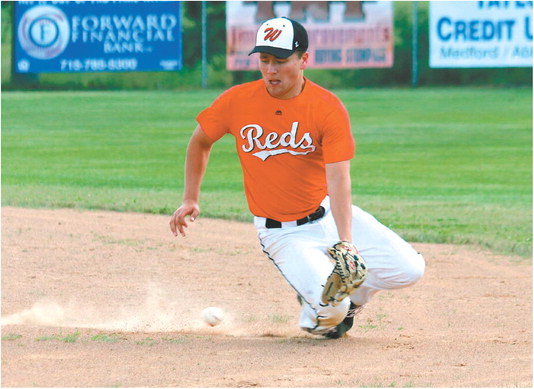 WHITTLESEY REDS
The Whittlesey Reds went to Marshfi eld Sunday hoping to make amends for a mistake-filled outing July 12 in a 12-2 home loss to the Chaparrals. Unfortunately, things weren't much different in an 11-3 loss that ended the Reds' condensed 2020 Dairyland League baseball season.
With a berth in the Wisconsin Baseball Association Finals on the line in the Dairyland semifinal round, secondseeded Marshfield jumped ahead with three first-inning runs and answered third-seeded Whittlesey's two-run second- inning rally with seven runs over its next four at-bats to roll to victory.
Marshfield will play top-seeded Everest Sunday in the tournament's championship game. First pitch is set for 1 p.m. at Marshfield's Jack Hackman Field. Everest won the league matchup 4-3, but Marshfield won two non-league matchups between the teams this summer.
Whittlesey was set to host Medford in the third-place game, but the teams mutually decided not to play that game.
Left-hander Ethan Peters went seven innings for the Chaparrals on a cool and blustery early August afternoon and limited the Reds to five hits and three earned runs. He struck out four, walked only one and hit one batter. Marshfield pounded out 13 hits against two Reds pitchers and scored 10 runs in four of the game's first five innings.
Marshfield set the tone by putting its first five hitters on base against lefthander Tyler Thicke in the bottom of the first.
Nathan Krommenakker and Caleb Krommenakker both drew walks and Luke Wirtz was hit by a pitch to quickly load the bases. Donovan Brandl then bounced a bad-hop two-run single over drawn-in second baseman Thomas