Posted on
Farm family working to get back up again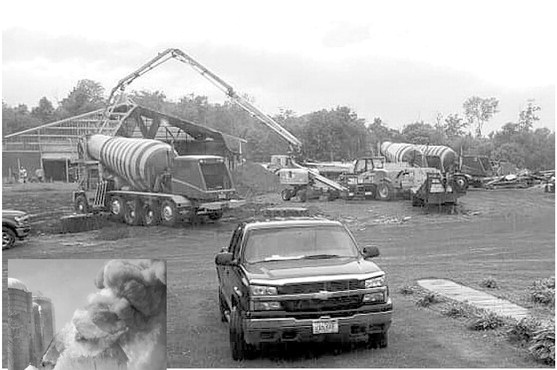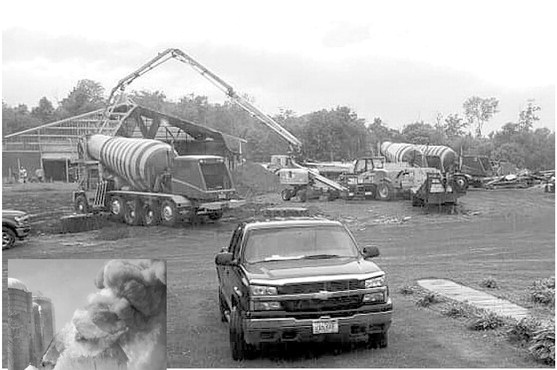 Being a dairy farmer is not just something you do.
It is something you are.
On Palm Sunday, April 5, town of Goodrich dairy farmers Ryan and Cheri Klussendorf of Broadlands Grass Farm, had just sat down to lunch with their sons Max, age 11; Owen, age 13; and Kale, age 16 when they noticed smoke coming out of the barn.
The family flew into a frenzy of activity with Ryan and his older sons rushing to get their calves and cows out of the burning building and away from harm. Cheri started making calls to find places for the animals to be kept, contacting the insurance company, their milk haulers and others that needed to be told.
Dairy farming, at the best of times, is not an easy job. There is no punching the clock at the end of the day and forgetting about work. Even taking a day off takes coordinating and lining up people to fill in and making sure the daily chores and milking gets done.
In recent years being a dairy farmer has gotten harder and harder. Farm consolidations, oversupply, high input costs and low market prices have driven hundreds of farm families to give up.
No one would have blamed Ryan and Cheri for quitting. In April, milk prices were forecasted to be at $9 a hundredweight by June, far below the production costs of many farmers. A barn fire is a devastating blow to any family farm and one from which some never recover.
Ryan says there was no question in his mind that they would rebuild and get their cows back grazing on the farm's pastures as soon as possible.
"We weren't going to let one day destroy what we have been successful for doing for 17 years up to that point," he said."We weren't going to let one day dictate what we did." Broadlands Grass Farm utilizes rotational grazing. In rotational grazing, the cows do the work of going out to the pastures to eat as opposed to confinement-style dairy farming where a food mixture is brought to the cows.
"It has been tough," Ryan said, noting that they get slammed by market prices for their products that they have no control over. He said the appeal of rotational grazing has been that they are able to keep operational costs low. "We have the cows do the work for us," he said.
"There was no question we would rebuild," Ryan said, noting they were asked that by many people after the fire. He noted the idea was briefly tempting, but said he could not give up the life of being a farmer.
"We are at the mercy of the weather and the mercy of the markets," he said. "However, there is a freedom of being your own boss and not being answerable to anyone but yourself really."
"We are able to make it go," he said, noting that while they are not getting rich, they are surviving. He said the rebounding in milk prices is a boost for many farmers with the price currently in the upper $13 per hundredweight and new projections for June at $18 per hundredweight.
Cheri said that with most things you don't realize what you had until it was gone. Cheri noted they didn't realize just how efficient their farm operation and barn set-up had been.
She explained that previously Ryan was able to handle all the milking and chores himself with the occasional help from hired helpers. "You never knew we had an extremely efficient farm," she said.
The family has a herd of 120 cows and milk 95 of them with the others being dry cows and heifers. The production cows were moved to a nearby farm which was hastily opened to allow the family to continue milking.
Cheri noted that while in the past Ryan could handle things on his own, now it took the entire family to get the milking and feeding done. "With a different layout and much more work, we can do it with three, four or five people," Cheri said, noting the family takes turns with helping with milking so people have time off.
"It is a lot harder," Kale said of having the cows at a different farm.
The boys have stepped up to help on the farm. "It just felt like every other summer," Kale said, explaining that in the summer they would typically help their father with farm chores.
Cheri noted that the COVID-19 school closure ended up being a blessing in disguise for the family as their sons were able to help out on the family farm and with the salvage and clean up of the barn as they prepared for rebuilding. Cheri said that if they had been in school and sports like a normal year, it would have been a challenge to make things work. "We wouldn't have been there as parents," she said.
Community support
While firefighters were still dousing hotspots, neighbors and friends in the area's close-knit farming community began to arrive.
Some brought with them meals for the family. Others brought trailers to help haul the cows to a temporary farm. Others brought garden hoses to replace the hoses that were destroyed in the fire and worked to connect water to the sheds where the calves and dry cows were being kept.
One of the surprising things was how many people just came and did things. She explained they came home from milking the cows late on the night of the fire to the network of hoses in place. "We ended up with all these garden hoses," she said.
"The overwhelming support that Medford has given has been amazing. They have been very supportive," Cheri said. Other than Ryan's parents who moved to the area several years ago, Cheri said they don't have any extended family here. "It is just us and Ryan's parents who live here for family," she said.
In the days and weeks that followed the fire, the community support for the family continued, with people asking how they can help and what they can do.
"The school district has been amazing," Cheri said of the support they received from school and working with them to continue her sons' educations.
Noting the outpouring of support from the community, Cheri said they were committed to returning that support by utilizing as many local vendors as possible as they rebuild the barn.
Fortunately for their recovery, thanks to the efforts of firefighters and the work family members did to remove as much as possible as the barn burned, they were able to save some of the more expensive equipment and supplies. However, rebuilding is a major enterprise.
Within days of the fire, Cheri was contacting contractors. As a grazing operation, the family knew they needed to get the cows back on the fields as soon as possible in the spring.
Cheri said they contacted about 10 different builders. They ran into roadblocks with many of them already having projects lined up, delaying when they would be able to get started on the work. They connected with Jeff Meyer of Meyer Buildings who they noted was one of the last contractors to come out to take a look at the barn, but was one of the first quotes back that they received. A major selling point for Cheri and Ryan was that he told them that by the end of May he could have someone start pouring concrete. They noted that Meyer has been onsite every day of the construction.
One of the frustrating things for Cheri in particular was the delay until the insurance company released the grounds. While the cause of the fire was believed to be electrical in nature due to where it started from in the building, Ryan said the eventual ruling was accidental. When the site was finally released, they spared no time in tearing down the burned out remains of the building and demolishing the two silos that had been located next to the barn.
As they are rebuilding, Cheri said they are working to have as much purchased from area businesses as possible. Melvin's Concrete trucks have been busy hauling concrete for the project and all the metal is being done through Freudenthal Manufacturing in Medford.
"We want to give back to the community for all the support they have given us," Cheri said.
If things go according to plan and on schedule, Cheri said they are on track to be back in operation on their farm by early July.
Bouncing back
For a farm family there are few things more devastating than having a barn fire.
"You can't comprehend how truly bad it is," Cheri said, noting that unless you have experienced it yourself it is impossible to imagine.
Ryan explained that the first few days following the fire were the worst. "We just kept going and for three days only had about four hours of sleep total," he said.
One of the things that helped the family was being prepared and keeping a level head on the day of the fire. Cheri commented that the firefighters and police at the fire scene were amazed at how calm they were and how they were working to do what needed to be done. She said the responders said it is common to have to lock people in police cars so that they didn't hurt themselves.
"I really think this will be the biggest thing in their entire lives," Cheri said of the impact of the barn fire and rebuilding on her children. However, she hopes that the memories will be positive ones rather than negative. "With all the good things that have happened, I want them to think of this as the summer we built that new barn and not the day we have lost the barn," she said.
Cheri said she has been approached by other farmers and by those who grew up in farm families telling about the time their barn burned down. "You are in such shock, you don't know what to do," she said.
Cheri said the important thing is to look to the future and rebuild. She said things like having a barn burn down refocuses your attention on what is important.
"If you get knocked down, you just have to get back up again and keep going," Cheri said.