Posted on
Keeping balance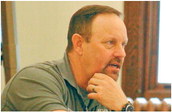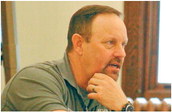 Emergency committee OKs work from home requests; says it is vital that county remain open
Social distancing in the workplace takes on a different level when it comes to balancing the need to provide services to county residents with keeping staff safe and departments able to function if illness occurs.
The Taylor County Emergency Committee met Tuesday morning to address a number of work-from-home requests from the Taylor County Human Service Department and to formally adopt a set of working polices for how the county is dealing with the situation. The special committee was created last month as part of the county board's emergency declaration and is charged with the task of handling issues related to the COVID-19 pandemic. The policies and authorizations established by the committee are in place while the emergency declaration is in effect and are subject to modification by the full county board.
At Tuesday's meeting, human services director Liza Daleiden, who is part of the emergency committee, brought forward a series of requests for staff members to work all or part of their week outside the human services office. The intent being to reduce the number of people in the human services office building from 40 to 20 at any given time. While each of the staff members has their own office spaces, the building's hallways and common areas including printer/ copier and break rooms are small requiring close contact on a normal day.
Daleiden said she wanted to reduce the number of people in the building at any one time so that if someone got sick with COVID-19 the department would continue to be able to function. According to Daleiden, she had originally sought to do this through staggering shifts and allowing late night, early morning and weekend work. However she said this has not resolved all the issues and that she felt the need to have people work remotely from home.
The general temporary personnel policies adopted by the committee had a blanket rule saying that working from home would not be allowed, but it left the door open for department heads to make requests on a case by case basis.
Sheriff Larry Woebbeking, who serves on the committee, questioned why they were considering the requests when it was not the employees requesting it, but rather the department heads. "If they haven't requested it, I don't know why we would look at the request," Woebbeking said.
Woebbeking expressed concern that employees were instructed to work from home when they would prefer being at the office.
"If an employee feels safe coming to work, that should be the employee's decision," Woebbeking said.
Emergency government director Colleen Handrick, who also serves on the committee, echoed Woebbeking's comments. "I don't understand why you wouldn't want them to be there," Handrick said.
Daleiden emphasized that the department and all its staff was still working and that there was a big difference between the courthouse, which is large with wide hallways, and the personnel building which is more cramped and has narrow hallways. She said her workers are essential workers and that she wanted to ensure they could continue to provide the services to their clients.
"There is no egregious danger to coming to work, any more than stopping for gas or going to anyplace in town," Woebbeking said, noting that it would be different if people were afraid to come to work.
Public health director and committee member Patty Krug reminded everyone that the social distancing guidelines won't end when the governor's safer at home order is lifted. "When we talking about social distancing it will be all summer long," she said asking what the plans will be when the order is lifted.
"We don't know," Daleiden replied noting that they were seeking direction from their state association and guidance from the health department.
For Handrick it came back to the policy that the county must remain open for business. "Our residents expect that someone will be able to assist them in person," she said. "The courthouse is still open."
"And so are we," Daleiden replied, noting it has not impacted any of their clients. Daleiden said she felt the county was putting up barriers for her to administer the department while abiding by social distancing requirements.
Woebbeking called for the committee to go through each of the more than a dozen requests individually. After the first few, county board member Rollie Thums, who chairs the human services committee objected to the process arguing that Daleiden is the one who best knows how the department needs to be run. "There is only one person who understands what is going on over there every day and every minute and I support her," Thums said of Daleiden.
Woebbeking responded that part of the committee's task was to make sure things were consistent across county departments. "Our job isn't to say you can't go home if you are scared or if you are ill," he said, noting there was opportunities for employees to take leave in those situations.
Daleiden objected to the suggestion that employees should be forced to take leave. "Why would we prefer for them to sit home and do nothing?"
"I wasn't promoting that they would do that in any way, shape or form," Woebbeking replied. He suggested that they streamline the review and go less into how their time is accounted for since ultimately that is the job of the department head.
Questions were raised about using county laptops and desktop computers at home. Daleiden said all the employees who are bringing home equipment have signed agreements that they will be responsible if the equipment is damaged. However, county board member Mike Bub, who is chairman of the county's information technology committee, raised concern about the potential damage that could be done to the county's network if someone were able to gain access through a device that had been taken home.
"The more we open the door the bigger our risk. We are putting the county more and more at risk," Bub said. He also objected to suggestions that the IT department staff has been less than forthcoming with support.
Daleiden said she was given the strong message before this that the workload in the IT department was high and so rather than add to that workload, they were seeking ways to figure out any issues on their own.
IT staff responded that the message wasn't that they wouldn't provide support, but that requests would be prioritized based on the current workload.
After more than an hour of reviewing the individual requests for working remotely, committee members approved all of them, with two approved on condition of receiving internet speed test results from their homes to ensure they had the adequate resources to access the network.
In other business, committee members:
_ Discussed ways to ensure costs related to COVID-19 were accounted for in case there is the potential for additional aids for this from state or federal sources. As part of this there was discussion of the need to centralize purchase of things like personal protection equipment, sanitizers and cleaners. Handrick noted the county has many of these things on hand or can get them through their regular supplies more quickly than through other vendors. To date, Handrick said the county has about $2,500 in direct COVID- 19 related purchases.
_ Formally approved temporary policies governing staffing, leave, limiting public access to the courthouse and limiting work-related travel by county employees.