Posted on
Medford native used 3-D printing to help military supply masks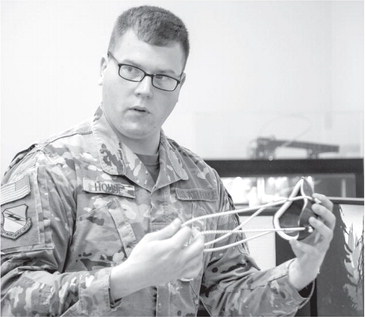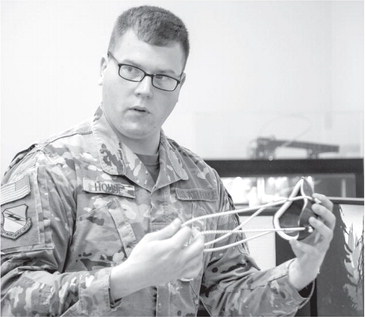 Since the onset of the COVID-19 pandemic, protective face masks have been in demand world-wide. Instead of first procuring them from a dwindling supply, needed for healthcare workers and firstresponders, airmen in the 388th Fighter Wing are doing their best to contribute.
Seeing the need, airmen in the 388th Maintenance Group's Air Force Repair and Enhancement Program (AFREP) at Hill Air Force Base in Utah are using 3-D printing to create more masks that can be worn in mission-essential work areas where it may be difficult to maintain the recommended six feet of social distance.
"Our airmen have continued to impress me with their resourcefulness and ingenuity in developing innovative new ways to overcome obstacles and preserve our mission capabilities," said Col. Michael Miles, 388th Maintenance Group commander. "We're all focused on getting the mission done while following the guidelines of Air Combat Command and the Centers for Disease Control and Prevention."
3-D printing, also known as additive manufacturing, uses a machine fed with a spool of material (nylon, plastic, carbon fiber) that puts down hundreds of tiny layers of the material to create an object. Airmen load the design into a computer program that controls the machine, and they monitor the job as it progresses.
The AFREP program's primary responsibility is receiving and fixing broken parts and returning them to the supply chain. Normally they use the 3D printer to create prototype tools, and simple plastic parts like wiring harnesses, grommets, fasteners, housing boxes and cable splitters.
A week ago, they started experimenting with different mask designs, but are now ready to ramp-up their production. With the new Air Force and Department of Defense guidance on mandatory mask wear when social distancing isn't possible, the effort is hitting its stride at the right time.
"Right now it takes about 45 hours to create four masks, so we're running 24hour operations," said Senior Airman Brett House.
The masks are printed with a plastic materiel that can be repeatedly sanitized with alcohol. Each mask is made of three separately printed pieces – the main body, an internal grid and an external cap that holds a filter.
Airmen have had to get creative with the rest of the assembly. The filters are individually cut to specifications from home air filters. The straps that secure the masks to the face are cut from elastic cords. Weather stripping is cut and formed around the interior edge of each mask to create a seal.
Other units in the maintenance group already have orders in for dozens of masks. While AFREP will crank them out as quickly as they can, the wing is looking at other alternatives for providing masks.
"We're also looking at sewing less complex fabric masks and purchasing from the open market, but we're really excited about the capability to supply our own," said Miles.
The masks will be distributed with guidance on how to wear and clean them properly.