Posted on
Working from home is practical with the right tools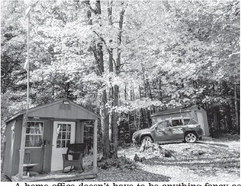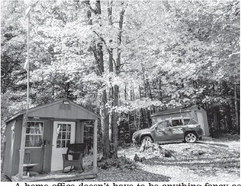 Many area businesses are suddenly faced with the need to figure out how to enable their employees to work from home. While individuals may feel overwhelmed in the effort to set up a functioning home office, many are discovering that there are abundant online tools designed to make remote work an efficient way to collaborate with fellow workers.
Google G Suite, Microsoft Azure and Amazon Web Services are some of the bigger names of these web-based cloud services. Businesses that subscribe enable their team members to share calendars, share and edit documents in real time, send email and participate in web meetings, among many other functions. These tasks can be undertaken from any device and any location, with all work being automatically saved securely off-site.
"The one limiting factor is the need for a good internet connection" according to Tom Rasmussen, owner of TCR Solutions. "To work well, you really need to have 5Mbps up and 5 Mbps down, and that can be a challenge for some of our customers." He noted that there is equipment to boost connectivity, and even from his home in the woods he has adequate internet speeds for most tasks.
Rasmussen opened TCR Solutions in 2000 as an allpurpose computer shop, but in recent years has begun to focus more on serving the remote office needs of business clients as a G Suite integrator. With the challenge of the COVID-19 pandemic, he has decided to put all his efforts into helping businesses equip employees to work from home. "We have long said that this is the future of work -- well, now it's here, ready or not."
While bigger companies have I.T. departments to take on the task of equipping people for the challenges of learning to work remotely, the owners of smaller companies may have to undertake this work themselves if they don't want to pay for the help of a tech company. The good news is that there are abundant online resources to walk a person through the steps of getting a new cloud service up and running. Once a decision has been made on which one to use, that company's tech support should be able to point the business owner in the direction of these resources.
Rasmussen said that he is available for a phone consultation at no charge to help any business owner sort out their best option and figure out how to proceed. "Of course I'm biased towards G Suite -- I've always thought they are better suited to small business, but the decision is obviously up to the individual." He said he didn't believe it was likely that most businesses would have to invest in much, if any, new equipment, given that any of the web-based services are designed to work on a client's existing device whether that be a PC, laptop, chromebook or phone.
He noted that the biggest obstacle to businesses implementing the "New Work" strategy is now gone: motivation. "Previously, the biggest problem we had in getting these things to work was the employee who just refused to do it. Now people have no choice and they want to make it work."
A home office doesn't have to be anything fancy as long as you have good connectivity and plan ahead.