Posted on
Wausau Homes Medford awarded for builder excellence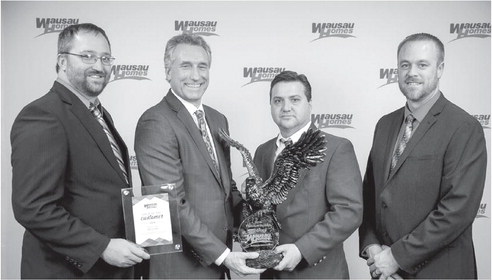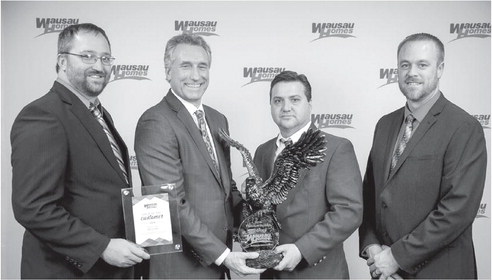 Redefining the Building Experience is exactly what Wausau Homes Medford is doing for their home buyers. Jason Wanke and his team were presented with two prestigious awards: the Platinum Builder award, and the Voice of the Customer award at the annual Wausau Homes Builder Conference in Madison.
According to Jay Schuette, president of Wausau Homes, the Platinum Builder award goes to the builder who achieved the strongest ratings in three categories: customer satisfaction, creative marketing, and share of the homebuilding market in their area. "The Medford Team's customer-first approach to homebuilding provides a stress-free building experience that is different than other builders in the area," explains Schuette. "As a result, Jason and his team inspire trust and confi dence among their customers which enabled them to win this prestigious award."
"It's an honor to be recognized," said Jason. "It was a team effort. This award was earned by everybody, including our sub-contractors and many outside partners. Together, we're committed to building high-quality homes on time with a firm price up front and customizing each home to fit the homebuyer's specific lifestyle needs."
Wausau Homes Medford also earned the prestigious Voice of the Customer award by excelling at being the trusted advisor to their homebuyers by earning an impressively high customer satisfaction rating.
Visit the Wausau Homes Medford Design Studio, located at N2256 State Highway 13 in Medford. Or visit the Wausau Homes website at wausauhomes.com for more information.