Posted on
Ecology study area opens doors for Gilman students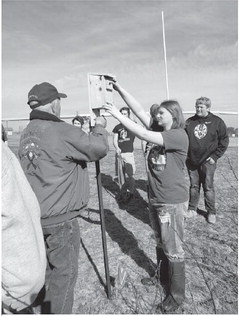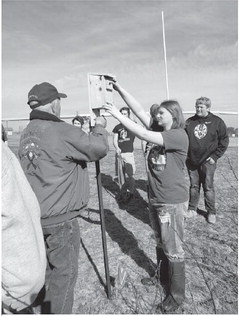 Conservation is about looking at things over the long term.
Back in 1998, Gilman farmers Ed and Mary Chaplinski saw a swampy section of their farm and made a choice to transform the area from farmland to wetland.
They created the Louis and Victor Chaplinski Ecology Study Area. With help of funding from the Department of Natural Resources, the Natural Resources Conservation Service, the U.S. Fish and Wildlife Service and his own funds, Ed built a large pond in the swampy area.
In 1999 the Chaplinskis turned over 25 acres of land including the five-acre pond to the Gilman School District as an ongoing area to study wetlands. Steve Parker was the ecology teacher at Gilman School District at the time and his class ran the area for the next 16 years. The area is now under teacher Kathy Olejnichak.
Over the past two decades, there have been numerous projects at the Ecology Center. These projects included:
_ Brett Chaplinski planting five acres of wild prairie grass, the first such plot to be planted in Taylor County.
_ Planting trees
_ Building and maintaining bluebird trails
_ Building fish cribs
_ Testing water for 20 years
_ Building a wind aerator for the pond
_ Tagging bluebirds, wood ducks and sandhill cranes.
_ Doing frog counts
_ Building duck houses and tree swallow boxes
_ Introducing honey bees to the area
_ And observing a black bear in its den In addition the area has been used for demonstrations for deer management and for fly fishing classes.
The dream for the area came out of Ed's lifelong interest in wildlife, from building and monitoring hundreds of bluebird houses to learning the habits of many other birds and animals. While carving out his own wildlife area out of a small pocket of his farm, he also wanted to pass that appreciation of nature to younger generations.
Chaplinski's ongoing partnership with the Gilman School District was renewed earlier this fall when students came out to the ecology study area and worked on installing bluebird houses and learned about prairie grasses.
Students in the program have gained a greater appreciation of the natural resources around them and how stewardship of those resources is a job for everyone.