Posted on
Lions announce 'Journey of Peace' poster contest winners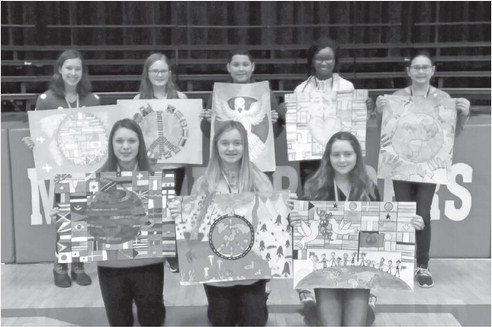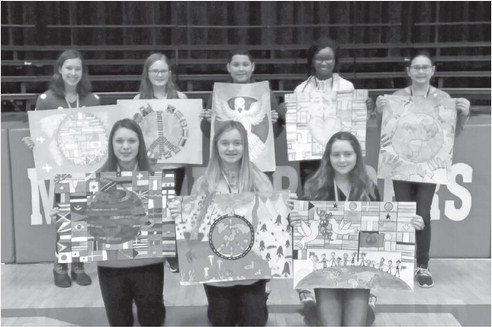 The Medford Lions Club has sponsored the 20192020 Lions International Peace Poster Contest at Medford Area Middle School, (MAMS), Holy Rosary and Immanuel Lutheran Schools. Immanuel Lutheran chose not to participate this year. Schools were provided with all contest rules and conditions. The teachers from Medford Area Middle School Grace Krug, Ryan Scanlan and Corrine Liske from Holy Rosary, worked with students, ages 11-13, in creating peace posters with the theme, "Journey of Peace."
The use of lettering or numbering on the front of the poster, in any language, is not allowed. Each participating school could select a maximum of nine posters from all its entries. These posters were narrowed down to nine semifinalists by the Medford Area Senior High Art Department. The MASH Art Department then selected the first through sixth place posters.
The winners are: 1ST Place - Brynn Thorson of MAMS receiving $75 and a medallion.
2ND Place - Hailey Murray of MAMS receiving $50 and a medallion.
3rd Place - Rachel Daniels of MAMS receiving $25 and a medallion.
The semi-finalists each received a medallion. They are: Lily Holmes of MAMS, Javier Jacobo of MAMS, Toryn Rau of MAMS, Katie Niggemann of Holy Rosary, Mason Harris of MAMS and Marlee Perrin of MAMS.
"Congratulations to the semi-finalists and the first through third place winners of the poster contest. The Medford Lions Club extends appreciation for the time and effort given by Medford Area Middle School and Holy Rosary teachers and students who were involved in the Peace Poster Contest," said Lion Shirley Lemke.
The winning poster will be sent on to the district governor where it will compete with other local Peace Poster Contest winners. The poster will face stiff competition through the district round and three more rounds of competition if it is to be declared the international grand prizewinner.
Ultimately, one grand prizewinner will be selected from 24 international finalists. The grand prize includes a cash award of $5,000, plus a trip for the winner and two family members to the awards ceremony.