Posted on
Mobile home residents question eviction notice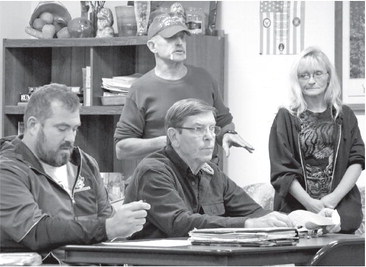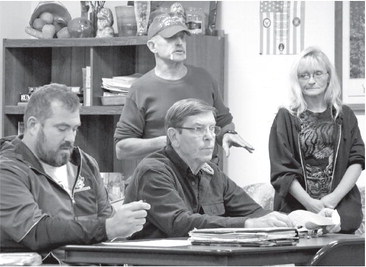 BY GINNA YOUNG REPORTER
"When do you meet your obligations so she can actually do the work? That's what I want to know."
The Oct. 9 Gilman Village Board meeting started out on a dampened note, as Laverne Birch and a companion questioned members about an eviction notice Birch received at the beginning of the month. Birch, who has a trailer in the Palmer Court mobile home park, had previously responded to the village's notice that she was not in compliance to standards.
Birch asked for fill to help with wet areas near the trailer and was given until Oct. 1 to install a sloping roof, siding and skirting. Because the standards were not met in the specified time, she received an eviction notice.
"You had mentioned in the letter that she is being evicted, because she did not meet her obligations," said Birch's companion. "Where is your obligation to the fill?"
Birch's companion said the trailer is sinking in because of so much rain and that Birch had called public works director Rick Johnson's office several times. Birch and her companion said they can't complete the skirting until they have fill around the trailer.
"The contractor has done as much as he can, but he has complained that he has to wade through water and it's unsafe for his ladder to reach the roof," said Birch's companion.
Johnson said he did take fill to the site, but that he didn't know they wanted fill around the trailer itself. Johnson says he tried to call Birch back several times, but she never answered her phone.
Village president Jane DeStaercke mentioned that Birch made the initial contact June 13, addressing the issues.
"I think we were very gracious in offering you six weeks after you were in last time (August meeting)," said DeStaercke. "What happened to all that time before?"
Birch's companion says she had several unscrupulous contractors take advantage of Birch, but that she now has one willing to do the work. Police chief Tom Tallier confirmed that work has been done on the trailer.
The roof has been completed and Birch's companion says there is good siding under the Tyvek that is up. However, he questioned why they have to put the skirting on, when one of Birch's neighbors has no skirting.
"Are you picking on her (Birch) for a reason?" asked Birch's companion.
Village clerk Candice Grunseth said that is not Birch's concern what her neighbor does.
"It's nobody else's business what's going on there," said Grunseth. "We send letters to each person we're dealing with."
Birch's companion asked the board to reconsider the eviction notice, or to at least make the 28 days completion timeline from the date the fill is received, which DeStaercke said the village attorney did not recommend.
Johnson agreed to deliver fill the next day, on the front east side and near the driveway, if someone is there to meet him and it was not pouring rain. Birch's companion said he wasn't sure anyone could be there to meet Johnson, but village trustee Eileen Grunseth insisted someone be there to make sure everyone is on the same page.
"I don't think we need to deal with the issue anymore," said E. Grunseth. "It's done."
DeStaercke said the village lawyer agreed that if the work is completed by the Oct. 28 date, the eviction notice will not stand.
"…Nobody wants to see eviction," said Tallier. "The goal is to have everything up to standard."
The village's lawyer also told DeStaercke his opinion on the matter of a proposed memorial bench Lila Birkenholz requested in honor of Mick Keepers. The bench is to be stationed by the library, with a Bible verse.
"On the advice of our attorney, it appears that the bench the family is requesting, will be acceptable," said DeStaercke.
As part of board business, the board approved the possible purchase of new voting machine counters for elections in the amount of $13,464. The new purchase comes after C. Grunseth and DeStaercke attended an election requirement meeting, and reported that the Ivotronic machine is in need of upgrades that ESS will not continue. Because the village was aware of this ahead of time, $9,500 had been budgeted for the machines, with the county giving a proposed $3,000 toward the purchase.
Although $8,199 was approved for the Express Vote and marker, and $5,265 for the Tabulator, Gilman might not need the Tabulator, depending on decisions set down for the elections, but C. Grunseth asked for the approval to have all bases covered.
"We were one of the few entities at the meeting that actually had budgeted ahead for this equipment," said DeStaercke.
The Western Taylor County Public Library expansion project is still in the works and slated for completion sometime this November, but a few snags have hit along the way. During the village meeting, trustee and village library representative Bob Mechelke, informed members that library director Ruby Wenzel has turned in her resignation. According to Mechelke, Wenzel did indicate she will come in to help if needed.
"She will be leaving us though in November," said Mechelke. "I also understand that we're going to lose another (library board) member."
Marilyn Newman will step down in November, Kae Van Den Heuvel is leaving the library board next December, and Mechelke said one more has announced she will resign.
"So, we have no board members, no librarian – I quit," said Mechelke jokingly.
Mechelke says it seems that no one is jumping on board to fill the library advisory positions, but anyone is welcome to show interest in the vacant seats.