Posted on
T-Birds take charge going into today's GNC tennis tourney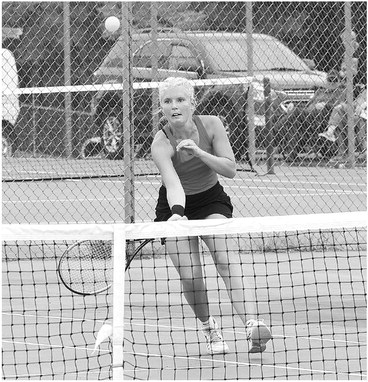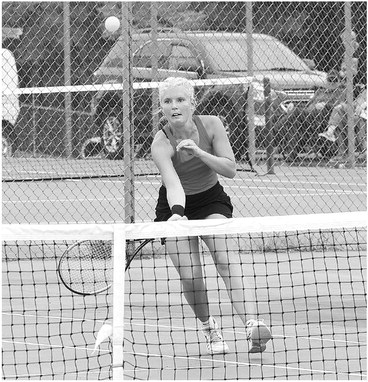 MEDFORD GIRLS TENNIS
MATT FREY
SPORTS EDITOR
The Medford Raiders went into Thursday's final dual meet of their 2023 Great Northern Conference schedule with a shot to make themselves a contender going into today's championship tournament in Rhinelander.
But the Lakeland Thunderbirds had other ideas.
Lakeland left the MASH courts still holding the lead spot in the conference with a 6-1 victory, reversing three losses Medford had handed the Thunderbirds six days earlier in a non-conference matchup at the Wausau West Invitational. The T-Birds set the tone Thursday by winning the first set in all six matches they won.
The Raiders nearly fought back to win one of them and almost forced third sets in two others.
But Lakeland got the points they needed at key times.
Now, going into today's meet, Medford sits in fifth place with 52 points, four behind fourth-place Stevens Point Pacelli. Lakeland beat Rhinelander 5-2 on Tuesday to complete a perfect 7-0 run through the GNC duals and open up a six-point lead over 6-1 Newman. Twotime defending champion Rhinelander has some ground to make up if it's going to win a third straight title. The Hodags, who went 5-2 in the duals, have 66 points.
Medford's lone winner Thursday was Natalie Preuss. The junior wasn't immune to the slow starts the Raiders got off to in the dual, trailing Lakeland's Ellie Baker 4-1 in first set. But Preuss battled back and won the set 7-5 and rode that momentum to a 6-0 win to complete her straight-set victory.
The closest Medford came to a comeback win was at number-one doubles. Masaeda Krug and Audrey Ruesch got on a roll after dropping the first set 6-1 to Kristina Ouimette and Savannah Barton and dominated the second set, winning it 6-2. The Raiders led the third set 4-2, but it slipped away and Lakeland won it 7-5 to avenge a straight-set loss to Krug and Ruesch from Sept. 8.
In flight two, Lakeland's Ali Timmerman and Charley Cleveland jumped ahead with a 6-3 win over Medford's Grace Holmes and Indya Mann. Holmes and Mann got back into the match with a run midway through the second set, but Lakeland's team held them off 7-5 to earn their second close win of the year over Holmes and Mann.
Lakeland's Lila Biller and Alyssa Erickson beat Raiders Madison Clarkson and Hannah Dahl 6-1, 6-3 at number-three doubles. Clarkson and Makenna Tlusty were straight-set winners over Biller and Erickson on Sept. 8.
Elise Lamers got by Medford's Morgan Strebig 6-2, 7-5 at number-three singles, evening the score after Strebig got her at West. Norah Strassburg defeated Raider Jaylin Machon 6-2, 6-2 at number- two and Sarah Barton was a 6-1, 6-0 winner over Medford's Marcy Razink in flight one.
After today's meet, Medford will finish its regular season Monday by visiting Marshfield for a non-conference meet that starts at 4 p.m. The WIAA Division 1 post-season will begin with the subsectional meet in Rhinelander on Oct. 2.
Split in home finale
On Senior Day on the MASH courts Tuesday, Medford got off to a rough start with a 6-1 loss to Wisconsin Rapids Assumption, but the Raiders bounced back and destroyed Ashland 6-1 in their final home meet of the fall.
The Raiders came close to a clean sweep over the Oredockers. Senior Alexis Szydel got a chance to play at numberfour singles and she took the first set over Hallyana Gohr 6-2, but Gohr evened the match with a 6-2 win in the second set. The two played a 10-point tiebreaker to decide the match and Gohr won it 10-6.
Otherwise, the Raiders had no trouble with the Dockers. Razink got her first win at number-one singles, sweeping Lily Kovach 6-0, 6-0 and Machon took care of Lainey Westlund 6-3, 6-2 in flight two. Strebig downed Jojo Burke at number- three 6-3, 6-0. In doubles, Krug and Ruesch defeated Ali Vittone and Mikayla Bigo 6-1, 6-2 in flight one, Holmes and Mann swept Hannah Houck and Ellie Grahek 6-1, 6-0 at number-two and Clarkson and Makenna Tlusty beat Jaiden Erickson and Ariel Klepfer 6-2, 6-2 in the number-three spot.
The lopsided loss to the Royals was not something the Raiders and head coach Jake Bucki expected.
Preuss again was Medford's only winner and she survived a 10-point tiebreaker to get that win. Preuss breezed through the first set against Assumption's Ari Cavanaugh 6-0, but then she lost the second set 6-3 to set up the tiebreaker. Preuss won that 10-8 to take the match.
The number-three doubles match also went to a tiebreaker. Assumption's Anne Elsen and Haley Hintz surprised Clarkson and Tlusty with a 6-3 win in the first set. The Raiders got on track with a 6-0 shutout in the second set and they took several two-point leads in the tiebreaker, with the last being 7-5. But Assumption scored five of the next six points with Hintz hitting two winning volleys at the net to win it 10-8.
The number-one doubles match was a hard-hitting battle that was won by Assumption's Sarah Shaw and Addi Vollert 7-5, 6-4 over Krug and Ruesch. Likewise, the number-three singles match featured power over finesse from both players as Macy Vollert outlasted Strebig 6-4, 7-5.
Razink played well, making several nice shots, but Assumption's Ahnabelle Khang was a little too much, winning 6-4, 6-2. Kara Drewiske defeated Machon 6-2, 6-3.
Lydia Smith and Kelsey Koran won the number-two doubles match 6-4, 6-3 over Mann and Holmes.