Posted on
Swimmers return to winning ways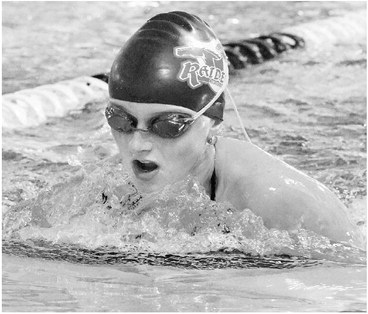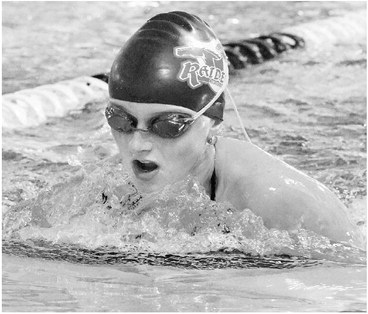 With the Rhinelander loss a week earlier well into the rearview mirror, the Medford swimmers returned to their winning ways Thursday, getting multiwin meets from Colby Bergman and Chelsea Gebauer and wins in all three relays in a 117-44 victory over Tomahawk on Parents' Night at the MASH pool.
Bergman won the 200- and 500-yard freestyles, while Gebauer won the 100yard butterfly and 100-yard breaststroke. Ady Dittrich had a big night with a first and a second as did Sydney Sperl. Medford also posted its fastest time in the 200-yard medley relay since the opening meet in Menomonie.
"Tomahawk has some nice swimmers, especially Paige (Dekiep), she's super awesome," Medford head coach Morgan Wilson said. "But I think our girls did well with pushing themselves and had some nice times. I could tell at the end we were all getting a little tired. We're starting to get into our harder part of the season. The honeymoon is kind of over. It's nice to see that they still pushed through and swam well. We definitely want to pick up on our endurance a little bit so that we're not dying by the end. We have time to work that out, figure that out."
Speaking of endurance, the 500-yard freestyle was a big event with Medford getting the maximum 13 points. Bergman got under six minutes for the second straight meet at 5:59.55, while Dittrich cut over 12 seconds to take second in 6:08.49 and Cadance Haenel knocked off 15 seconds to take third in 7:04.25.
"Ady in the 500 dropped almost 15 seconds. It was a lot," Wilson said. "She's doing really awesome with that. She pushes through and is kind of a little fireball. I think that's going to be her event. She's crushing it."
Medford also swept the top three spots in the 200-yard freestyle. Bergman won in 2:17.83, followed by Jordyn Johnson in 2:23.41 in her first 200 free of the fall and Kassidy Janda in in 2:36.84.
Dittrich won the 50-yard freestyle in 28.77 seconds, 1.26 seconds ahead of Tomahawk's Maddie List, while Haenel was third in 30.28 seconds and Mackenzie Petersen was fourth in 30.44 seconds, both season bests. Sperl was the first Raider this season to break the minute barrier in the open 100-yard freestyle, finishing in 58.82 seconds, while Jackie Williams was second for Medford in 1:05.29 and Janda was fourth at 1:13.72. Sperl swam the 200-yard individual medley in 2:24.47 to take second, 3.73 seconds behind Dekiep, while Raider Kodi Rappe was third in 2:36.63. Both of those times were season bests.
Gebauer finished the 100-yard breaststroke in 1:17.72, beating Hatchet Morgan Kretzschmar by 2.03 seconds and capping a four-win night counting her relays. Johnson was third in 1:24.1 and Williams was fourth in 1:29.08. Gebauer won the 100-yard butterfly in 1:10.61, beating teammate Layla Petersen (1:12.32). Both of those times were season bests as well.
Petersen added a third-place finish in the 100-yard backstroke in 1:13.3, just behind teammate Breanna Kraemer (1:10.54). Dekiep won in 1:05.6. Raider Jolie Steliga was fifth in 1:22.68.
"We tried some different things," Wilson said. "We put Layla in the backstroke to kind of see where she was at. I think we'll keep doing that. Next week the girls who have swam the same event in almost every meet we're going to try to change it up and see something new. That's a goal of ours."
Sperl, Gebauer, Layla Petersen and Rappe teamed up to finish the 200-yard medley relay in 2:02.54, 7.43 seconds ahead of Tomahawk's top team. Bergman, Johnson, Kraemer and Williams got the two third-place points at 2:13.73 and Jayda Fryklund, Chloe Pipkorn, Steliga and Haenel were fourth in 2:27.58.
"The 2:02 was good," Wilson said. "I think in our first meet, we were at 2:01. We've been kind of stuck at 2:05, 2:06 since. We're trying to get back below 2:00. We've been switching off who's swimming what and which girls are in there trying to get that sweet spot. We'll keep playing with that one, but 2:02 is really nice to see."
Rappe, Steliga, Johnson and Gebauer won the 200yard freestyle relay in 1:54.52, 5.12 seconds ahead of Tomahawk's top team. Kraemer, Janda, Williams and Dittrich were third in 2:01.35 and Paige Wilkins, Pipkorn, Fryklund and Mackenzie Petersen were fourth at 2:12.34. Layla Petersen, Rappe, Bergman and Sperl won the 400-yard freestyle relay at 4:28.55, while Mackenzie Petersen, Janda, Kraemer and Dittrich were next at 4:41.52.
Fryklund won the JV 50-yard freestyle in 30.9 seconds and the JV 100-yard freestyle in 1:11.49. Wilkins won the JV 100-yard breaststroke in 1:35.18 and took second in the 100-yard freestyle at 1:20.96. The team's newest addition, Lindsey Klapatauskas, was second in the 50 at 32.54 seconds and second in the breaststroke at 1:40.59. Pipkorn was third in the breaststroke (1:44.7) and the 50 (33.12).
Next up for Medford is a short trip to Colby-Abbotsford today, Thursday, for a 5:30 p.m. meet with the Hornets, who are 3-0 in GNC duals. The Ladysmith Co-op visits Medford on Sept. 28.
"We'll keep working," Wilson said. "Our turns are still kind of hanging us up and our stroke rate. We want the girls to get their arms moving a little bit faster and having their arms keep up with their legs. We'll keep working on it and keep trucking away into October."