Posted on
Raiders gain momentum, then lose it in loss to Lumberjacks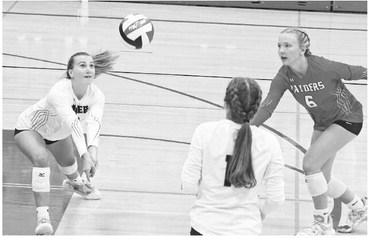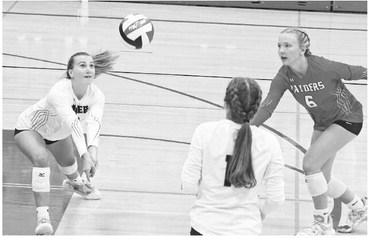 MEDFORD VOLLEYBALL
Riding their best stretch of the season, things looked like they would come easy for the Medford Raiders at the start of their non-conference match Tuesday with Wausau East.
As it turned out, the early success came too easily.
After spotting Medford a 14-2 lead in game one and eventually falling 25-21, Wausau East dictated play the rest of the way and rolled to three straight game wins to take the match 3-1, temporarily slowing the momentum Medford had built over the past week.
From the Raiders' perspective, the momentum was lost more than it was taken away by the Lumberjacks. Passing and hitting errors started to creep into Medford's play in the back half of game one, almost leading to a complete loss of its 12-point lead. They just never shook those miscues the rest of the way.
"That was a tough one, especially coming off last night," head coach Ashley Jochimsen-McCarron said citing the team's 3-0 sweep on Menomonie on Monday. "At one point it was 14-2. We just started hot. Then there were a couple of big kills that weren't kills anymore. We have a couple of girls who are usually our go-tos and they were hitting a couple of balls out."
Medford finished with 37 hitting errors in the four-set match and just 36 kills.
"The stuff we did put in bounds they managed to pick up and everything they put on us seemed to fall," assistant coach Amanda Lange said.
Sharp serving set the early tone for Medford. Finley Arndt had two aces as did Aliyah Pilgrim in the opening run and Rylee Hraby added one, making it 132. Shayla Radlinger's roll to a hole in the middle of East's defense pushed the lead to 12. But the Lumberjacks, amazingly blocked the Raiders three times on the next rally and that seemed to jumpstart them. They actually tied Medford at 19-19 and briefly took a 20-19 lead before Kayla Baumgartner put down a big kill, the Lumberjacks couldn't handle another Hraby serve and Baumgartner got a big block to make it 23-20 and restore order.
An early surge in game two put East on top 11-5. The Raiders got as close as 1110 but East went on another run and won the set 25-16. Kills by Toryn Rau, Taylor Klingbeil and Baumgartner pushed Medford to a quick 7-3 lead in game three. Klingbeil, Radlinger and Cami Rau added winners to keep Medford in front 1110, but a 6-1 spurt put East ahead 16-12 and the Raiders never recovered, falling 25-21.
East tore out to an 11-1 lead in game four. Arndt served Medford within 16-10 and a Toryn Rau ace made it 19-14, but East didn't allow the Raiders to get any closer, clinching the set and match at 2519.
Baumgartner's 12 kills led Medford as the freshman continued to swing harder as her comfort level with the varsity grows. Cami Rau had eight kills and Radlinger had six. Toryn Rau and Baumgartner had two solo block kills each.
Arndt had 13 assists and Megan Schaefer had 11. Hraby had three aces, while Arndt and Pilgrim had two each. The Raiders had eight errors in 64 serves. Hraby had 17 digs and Emily-Grace Rudolph had eight.
Medford hosts its annual nine-team invitational Saturday at Medford Area Middle School starting at 9 a.m. It's back to Great Northern Conference play next week when Medford hosts Rhinelander Tuesday and goes to Tomahawk on Sept. 28. Rhinelander ended a 62-match GNC losing streak Tuesday by sweeping Northland Pines.
"We just have to push through and come out strong for Saturday," Jochimsen- McCarron said. "That'll be big. We have some good teams coming. Mc-Donell, Columbus, Cadott. We can only go one way from here."
Raiders 3, Mustangs 0
Medford's mid-season growth showed Monday when the Raiders won key points at the end of each set to earn a 3-0 sweep of visiting Menomonie in non-conference play. Game three in particular was one the coaching staff wondered if Medford would've won a couple of weeks ago.
The set went back and forth with neither team building more than a two-point lead. Schaefer's ace put Medford up 17-15, but Menomonie got on a little run to go up 23-19 and then 24-20 to come within a point of extending the match to a fourth game.
Cami Rau's kill gave Medford the serve back and Aliyah Pilgrim rattled off some good ones. Baumgartner's winner into a Mustang block made it 24-21. Pilgrim's second tough serve led to an Amelia Pernsteiner kill. Medford then got a break when the officials had two different calls on what looked to be a winning point for Menomonie. The lift and net fouls offset, forcing a replay. Baumgartner's kill off a bump set by Pilgrim ended a long rally and tied it at 24-24. After a missed serve put Menomonie back at set point, Toryn Rau's push found a hole, Radlinger hit the back line off a Baumgartner set and then, after a Menomonie timeout, a lift violation ended it at 27-25.
"There were some big key plays tonight," Jochimsen-McCarron said after the match. "Cami was rocking the net, Kayla had some big kills. Toryn came in and had some awesome kills. Right at the end, that connection between Kayla and Shayla was awesome. Aliyah served us back into the last game.
"They showed what they can do and they did it tonight."
The first set was always within a point or two until a short spurt put the Raiders up 19-15. Menomonie got the next two points after a timeout, but Medford got four straight, including kills from Cami Rau and Toryn Rau to go up 23-17. The Mustangs came right back, thanks to some Raider hitting errors, but after a timeout, Medford benefited from a missed serve and a mishit to win it 25-22.
Menomonie took a 13-12 lead in game two on a Siera Auth kill, but Medford got a sideout and then two straight aces from Finley Arndt to regain the lead. The Mustangs drew even at 20-20, but Cami Rau came up with a kill from a tough angle on the left side to break the tie. Her winner off a block made it 23-22, Pilgrim served one of her team-high four aces for the night and a Menomonie error ended it at 25-22.
"Cam had a huge night," Jochimsen-McCarron said. "She really stepped up tonight and took that senior leadership role to the next level. Our blockers shut down their middles. Their middles are their key and we shut them down."
Cami Rau had a team-high 11 kills, Baumgartner had 10 to go with three solo blocks and Toryn Rau had five kills and three solo blocks.
"When your two outsides are producing pretty much equally, that makes a huge difference," assistant coach Amanda Lange said. "You're not waiting through a rotation. Toryn had a great defensive night and our back row started reading really well. They started shifting and picking things up."
Hraby led the back row with 14 digs. Arndt had seven and Rudolph added six. Medford had seven aces and seven errors on 65 total serves (89.2%). Arndt had 16 assists and Schaefer added five.
"We played well when Finley was on the floor," Lange said.
2-1 at GNC meet
Medford got back to .500 in the Great Northern Conference at 3-3 by winning two of three matches at the first Saturday meet of the season, hosted by Antigo.
The highlight win was the day's opener as the Raiders convincingly avenged a non-conference loss to Tomahawk a week earlier and won in four games.
Medford set the tone in the opening set, grabbing the lead early and never letting it go. Aces by Toryn Rau and Hraby and a Toryn Rau tip opened up a 16-11 lead. Kills by Toryn Rau and Baumgartner created a 22-18 lead. A couple of key points late were crucial. Cami Rau came back after getting blocked to put down a hard kill for a 23-20 lead. Hraby then took a hard Hatchet hit and kept the point alive, Megan Schaefer dug up a ball and Toryn Rau finally capped the point with a tip to make it 24-20 and Cami Rau's kill ended it at 25-20.
Game two got away late. Medford broke away from a 12-12 tie to lead 15-12 and 18-15. A Rachel Wesle kill made it 23-21 and Radlinger's kill brought game point at 24-23, but the Hatchets scored three straight to steal it 26-24.
Undaunted, Medford dominated game three 25-15. The Raiders jumped ahead 15-5 and coasted from there. They closed out the match with a 25-19 win. The turning point came early. Down 4-2, Medford tied it on winners from Baumgartner and Radlinger and then got an ace from Hraby. At 5-5, a 7-0 run put Medford ahead for good. It included two kills from Baumgartner, a Schaefer ace and a block kill by Wesle.
Toryn Rau had a big match with 16 kills, plus she added a block. Baumgartner had 12 kills, Cami Rau had nine and Radlinger added seven. Wesle had two block kills. Schaefer set up the hitters with 18 assists, while Arndt had 17. Hraby and Arndt had two aces apiece as the Raiders had nine errors in 94 serves (90.4%). Hraby had 24 digs, while Rudolph and Pilgrim had nine apiece.
"Tomahawk was a huge win," Jochimsen-McCarron said. "We were scrappy. The girls were confident."
Medford swept Rhinelander 25-14, 25-18, 25-14 in round two. Eight players recorded at least two kills each, led by Cami Rau's five and Baumgartner's four. Pernsteiner, Toryn Rau and Hannah Fleegel had three apiece. Toryn Rau had two block kills and Baumgartner had one. Arndt had 14 assists and Schaefer had five. Schaefer had five of Medford's 15 aces. Arndt had three and Radlinger and Rudolph had two each.
Hraby had 12 digs, Arndt had nine and Rudolph had eight.
Medford ran out of steam in the final round, falling in four games to the host Antigo Red Robins.
The Raiders started strong in game one. A 5-0 run included Pilgrim's sideline ace, two kills from Baumgartner and one from Toryn Rau and gave Medford an 8-3 lead. Baumgartner put down a big kill from the middle and then knocked over a back row Robin with a monster kill from the left side to make it 11-6. But then things fell apart in a 17-6 run by Antigo that gave the Robins a 23-17 lead and they went on to win 25-20.
Antigo jumped ahead 8-2 in game two and led by six to eight points most of the way. Medford crept back into it, getting as close as 21-19 and 23-21, but Antigo held on 25-22.
The Raiders stayed alive with a thrilling 28-26 win in set three. Antigo led 12-8, 15-9 and 18-13 before Medford stormed back to tie it on a Cami Rau kill at 19-19. Taylor Klingbeil's push gave the Raiders the lead at 21-20. Antigo hit match point at 25-24, but a Baumgartner kill tied it. Antigo got match point again, but Medford got three straight points to win it, including a tip and a hard kill by Baumgartner.
The momentum didn't last long enough as Antigo tore out to a 14-4 lead. Medford clawed back within 16-13 and then tied it at 17-17, but Antigo scored four straight points and held off the Raiders from there 25-20.
Confidence soared for Baumgartner, a freshman, who had 16 kills, three solo blocks, three block assists and seven digs. Cami Rau had nine kills and Toryn Rau had six. Arndt had 17 assists and Schaefer had 10. Pilgrim had three aces. Hraby led with 18 digs, Arndt had 12, Schaefer had nine and Radlinger had seven.