Posted on
Tallier, Angell return to state; Drier has solid sectional day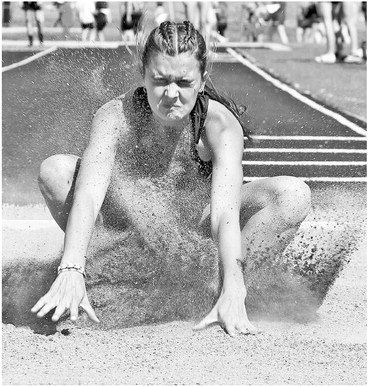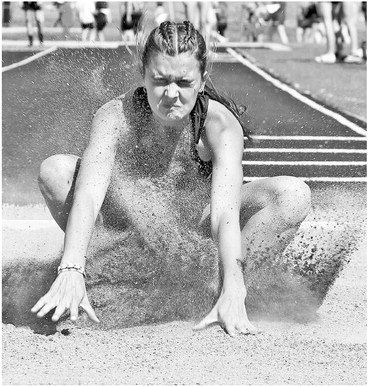 WIAA DIV. 3 TRACK & FIELD
Gilman's Gracie Tallier and Bailey Angell are back at the WIAA Division 3 state track and field championships this weekend, looking to add to their medal collections.
Tallier is back for a third straight season in the 100- and 200-meter dashes, while Angell will compete in the shot put for the third straight year, an event she nearly won last spring. They qualified for state with their performances Thursday at the WIAA Division 3 Cameron sectional. Both won an individual championship at the sectional meet.
For Tallier, a senior, her title came in the 200-meter dash. She had the secondbest preliminary time at 26.65 seconds and then lowered that to 26.28 seconds to win the race by 0.07 seconds over Eau Claire Regis sophomore Carly Borst and 0.09 seconds over Eau Claire Immanuel Lutheran sophomore Audrey Arndt. Arndt had posted the fastest preliminary time at 26.47 seconds. All three of those girls will be part of the state competition, along with Ladysmith freshman Marika Gago, who took fourth in the final at 26.59 seconds.
Tallier was ninth in the 2021 state competition and bumped up to seventh last year, one spot shy of a medal. She is the sixth seed going into Friday's state preliminaries, where she'll run in lane four in the first of two heats. Heat winners and the next fastest eight times will make Saturday's final at UW-La Crosse.
Tallier was fourth in last year's 100-meter dash final at state and she's back in that event, but it won't be easy to repeat that top-four finish.
She placed fourth in Thursday's sectional with a time of 12.75 seconds in the final, beating Turtle Lake-Clayton's Mariah Thill by 0.28 seconds for the last state spot. Fall Creek freshman Rebecca Sturz won the final in 12.41 seconds, while Borst (12.65) and Arndt (12.68) also qualified. Tallier had the third-best preliminary time at 12.83 seconds behind Sturz (12.53) and Borst (12.76) and Arndt (12.84) was right behind her.
Tallier is the seventh seed going into Friday morning's state preliminaries, running in lane seven in heat one. Sturz is the top seed based on her sectional time.
Though she's been close before, Angell, a junior, had not won a sectional championship until Thursday, when she took the shot put title with a throw that went an even 37 feet. That beat Unity senior Emma Johnson by 14 inches. Ladysmith's Tori Thorpe (35-7.5) and Mondovi's Emily Van Riper (35-4) also advanced, while Colfax junior Jeanette Hydukovich fell short, taking fifth at 349.25. Hydukovich was third in last year's sectional and took sixth at state. She is still going to state as Thursday's discus champion.
Angell took second at state last year with a throw of 38-6.25, and enters Saturday's state competition as the fifth seed in a field of 16, based on her sectional distance. Ozaukee's Page Kurlinski is the top seed with a sectional throw of 39-10. She was fifth in last year's state competition at 38-1.25.
Angell, who was sixth last year at 11211 and fourth as a freshman at 110-10, did not qualify for a third state appearance in the discus. She finished fifth Thursday at 104-9, which was 9 inches behind fourth-place thrower Grace Mangelsen of Siren. Hydukovich won at 125-5, while Drummond junior Nora Skoraczewski (120-1) and Webster senior Marissa Dearbin (108-6) took second and third.
Gilman sophomore Claire Drier had a good day at Cameron Thursday, setting two personal records in her events. Drier took seventh in the 300-meter hurdles with a time of 49.24 seconds, beating her previous best from earlier this year by 0.22 seconds. Her regional time was 50.09 seconds. The state qualifiers were Ava Washburn of Webster (45.37), Elyse Bushman of McDonell Central (46.97), Emma Lechleitner of Cornell-Lake Holcombe (47.21) and Thill (47.24).
Drier went 16-4 in the long jump to extend her record by 1.75 inches and placed eighth out of 16 jumpers. The state qualifiers were Washburn (18-11.5), Alena Sanfelippo of Fall Creek (18-0.5), Lauren Pearson of Cameron (17-5.25) and Emerson Clark of Ladysmith (17-3.25).
Gilman placed 11th in the 1,600-meter relay. Drier, Jaylen Copenhaver, Kyra Rabuck and Tallier had a time of 4:26.53 that easily beat its regional time of 4:32.75 and was well ahead of 12th-place Ladysmith (4:30.78). Turtle Lake-Clayton won in 4:12.12, followed by Prairie Farm (4:14.47), Cadott (4:15.36) and Grantsburg (4:15.68).
Gilman scored 32 points to place ninth in the team competition. They were just five points away from the top five, which consisted of Fall Creek (93.5), Webster (54.5), Ladysmith (42.5), Chequamegon (38), Colfax (37) and Cadott (37).
Gilman had one entry in the boys meet Thursday. Junior Quintin Franzen was 14th in the 300-meter intermediate hurdles with a personal-record time of 46.72 seconds. He beat Robert Schienebeck of Chequamegon (47.28) and Tarver Sellwood of Solon Springs (47.44) and beat his previous best time of 47.19 seconds, which he set at the May 22 Flambeau regional. The state qualifiers were Dominick Ricci of Webster (39.71), Luke Ashworth of Webster (41.77), Jarod Falkner of Mondovi (42.04) and Tyler Rassbach of Prairie Farm (42.09).
Fall Creek also won the boys team title with 57, edging Glenwood City by four points. Webster (51), Grantsburg (47) and Chetek-Weyerhaeuser (41) rounded out the top five.