Posted on
Redhawks build big lead, take down Reds 9-5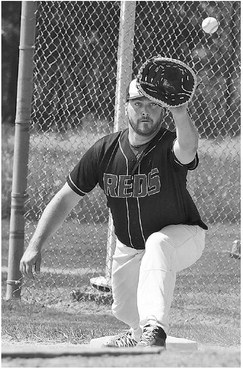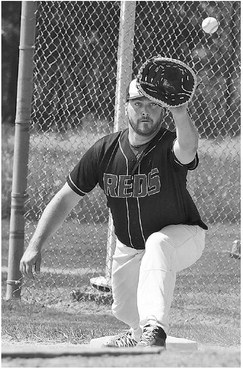 DAIRYLAND BASEBALL
Two big innings by the Rapids Redhawks did Whittlesey in Sunday in a 9-5 Dairyland League defeat at Mike Roiger Stadium.
The Redhawks scored three runs, all with two outs, in the top of the third to take the lead and put the game away with a five-run seventh that turned a still-close 4-1 game into a bit of a blowout.
The Reds, though, made things interesting by scoring in each of the last three innings.
Both teams held 1-1 league records when the game ended. Rapids rallied from a 4-0 deficit Monday night to win 6-5 at Marshfield and move to 2-1.
Whittlesey wound up outhitting Rapids 10-9 with its late offense, but too many free bases in the third and seventh innings allowed Rapids to build its eight-run lead.
Whittlesey starter Nick Retterath was an out away from getting out of the third with just one base runner, Blaine Wahlen, who had singled with one out. But a Jacob Wipfli single, followed by walks to Caden Sengbusch and Vinnie Fonti forced in a run and Garrett Huber's base hit brought in two more and knocked Retterath out of the game in favor of reliever Spike Alexander, who struck out Carson Klaus to end the inning.
Blaine Seidl reached on an error on a third strike and eventually scored on a wild pitch to get Whittlesey on the board in the fifth. Rapids countered in the sixth with a triple from Huber that Seidl almost tracked down at the warning track and a sacrifice fly by Klaus.
Alexander walked Ryan Sering to start the top of the seventh, Wipfli reached on an error and Sengbusch singled to load the bases with no outs to set up the knockout punch Rapids delivered in the seventh. Brent Mueller took over for Alexander and was greeted by a two-run double from Fonti. Huber and Cole Ladick walked to make it 7-1. Carson Gunderson drew a one-walk to force in a run and Sering added an RBI single.
Whittlesey's Nick Meyer and Jeff Kraschnewski walked in the bottom of the seventh, setting up an RBI double by Brandon Loertscher. Seidl doubled with one out in the eighth and scored on a base hit by Cody Loertscher. Cade Alexander and Jon Laher drew one-out walks in the ninth and scored on Seidl's second consecutive double, with this one finding the gap in deep rightcenter. Nick Meyer drew a two-out walk and Brigham Kelley crushed a ball to deep center that looked like it had a chance for extra bases when it left the bat, but Huber caught up with it to end the game. Seidl led Whittlesey's offense by going two for four with his two doubles and two runs batted in. Cody Loertscher also went two for four.
Retterath struck out five, walked two and allowed three hits and three runs while pitching 2.2 innings and taking the loss. Spike Alexander went 3.1, allowing four runs, three of which were earned. He struck out six, walked two and allowed three hits.
Mueller struck out one, waked three and allowed two hits and two runs in the seventh. Brandon Loertscher struck out one, walked one and hit one in two scoreless innings.
Huber and Sengbusch had two hits apiece for Rapids.
Whittlesey is at Rhinelander for a 1:30 p.m. game on Sunday.