Posted on
Metz has big day; Raiders roll in D2 regional semis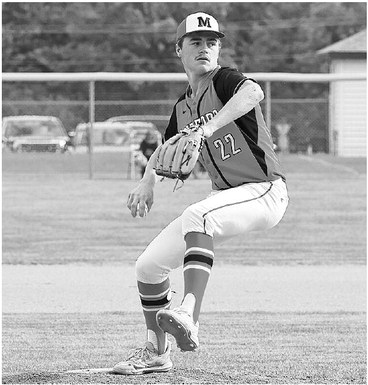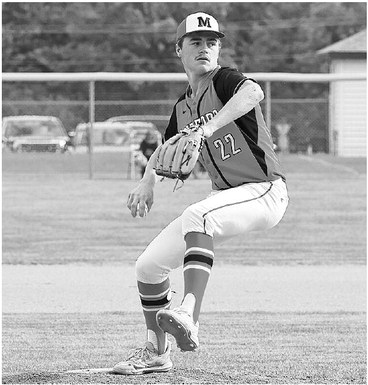 WIAA DIV. 2 BASEBALL
Ty Metz gave the Medford Raiders six important innings on the pitching mound and drove in four runs, three of which came on a booming home run in a six-run fourth inning, in the team's 9-2 win over Rhinelander Tuesday in a WIAA Division 2 regional semifinal.
With Metz able to eat up the first six innings, second-seeded Medford had its ace Logan Baumgartner fully available for Wednesday's WIAA regional final against third-seeded West Salem at Raider Field, a game that took place after this week's deadline for The Star News.
The win boosted Medford's record to 23-4, while the Raiders' Great Northern Conference rivals finals, the 10th-seeded Hodags, finished 8-14.
Metz allowed just two hits and struck out four. He did walk seven, but always tended to rebound and get the big out he needed to prevent any big rallies by the Hodags. Both runs against him were earned.
"Ty Metz came to play today," Medford head coach Justin Hraby said. "Not only did he do the job on the mound, but also did it with his bat. That three-run homer he hit really blew the lid off of things. I am so proud of Ty. All the work he has put in has really paid off for him his senior year."
Offensively, Medford left three runners on base in the first two innings against Rhinelander starter Max Ratty, but the Raiders hit him hard the second and third times they faced him and scored all of their runs in the third and fourth innings.
In the three-run third, Parker Lissner hit a one-out single, moved to second on a wild pitch and scored on Logan Baumgartner's double to the gap in leftcenter. Baumgartner moved to third on an errant pickoff throw and scored on Braxton Weissmiller's infield hit over the third-base bag. Courtesy runner Evan Wilkins stole second and scored on a two-out single by Metz.
The Hodags got one run back in the fourth when Cody Everson doubled to right and eventually scored following a pair of groundouts.
Medford delivered the knockout punch in the bottom half with a six-run outburst. Jacob Eckert started it by walking. He was bunted to second by Nick Steliga and scored on Tanner Hraby's single up the middle. Baumgartner singled with two outs and Weissmiller followed with a hit to right that was misplayed for a two-base error, allowing both runners to score and make it 6-1. Max Dietzman walked to set the table for Metz, who hit an absolute bomb to left-center for his first varsity home run.
"Tanner had a clutch hit to get the lead back to three after they scored a run in the fourth," coach Hraby said. "Our two-out hitting has been something that has allowed us to separate from teams this year. No different in this game. Logan, Braxton, Max, all getting on to set the table for the big blast from Ty. Huge at-bats leading up to the big homer."
Rhinelander didn't threaten Medford's eight-run lead until the top of the seventh. Metz walked pinch hitter Tyler Morrison, ending his outing on the mound. Tanner Hraby took over and al- lowed a hit and a walk with Morrison eventually scoring on a wild pitch. But that was all the Hodags got.
Metz and Baumgartner both went two for three in Medford's 10-hit attack. Weissmiller was three for four with two runs batted in.
"Braxton continues to hit the ball hard while grinding out quality at-bats for us," Justin Hraby said. "He could've been four for four had it not been for a diving catch in the gap by the centerfielder in the first inning. What was equally impressive, was his defense (catching for Metz). He blocked everything and saved us a lot of bases."
In Wednesday's regional final, the Raiders welcomed a 17-3 West Salem squad that tied Viroqua, who beat Medford 7-2 very early in the year, for the Coulee Conference title at 10-2. The Panthers beat sixth-seeded Gale-Ettrick-Trempealeau 10-2 in their regional semifinal Tuesday.
"West Salem is a very good team," Hraby said. "We are looking forward to the challenge in this very good regional final matchup."
Wednesday's winner advances to the WIAA Division 2 sectional tournament at Altoona's Cinder City Park on Tuesday. The 10 a.m. semifinal will feature the St. Croix Central/Altoona winner and the Hayward/Ashland winner. The West Salem/Medford winner will face the Abbotsford-Colby/Mosinee winner at 1 p.m. Medford split two games with both of those potential semifinal opponents during the regular season with Medford and Mosinee's split, of course, leading to their co-championship in the Great Northern Conference.
The sectional championship game will follow the second semifinal at 4 p.m.