Posted on
Pirates beat Greenwood again in baseball regular-season finale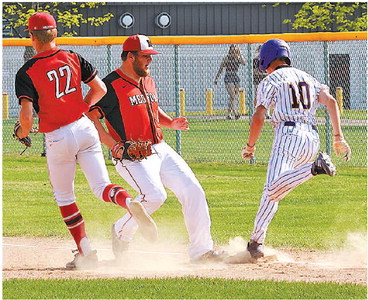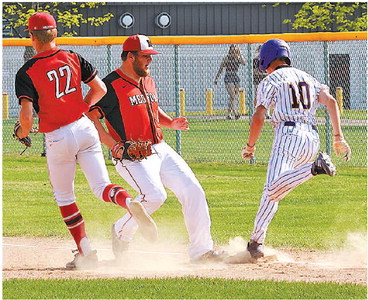 GILMAN BASEBALL
Four Gilman pitchers combined for 11 strikeouts and limited Greenwood to three hits, while the Pirates' offense took advantage of five walks and five errors to secure a 12-7 win Monday in the final game of the regular season.
The Eastern Cloverbelt Conference rivals added Monday's non-conference game to the schedule to give each other one more contest before WIAA Division 4 tournament play starts for both today, Thursday. With the win, Gilman completed a sweep of the three-game series this spring and takes a 3-10 record into the post-season.
The Pirates built an 8-2 lead through three innings, gave up a five-run fourth as Greenwood closed within 8-7 and then the Pirates put it away with two-run rallies in the bottom of the fourth and fifth innings.
The Indians grabbed their only lead with an unearned run in the top of the first inning, but that was quickly wiped away by Gilman's three-run rally in the bottom half. Dalton Wisocky was hit by a pitch from Greenwood starter Chris Prusinski and Anthony Syryczuk singled to set up Grady Kroeplin's RBI single. Joey Syryczuk was hit by a pitch to load the bases. Two strikeouts gave Greenwood a chance to avoid further damage but two passed balls allowed runs to score.
Gilman's five-run third started with a leadoff walk by Kroeplin against new Greenwood pitcher Hayden Rakovec. Kroeplin went to third on an error on a ball hit by Joey Syryczuk, then Brayden Olynick was hit by a pitch to load the bases with no outs. During a Talyn Podolak at-bat, Kroeplin got caught trying to steal home, but a throwing error on the play scored a run. Walks to Adam Draeger and Wyatt Webster re-loaded the bases for Max Ustianowski, who doubled to centerfield to score two runs. A misplayed fly ball hit by Wisocky scored two more.
Greenwood loaded the bases with no outs and turned it into five runs, thanks to a bases-loaded walk by Prusinski, a two-run double by Ryver Glynn and a couple of RBI groundouts.
But Gilman shut the Indians down after that and extended its lead. Joey Syryczuk reached on a three-base error to start the fourth and scored on Olynick's base hit. Trevor Vick later knocked one in with a ground ball. In the fifth, Dawson Robinson hit a leadoff single and his runner, Branden Ustianowski eventually scored on a bunt single by Anthony Syryczuk. A balk scored the last run.
Kroeplin took over the pitching duties for Gilman in the seventh and walked the first two hitters, but he got a strikeout, popout and groundout to prevent Greenwood from mounting a serious threat.
Anthony Syryczuk went two for four to lead Gilman's offnese. Wisocky started on the mound and covered the first two innings. He struck out four, walked two and allowed a hit and two runs, one of which was earned. Joey Syryczuk had a tough fourth, but Robinson had a solid three-inning stint, striking out five.
Gilman is the 11th seed in its sectional half-bracket and is at sixth-seeded Mc-Donell Central for a 5 p.m. first pitch in a WIAA Division 4 regional quarterfinal today, Thursday. The winner will travel to third-seeded Owen-Withee for a regional semifinal on Tuesday. The regional final follows on Wednesday.
Gilman finished 2-10 in the Eastern Cloverbelt Conference standings after getting swept by second-place Columbus Catholic in a Friday doubleheader played at Marshfield High School's Safford Field.
Game two was tight up until the final inning when Columbus put up a threespot in the top of the seventh inning to pull away for a 9-4 win.
The Pirates never led but kept creeping closer after giving up three runs right off the bat to the Dons, who played game two as the visitors. Columbus scored those first-inning runs on two singles, a walk, two groundouts and then a two-out, RBI double to left-center by Devlin Timmler.
Kroeplin blasted his first varsity home run over the leftfield fence in the bottom of the first to get the Pirates on the board in the bottom of the first. That run, however, was answered by Emmit Konieczny's RBI double in the top of the second, making it 4-1.
The Pirates left two runners on base in the second but they pushed runners across in the third, cutting the Dons' lead to 4-3. Anthony Syryczuk drew a leadoff walk from Columbus pitcher Nathan Nemitz and moved to second on a wild pitch. He scored on Wisocky's double to left. Wisocky moved to third on Kroeplin's groundout and scored on Joey Syryczuk's sacrifice fly to to center.
Konieczny relieved Nemitz after backto- back one-out walks gave Gilman another chance in the fourth. Koniecnzy got the two outs he needed to keep the Dons in front and Columbus scored twice in the fifth to push its lead to 6-3. Konieczny tripled and scored on Cy Becker's sacrifice fly. Another run later scored on a wild pitch.
Kroeplin walked in the bottom of the fifth and came all the way around to score when Joey Syryczuk's single got by the rightfielder for an error. But Columbus Catholic got its last three runs on just one hit to put the game away in the last inning.
Joey Syryczuk went two for three and drove in two runs, while Kroeplin was one for two with his home run, scored twice and drew two walks. The Pirates had six hits in the loss.
Lefty Dawson Grunseth went 5.2 innings for the Pirates and allowed seven hits, two walks, two hit batters and six runs, five of which were earned. Joey Syryczuk got the last four outs, striking out two and walking two while allowing two hits and three runs, two of which were earned.
Konieczny picked up the relief win, going 3.2 innings. He struck out five, walked two and allowed three hits. He also was one of three Dons to get two hits.
Game one was under Columbus Catholic's control from the start, though Gilman did some offense going late to extend the game to six innings before the Dons closed it out at 13-3.
Mac Konieczny hit a two-run single off Robinson in the bottom of the first and Emmit Konieczny hit a two-run double to highlight a three-run second that quickly put the home team up 5-0. Kroeplin tripled to deep left-center to lead off the fourth and scored on Olynick's one-out grounder to first, but the Dons basically put the game away with seven runs in the bottom half to go up 12-1. Mac Konieczny, Nemitz and Alex Edwards all had RBI singles in the inning and a couple of errors later in the inning added to the damage.
The Pirates kept the game going by scoring twice in the fifth. Alex Copenhaver got hit by a pitch and courtesy runner Draeger scored when Anthony Syryczuk's sinking liner to right got past a diving Brandon Lang for a triple. He scored on Joey Syryczuk's base hit. Columbus ended it in the sixth with a Blake Jakobi single, a wild pitch and a bad-hop single by Emmit Konieczny.
Podolak went three for three with three singles to get nearly half of Gilman's seven hits. Anthony Syryczuk was two for three.
Robinson pitched four innings. Only six of the 12 runs he allowed were earned. He allowed 12 hits. Joey Syryczuk went the last inning-plus. He allowed three hits, a run and two walks while striking out one. Mac Konieczny was three for four with four RBIs to lead Columbus, who finished 10-2 in league play, one game behind 11-1 Neillsville.