Posted on
GNC CHAMPIONS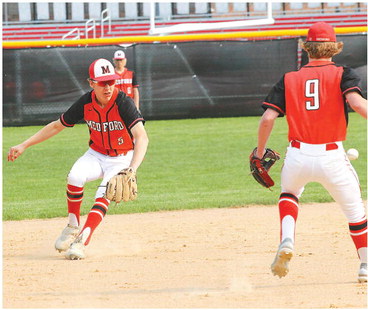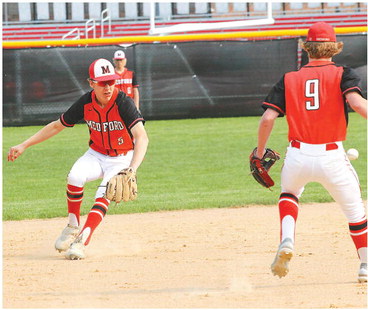 MEDFORD BASEBALL
Raiders earn title share, end the regular season at 22-4
A win in the first Great Northern Conference game of the spring put the goal into focus. A 6-2 win over Antigo May 17 in the GNC finale made it reality.
The Medford Raiders are 2023 GNC baseball champions, sharing the title with Mosinee, who they beat 3-1 back on April 10 to set the run in motion.
The title was clinched against Antigo last Wednesday thanks to yet another strong pitching performance from Logan Baumgartner, clutch hitting early and a knockout punch in the bottom of the sixth that created breathing room and allowed the fans, and even coaches, to relax at Raider Field as the team recorded the last three outs in the seventh.
"It's pretty dang cool," senior co-captain Ty Metz said after the Raiders took the obligatory trophy photos on the infield.
"Beating Mosinee right off the bat, we knew all we had to do was win out against the other teams to get at least a share of the conference," senior co-captain Miles Searles said. "Once we split with them, we knew that was the goal, take it one game at a time."
Medford had the same opportunity last spring, but stumbled in the first week of May, losing a 1-0 stunner at home to Northland Pines. That allowed Mosinee to walk away with the outright championship.
"It was good to finish it off, unlike last year when we didn't finish the season how we wanted to," Baumgartner said.
"I would definitely think so," Metz said about learning from last year's lesson. "Work harder in practice because you don't want that to happen twice. It's never a good feeling."
"It's a huge win for us and our program," head coach Justin Hraby said after the Raiders clinched the program's sixth conference title under his watch since 2005, three of which have come in the GNC in the last four seasons, not counting 2020, of course. "Winning the conference title is huge. We knew it would be tough, but we found ways to win a lot of games."
Baumgartner improved to 8-0 in the GNC and 9-1 overall at the time by limiting Antigo to four hits and one earned run. He struck out seven and did not walk a batter.
"I was just doing my thing, trying to get ahead early," he said. "Trying to make them guess up there."
The Raiders jumped ahead 2-0 in the bottom of the first with clutch two-hits by Braxton Weissmiller and Max Dietzman. Tanner Hraby led off by singling and he stole second. Antigo starter Riley Guenther struck out the next two hitters, but Weissmiller came through by lacing a double to right-center. The left-handed hitting Dietzman poked a single the opposite way to easily score courtesy runner Evan Wilkins.
Much of Medford's second-half success in the regular season can be attributed to Medford's four and five hitters, who both picked up their offensive pace in May.
"At the beginning of the season we were saying that we were just missing one or two guys and lately they've been stepping up," Baumgartner said. "When our lineup's hitting, it's tough to beat."
Weissmiller was clutch again in the third, singling to left with one out to drive in Hraby, who had singled and gotten to second on a walk to Searles. Dietzman followed by hitting a sinking liner that Antigo second baseman Hunter Aiuppy caught just before it hit the ground and doubled Wilkins off first.
That play gave Antigo some momentum going into the top of the fourth. The Red Robins had gone nine up, nine down through the first three innings, but Reed Kuenzli led off with a base hit over second baseman Nick Steliga's head and Preston Knapkavage also singled to right. An errant throw trying to get Kuenzli at third, allowed Knapkavage to go to second. No one called timeout after the play and Kuenzli jumped on the mental error, scooting home when no Raider was near the plate. Knapkavage later scored on a sacrifice fly to pull the Robins within 3-2.
The pitchers and defenses held until the bottom of the sixth. With one out, Dietzman banged a double to deep leftcenter and then sprinted right through coach Hraby's stop sign to score on Parker Lissner's single to right. Metz hit a deep drive that went off the glove of centerfielder Trevor Tarras for a double. Jacob Eckert greeted relief pitcher Alec Knapkavage with a base hit to right that scored Lissner and Metz scored the final run on an errant pickoff throw to first.
Medford had 10 hits in the win. Weissmiller and Dietzman both went two for three, while Hraby was three for three at the top of the order.
"Parker Lissner, Ty Metz and Jake Eckert all came up clutch in our big three-run sixth inning," coach Hraby said. "All of them had great approaches and came through."
The senior captains agreed the teams' 19-4 record at the time and its recent 15game school-record win streak were a result of the bats starting to click.
"I think in a lot of games we were slow to start and weren't hitting very well at the start of the game, but then in the fifth and sixth innings we'd start hitting the crap out of the ball," Metz said. "There were a couple of games where we were hitting the ball the whole game and that just helped a lot."
"It wasn't always the same part of the order either," Searles said. "Different parts would step up in different games."
Searles was a perfect example. He started the year at the bottom of the hitting order, but he ascended to the number- two spot when he got big hit after big hit.
"Right at the beginning of the year I was just swinging for contact, getting balls in play," Searles said. "There were lots of singles with the occasional double, especially on the turf fields because when you hit that gap it's a double no matter what."
"It was a lot of guys," Baumgartner said. "It was Miles stepping into his role in centerfield and hitting the ball while moving up to that two-spot. Again, Braxton and Max having better ABs as they're getting older, they're just getting better. Then I think a big one is Jacob E. We were kinda wondering who would be down there at hitting the ball and Jacob E. has filled that role perfectly."
Of course, pitching wins champion­ships too and Baumgartner and Metz were about as good as it gets in the GNC as Medford's starters.
"I just worked out a lot, which helped, and I pitched a lot in the summer so that really helped me come into the year strong. And I grew," Metz said. "I was a little nervous in the first couple games I pitched but then I settled in. I think we're really confident. I think we can go into any game and we have a very good chance of winning with our pitching."
"I'm sure plenty of teams would die for that," Searles said. "They would love to have two pitchers like that."
Medford finished the regular season 22-4 after beating Stratford, Marshfield and Pittsville in non-conference play. The goal now is to make a deep run in the WIAA Division 2 tournament. The second-seeded Raiders open Tuesday by hosting a GNC rival, either 10th-seeded Rhinelander or seventh-seeded Antigo, at 5 p.m. in a regional semifinal. A win would give Medford a home regional final the next day, most likely against third-seeded West Salem, but sixth-seeded Gale-Ettrick-Trempealeau can't be ruled out. Mosinee is the one-seed, but Medford wouldn't see the Indians until the June 6 sectional at Altoona.
"These guys find ways to win games," Hraby said. "They play together and pick each other up. So many important parts and pieces on this team that make it so successful.
"The playoffs will be tough," he added. "We are looking to win the first game and go from there."
"It's a whole new season starting right now," Baumgartner said. "We just have to keep it rolling. We'll find out who we play and just do our thing and hopefully it turns out."
Medford 7, Pittsville 2
In a late addition to the schedule, the Raiders were able to get one more home game in Tuesday and won a battle between 20-win squads, 7-2 over Pittsville. The Panthers fell to 20-5 with the loss.
Medford jumped ahead 3-0 in the bottom of the first. After pulling a potential three-run homer just foul, Weissmiller settled for a two-run single and his courtesy runner, Wilkins, scored on a two-out double by Metz. Metz coaxed a comebacker from Pittsville's Sam Bowden to start a double play in the top of the second to help get him out of a bases-loaded, noout jam. The Raiders then extended their lead to 5-0 with an unearned run in the third and an RBI single from Dietzman in the fifth that knocked in Baumgartner.
Pittsville turned three hits and a walk into two runs in the top of the sixth, but Hraby's two-run homer in the bottom half put it away.
Medford had 10 hits off three Pittsville pitchers. Weissmiller continued his lateseason tear by going three for four with two RBIs. Lissner and Baumgartner had two hits apiece.
"Braxton, Logan and Parker had big nights at the plate, being a big part of all of our big innings," Justin Hraby said. "Tanner's two-run homer deep to left-center gave us the tack-on runs we needed going into the seventh."
Metz struck out five and walked five, but he allowed just two hits to keep Pittsville off the board in his four innings. Tanner Hraby struck out five, walked two and allowed five hits and two earned runs in three innings of work.
"Ty and Tanner did not have their best tonight, but found ways to make pitches to limit the Pittsville hitters to only two runs," coach Hraby said.
Medford 5, Marshfield 2
On Monday, the Raiders got six strong innings from Baumgartner and ground out several lengthy at-bats in a 5-2 win at Marshfield.
The Raiders scored twice in the second and seventh innings to distance themselves from the 10-12 Tigers, but the go-ahead run broke a 2-2 tie in the fourth. Searles, who had reached on an error, scored on Hraby's sacrifice fly.
Steliga and Lissner had RBI singles in the second to erase a 1-0 Tiger lead. Metz had an RBI groundout and Dietzman hustled home to score on a shallow sacrifice fly by Searles to rightfield in the seventh.
Medford outhit Marshfield 7-5 with Steliga going two for three out of the nine-spot and Weissmiller going two for four out of the clean-up spot.
"We saw around 160 pitches," coach Hraby said. "We had a lot of really good at-bats where we worked the count or were aggressive early and hit the ball hard. We had a lot of balls at them and some that were hit deep, homers at Raider Field, that were caught."
Baumgartner struck out four, walked three and allowed five hits and one earned run in his final pre-tournament start. Hraby pitched the seventh and, after a one-out error, induced a double-play ball to end the game.
Medford 4, Stratford 3
The Raiders hit the 20-win mark for 2023 on Friday with a 4-3 non-conference win at Stratford. Medford scored three times in the second inning and, after the Tigers chipped away and tied it with single runs in their next three at-bats, the Raiders got the go-ahead run in the top of the fifth on Weissmiller's sacrifice fly.
Metz got the win, going five innings in his start. He held Stratford to just two hits and one earned run. He struck out seven and walked four. Hraby got a twoinning save. He allowed a one-out double to Jack Tubbs in the seventh, but a shallow fly ball to center and a grounder to second stranded the potential tying run at second. Hraby struck out two hitters in the sixth.
The Raiders had seven hits off Stratford lefty Braeden Schueller, who went the distance. Baumgartner and Eckert had two hits each.
Medford's second-inning rally started with Schueller walking Dietzman, who stole second. With one out, Metz singled hard to left, then Eckert got a bouncer just through the left side to score Dietzman. An error on a Steliga grounder loaded the bases. Two runs scored when Stratford couldn't turn a double play on Hraby's ground ball.
Hraby walked, was bunted to second by Searles, went to third on Baumgartner's single and scored what wound up being the winning run on Weissmiller's fly ball to right in the fifth.
"This was a grinder type of a game," Justin Hraby said. "We weren't sharp, but we made some plays and pitches to get us out of jams. Offensively we were good enough to scratch out some runs on a tough night to hit. Ty and Tanner did a nice job on the mound and held a good offensive team to three runs."