Posted on
Four sectional entries for RL boys; Lopez advances twice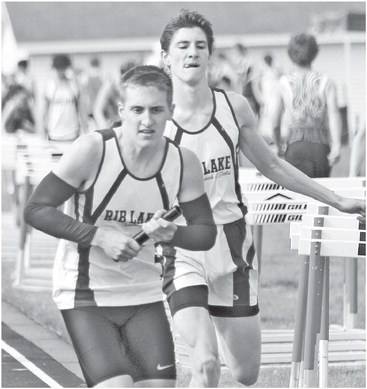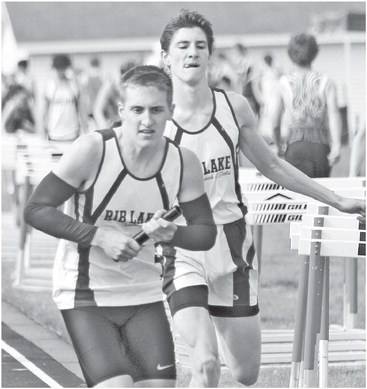 WIAA DIV. 3 TRACK & FIELD
As expected, advancing from Monday's WIAA Division 3 Stratford track and field regional wasn't easy for the Rib Lake Redmen but they did get six entries qualified for today's sectional meet at Marathon.
Olivia Lopez is responsible for two of those entries, making it with fourthplace finishes in the 200-meter dash and triple jump.
The boys expected the distance relays to be their strength when the season began and the 1,600- and 3,200-meter teams have proven that to be true by gaining sectional berths. Individual sectional spots were earned Monday by seniors Theo Robisch in the high jump and Dominick Classen in the 400-meter dash.
Classen just started running the 400 late in the season but it paid off Monday with his best time of 51.76 seconds that almost got him a regional championship. He finished second, just 0.2 seconds behind Stratford's Connor Weigel. Loyal's Bryce Deegan (52.64) and Columbus Catholic's Cal Birkhauser (54.28) also advanced to the sectional with their topfour finishes. Rib Lake's Ben Petersen was ninth at 58.08, lowering his time by 1.01 seconds from the Marawood Conference meet at Stratford one week earlier.
Classen is the third seed based on regional times in today's meet behind Weigel and Alex Wierzba of Rosholt, who won his regional race in 51.22 seconds. The top four finishers in each event at today's sectional will qualify for state.
Robisch hit a new personal-best of 5 feet, 11 inches while taking second in Monday's high jump competition. He was just an inch behind regional champion Benjamin Zuelke of Stratford and 2 inches ahead of third-place jumper Xander Curtice, also of Stratford. Chase Boller of Abbotsford was the fourth qualifier at 5-8.
Robisch is seeded seventh at today's sectional, based on Monday's regional results. He surpassed the 5-10 mark that he hit a week earlier at the Marawood meet. Freshman Jed Henderson also set a new season-best for Rib Lake, taking sixth at 5-6 and Jayden Thums also improved, clearing 4-10 to tie for 12th.
Rib Lake's team of Kaleb Scott, Jack Regier, Ryan Buehler and Classen placed third with a season-best time of 8:40.63 in the 3,200-meter relay. The Redmen had no trouble in securing their sectional spot, finishing 13.61 seconds ahead of fourthplace Marathon. Phillips won in 8:34.05 and Stratford was second at 8:37.31 to advance. Rib Lake is seeded sixth in this race at today's meet.
Classen, Robisch, Regier and Scott finished the meet with a fourth-place time of 3:40.1 in the 1,600-meter relay. The Redmen beat Loyal by 2.7 seconds to grab the last sectional spot and will join Edgar (3:30.52), Marathon (3:33) and Stratford (3:37.73) at today's meet. The Redmen had the sixth-best regional time out of the 16 that will compete today.
Buehler gave Rib Lake two more points in Monday's boys meet with a seventh-place finish in the 1,600-meter run. The senior emptied the tank for a personal-best time of 4:57.4. He beat his Marawood time from a week earlier by four seconds. Elijah Scott was 12th at 5:23.56 and Connor Highfill was 17th at 5:47.33, a new personal best by about eight seconds. Highfill also was 11th in the 3,200-meter run at 12:53.63, a personal record by about 15 seconds. Elijah Scott added a 16th-place time of 2:32.78 in the 800-meter run.
Gus Zuleger set personal bests by taking ninth in the long jump at 15-11.75 and 13th in the triple jump at 31-8.5 Kaedyn Kopelke was 15th in the shot put at 32-2 and 16th in the discus at 91-5. Xavier Johnson placed 19th in the shot put at a season-best 28-8.5. Logan Schmittfranz was 21st in the shot put at 27-4.5 and 25th in the discus at 62-4. Henderson was 26th in the discus at 57-7.
Petersen was 12th in the 200-meter dash preliminaries at 26.26 seconds. Thums was 21st in the 100-meter dash preliminaries at 14.14 seconds.
Rib Lake scored 32 points and placed 10th out of 12 teams in the boys meet, finishing ahead of Greenwood (12) and Prentice (8).
Stratford won the meet with 138 points, followed by Marathon (101), Edgar (85), Phillips (77), Athens (73), Columbus Catholic (47), Spencer (44), Abbotsford (42) and Loyal (37).
Three fifths for girls
Lopez's two fourth-place finishes were the day's highlights for the girls, who came so close to sending two more individuals to the sectional meet and sending Lopez in one more event.
Lopez sprinted to the top preliminary time in the 200-meter dash at 27.49 seconds and was even faster in the final, finishing in 27.29 seconds. Things moved quickly in the final with Edgar's Morgan Schnelle moving up to first place in 26.65 seconds, Loyal's Addysen Wolf taking second in 26.8 seconds and Leah Scherer of Loyal grabbing third in 27.03 seconds.
Only one other sectional qualifier from the other regionals was faster than Lopez on Monday, which puts her in solid contention for a state spot.
In the triple jump, Lopez went 31-10 on her best jump and that was just good enough to advance. She beat Stratford's Emily Rundle by a quarter-inch to get the last sectional spot. Katlyn Schreiner of Athens (34-10.5), Rachel Schneider of Edgar (32-0.75) and Leah Dodson of Marathon (31-11.25) also advanced. Lopez just missed in the long jump, placing fifth at 15-0.25, three-quarters of an inch behind fourth-place jumper Mira Torbey of Columbus Catholic. Chloe LaValley of Marathon won a tight competition at 15-8.25. Rib Lake's Isabelle Gumz was 13th at 13-2 and Emma Tlusty was 17th at 12-10.5.
Lopez is the ninth seed in today's triple jump competition.
Gumz made a push toward a sectional spot in the 300-meter hurdles, setting a new season-best time of 55.79 seconds. The freshman took fifth, 0.8 seconds behind fourth-place hurdler Skye Pospyhalla of Edgar. Tlusty was eighth in 57.31 seconds. Tlusty gave it a good shot in the 100-meter high hurdles final, taking fifth in 18.58 seconds, 1.01 seconds behind LaValley, who took fourth. That was Tlusty's best time of her freshman season. She ranked seventh after the preliminaries at 19.12 seconds, while Gumz was 13th at 19.81 seconds, also a season-best.
Gumz added a ninth-place finish in the shot put at 28-9, while Tessa Krause was 19th at 24-4 and Grace Artz was 25th at 2211. Ziarra Schrader was 16th in the discus at 69-8, Molly Schmittfranz was 22nd at 57-2 and Artz was 25th at 51-6.
Hadassah Nelson tied for ninth in the high jump by clearing a personal-best height of 4-6. Madison Grzanna was 14th at 4-2.
Anna Martin finished 11th in the 400-meter dash at 1:22.75 and 17th in the 800-meter run at 3:11.78.
Rib Lake's 23 points put the Redmen in ninth place ahead of Spencer (16), Prentice (12) and Greenwood (6). Marathon won the regional title with 123 points, followed by Loyal (100), Phillips (96), Edgar (88), Stratford (81), Abbotsford (61), Athens (59.5) and Columbus Catholic (29.5).
Today's sectional meet starts with field events at 3:30 p.m. The top four finishers in each event advance to the WIAA Division 3 state championships at UW-La Crosse June 2-3. Competition starts at 9:30 a.m. on Friday.