Posted on
Championship for Losiewicz highlights local efforts at state meet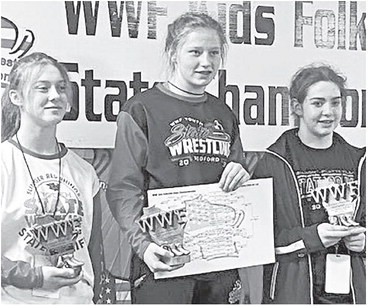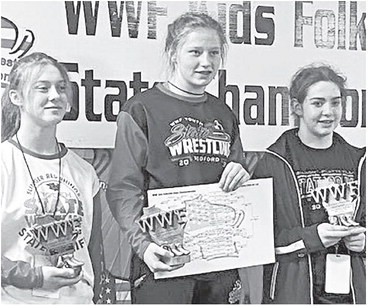 WWF KIDS FOLKSTYLE STATE WRESTLING
Avery Losiewicz brought home a state championship to headline the performances of local athletes at the Wisconsin Wrestling Federation's Kids Folkstyle State Championships, held Friday and Saturday.
Losiewicz's won the 138-pound weight class in the girls 2008-09 age group by winning all four of her matches at the Alliant Energy Center.
Forest Hartl added a third-place finish in the boys 270-pound weight class in the 2008-09 age group to lead Medford's group of seven qualifiers.
Losiewicz drew a bye at the top of the 21-wrestler bracket and then put herself into the quarterfinals with a 9-0 major decision over Margo Grebinoski of De Pere. She got one step closer with a pin in 3:20 over Nohra Good of Watertown.
Losiewicz got a quick pin in 41 seconds over Amelia Soltis of the Sarbacker Wrestling Club in the semifinals and then capped her championship run Saturday night with a pin in 1:56 over Belmont- Platteville's Jaycie Davis. She is Medford's first girls champion since Rachel Sova in 2019.
Hartl drew a bye into the quarterfinals at the top of his nine-man bracket and pinned Gavyn Hill of Bonduel in 2:36 to reach the semifinals, where he was pinned by Ellsworth's Eli Grand in 3:41. Grand went on to lose in the final to Jackson Meyer of Neillsville-Greenwood-Loyal by pin in 3:18.
Hartl, moved to the consolation side of the bracket, where he pinned Dodgeville's Isaac Vondra in 3:35 and, in the third-place match, Maddox Hocking of Black Hawk in 1:16.
Carson Olson went 1-2 at 97 pounds in the 2010-11 age group. After losing by pin to Brayden VanDeHei of Seymour, Olson was a winner by injury default over Isaac Anderson of Kickapoo-La Farge at the 1:51 mark but was then eliminated in overtime 3-2 by Richland Center's Kaiden Stibbe. Trevor Kautzer lost by pin to Carson Piontek of X-factor Elite and by major decision to Carter Zahara of Mondovi/ Eleva-Strum at 73 pounds in the 2010-11 age group. Oakley Sperl lost both his matches at 57 pounds in the 2014-15 age group. He lost 5-4 to Raider Gardner of Marshfield and 6-3 to Graydon Larson of River Falls.
Amara Gudmundson went 1-2 at 105 pounds in the girls' 2012-13 age group. She was pinned in 26 seconds by Audrey Brant of Two Rivers but stayed alive on the consolation side by pinning Megene AbdiHakim of the Ummah Wrestling Club from Milwaukee in 1:28. Arley Vaughan of Waupaca ended Gudmundson's run with a 16-4 major decision.
Amiah Samuelson was added to the state field at 77 pounds in the 2012-13 age group and went 1-2. After falling 13-0 to Waupaca's Madisen Spaeth, she rebounded with a 6-5 win over Jenna Block of Lancaster. A 51-second pin by Leilani Collins of Laona-Wabeno eliminated Samuelson. Collins also beat Samuelson in the third-place match at the Merrill qualifier the previous weekend.
C-G-LH reps
Taydyn Angell and Peyton Hugh from the Cornell-Gilman-Lake Holcombe area earned third-place finishes in their state brackets.
Angell got his at 210 pounds in the 2008-09 age group. In a 24-man bracket, Angell opened with a bye and then a pin in 38 seconds over Alex Solberg of New Richmond. He got a pin in 2:12 in his quarterfinal match with London Hadley of Red Hot Wrestling of Kenosha to set up a semifinal match with Elliot Havlish of the Crass Trained Wrestling Club.
Havlish pinned Angell in 47 seconds before getting pinned in 2:19 in the title bout with Dalton Clay of Sauk Prairie. On the consolation side, Angell got a pin in 4:06 over Carter Simmons of Prairie du Chien and pinned Benjamin Van Goethem of Kewaunee in 2:46 in the thirdplace match.
Hugh, wrestling at 60 pounds in the 2012-13 age group, drew a first-round bye and then reached the quarterfinals with a 15-0 major decision over Caleb Stoflet of Wisconsin Rapids. A 14-2 major decision over Bain Wiegel of the Sarbacker Wrestling Club put him in the semifinals, where he lost 4-1 to eventual champion Ian Weber of the Ringers Wrestling Club (Menomonee Falls). Hugh was then a 6-0 winner over Carson Torkelson of La Crosse Area Wrestling and won the third-place match by medical forfeit over Crass Trained's Rylan Haremza.
Dax Steinbach started with two wins at 105 pounds in the 2010-11 age group, pinning Ryan Arntson of West Salem-Bangor in 1:55 and taking an 11-0 major decision over Kanon Maye of Marinette. But he then lost 10-2 to Jayden Cornell of Little Chute and 2-0 to Landon Forster of Spring Valley. Reilla Warner went 2-2 at 77 pounds in the girls 2012-13 age group. She pinned Ellie Kochanowski of Princeton in 2:42, but then got pinned in 30 seconds by Farrah Rathje of New London. She got a pin in 2:31 over Bristol Hagen of North Crawford-Seneca in her first consolation match but was eliminated with a 19-3 technical fall from Tora Rodriguez of the Red Hot Wrestling Club.