Posted on
Boys get big numbers boost; girls to build around solid core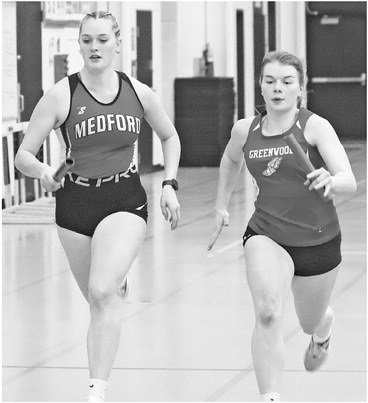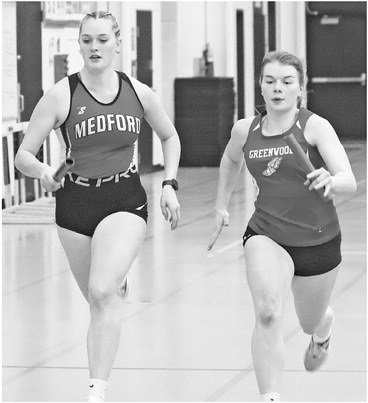 MEDFORD TRACK & FIELD PREVIEW
Overly young and not very deep a year ago, the Medford Raiders track and field program begins 2023 with a strong foundation of experience and, especially on the boys' side, many more athletes to choose from.
Unfortunately so far this March, deep snow outside has limited the coaching staff's ability to sort through the talent and get a true feel for what the Raiders have on the roster.
But fourth-year head coach Shawn Sullivan certainly is excited about how the roster has filled out.
The most noticeable change is the huge influx of senior boys. Last year, the Raiders had just three senior letter winners combined between the two squads. This year, there are 17 seniors on the opening roster –– 15 boys and two girls. While a half-dozen of those seniors are new to the program, Sullivan said she could tell early they weren't doing it on a whim.
"A little more senior leadership helps because they have competed in other sports," Sullivan said. "Even if they're brand new to track, which a lot of them are, they still understand high school athletics and what it means to compete at that level. We have a great group of seniors. We're excited to have them. They're motivated."
The girls program, while light on seniors, has solid numbers of athletes through the other classes to maintain a roster that should hold in the mid-20s for numbers. They too have picked up some quality additions that should help add to the team's point totals.
"I think we're finally starting to see some things come back from Covid," Sullivan said.
"We lost that season in 2020 and, after that, we had the season that was pushed back. That season didn't start until April and went all the way to the end of June.
So that was really difficult. A lot of athletes had to work or were heading to school. The seniors had other commitments.
That made a big difference. We just lost that momentum. That was two years."
The Raiders got their first good looks at their athletes in competition last week in indoor meets at Marshfield and UW-Stout. Indoor competition continues over the next week before the team hopes a big warmup will have Raider Field ready for the April 13 Early Bird Invitational.
Medford's boys are coming off fourth-place finishes last May in the Great Northern Conference and in the WIAA Division 2 regional meet and took a big graduation hit with the loss of distance standout Joey Sullivan, who set school records while placing third at state in the 1,600-meter run and fourth in the 3,200-meter run. Their top thrower, Jake Seifert, also moved on.
But the current roster has some talent to watch, starting with the senior distance crew, which hopes to cover Sullivan's individual void with teamwork. That starts with Josh Clark, Silas Wipf, Zach Rudolph and Vincent Seidel, who return after qualifying for last year's sectional in the 3,200-meter relay. They all did some excellent work in 800-, 1,600- or 3,200-meter individual races as well. Lucas Borman and newcomer Ervin Ulrich add distance depth as seniors and sophomore Anthony Seidel could be in that mix too. Senior exchange student Naut van Meurs ran the mile in Medford's season opener at Marshfield March 21. Juniors Owen Stockwell and Adyn Gripentrog, both newcomers to the program, showed some promise in the 880-yard run at Marshfield.
"Josh and Silas have definitely put on the miles," coach Sullivan said. "Zach and Vincent were in basketball this winter and they've come back and pretty much pick up where they left off right away."
In the sprints, senior Anakin Stokes returns along with names like seniors Itsael Medina and Jose "Mark" Herrera and junior Isaac Kautzer. Junior Cory Lindahl and sophomore Paxton Rothmeier could be names fans see making an impact in a variety of events, including hurdles. Rothmeier missed some time due to injury last year, but Sullivan said early on he looks like one of Medford's most improved athletes. Junior newcomer Dayne Jacobson also opened some eyes in short to mid-distances in the first meet and new sophomore Caleb Scoles had a third-place finish in the 400-meter dash Tuesday at Wausau West.
Sophomore Gage Losiewicz is another returning letter winner who should make an impact. He figures to sprint in 200- and 400-meter races and was a sectional qualifier in the pole vault last year, reaching 11-6 at season's end. Another sophomore, Evan Paul, is one of the team's top jumpers. He got beyond 19 feet at one point in the long jump and hit 5-9 in high jump.
Medford will be looking for some throwers to emerge in shot put and discus. Senior Will Haavisto is the current leader of that group. Alex Kraegenbrink and Jacob Rechtzigel, two of the new seniors, along with freshmen William and Jonathan Bartnik competed in shot put for the first time at Marshfield. Jake Dassow, Medford's standout goalie in soccer in the fall, and football/ basketball standout Charlie Kleist are senior athletes Sullivan is looking forward to finding roles for as well. Kleist was second in the 200-meter dash Tuesday at Wausau West.
The girls' senior leadership will come from Brooke Rudolph and Bryn Fronk. Rudolph, who aims to compete at UW-Stout next year, is a versatile scorer who can run distance, run hurdles, long jump and shot put. Fronk will look to regain her form as the standout sprinter she was before a basketball knee injury took away her 2022 season. She was part of the state-qualifying 400-meter relay team in 2021.
Also part of that team in 2021 was junior Jaylin Machon, who emerged as one of Medford's go-to athletes in her sophomore season. Machon is the school's co-record holder in pole vault at 10 feet, placed seventh last year at state in that event and turned herself into a strong high hurdler by the end of last year.
Like the boys, Medford's girls team is deep with distance-running candidates. Junior Meredith Richter moved to 400and 800-meter running last spring and it paid off with state appearances in both events. She medaled with a sixth-place finish in the 800.
"Meredith is really looking strong," Sullivan said. "She has worked really hard. We're looking for good things from her."
Also in that distance mix are returning letter winners Ella Daniels, a junior, and Ella Dassow, a sophomore. Freshman Lindsay Kahn won the mile run at Thursday's season opener in Marshfield. Freshmen Kaelynn Balciar and Esmeralda Anderson ran cross country in the fall as did junior Lillie Gleichauf, who is completing her first year at Medford. Sophomore Amy Espinoza is a mid-year transfer from Rib Lake who ran cross country with Prentice-Rib Lake in the fall.
Brenley Beran and Lindsey Klapatauskas are two more valuable and experienced juniors. Klapatauskas figures to be at the top of the list among Medford's throwers, plus she sprints and triple jumped last year. Beran is a sprinter, hurdler and jumper. The junior class also includes Ashley Hernandez, who competed for Medford last year, and newcomer Rachel Wesle, a strong athlete who figures to find a role somewhere. She threw 26-2 in the shot put in her debut Thursday.
Riley Clark, who sprinted last year, and jumper Stacy Stolph are two more experienced sophomores. Sullivan pointed to Aliyah Pilgrim, Alexis Zuleger and Autumn Cooley among the freshmen who could make early impacts.
Medford's girls placed second last season behind Mosinee in the Great North- ern Conference championship meet at Antigo and were third at the Tomahawk regional.
Lakeland is the host for this year's GNC meet on May 16. Colby hosts the WIAA Division 2 regional meet on May 22 and the Raiders head to a new venue, Arcadia, for the May 25 sectional.
"We're hoping to make a run," Sullivan said. "We have goals to get to state. That's our end game. In conference, it will help that we have more numbers. Depth is huge. Before we might have just gotten a first or second or third. Now you can actually pick up a few more spots, now you start talking, especially if you can be competitive in all the events. The last couple years have been tough with that. This will be an opportunity for us."