Posted on
RL has experienced boys core; Lopez leads young girls team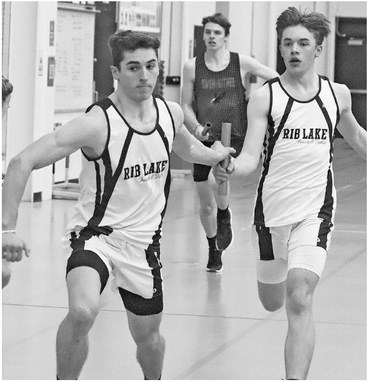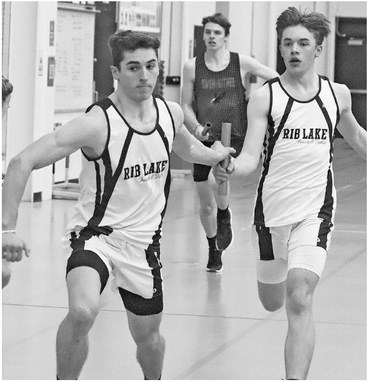 RIB LAKE TRACK & FIELD PREVIEW
New faces are a key storyline for the Rib Lake track and field program at the start of its 2023 spring season, but where there is experience there is optimism for a successful season.
The new faces are especially prevalent for the girls, where more than half of the roster of 15 is new to the program. The boys roster of 17 has seven newcomers, but not all of them are freshmen. While it still won't be easy for the Redmen to hang with the monsters of the Marawood Conference in team scoring at season's end, there certainly are areas and events where they think they can do some damage and, hopefully, make some pushes deep into the post-season.
Rib Lake starts competing this week with the annual indoor meets at Marshfield and will be at Merrill next week for more indoor competition. Boys meets are Tuesdays on each week and girls compete on Thursdays.
The Redmen will compete in a Marawood Conference indoor meet at UWStevens Point on Monday, April 3 before starting the outdoor season April 11 at Edgar if Mother Nature allows.
Fifth-year head coach Jonah Campbell said the Redmen are anxious to see how the pieces will all fit together for the boys, who have an experienced core of five seniors, a solid group of juniors and some additions who could contribute immediately.
"It's a strong group of seniors," Campbell said. "We have five seniors and a decent amount of juniors. Dominick Classen is back, Theo Robisch is a strong jumper and we have guys like Donovan Sutherland, Ryan Buehler and Ben Petersen, all of these guys are super experienced when it comes to relays and getting through the events. We have strong leadership on the track."
Rib Lake should have options in the track events. Classen, a senior, was the constant on the team's 800-, 1,600- and 3,200-meter relay teams, all of whom qualified for sectional competition at Colfax last spring. Sutherland, a junior, was on the 3,200- and 1,600-meter sectional teams and Noah Wiitala, a senior, was on the 800- and 1,600-meter teams.
Buehler is a senior and was on the 3,200-meter team that came within 0.48 seconds of qualifying for state while finishing fifth at the sectional and he is a runner to watch individually in distance events. Then there are runners like Petersen, a senior, and junior Ethan Keiser who have done good work the past couple of years in sprints and short relays.
The one key relay piece lost to graduation was Will Hartke, who also was part of all three sectional teams. The 800-meter team placed eighth and the 1,600-meter team was ninth. But Rib Lake is also picking up some key additions who are coming off strong cross country seasons in the fall with the Prentice-Rib Lake Hawks in freshman Kaleb Scott and sophomores Jack Regier and Connor Highfill. They join returning sophomore Elijah Scott, who scored some valuable points on the track last year.
"The 4x8 was so close last year," Campbell said. "We should have a strong group of four on the track for the 4x8. I know that's one of the goals for them, especially being 3 inches from fourth place and heading to state last year. They're looking to make that up in the 4x8.
"For sprint relays it's just a matter of if we can get enough guys," he added. "We have Classen coming back, Ethan is coming back. Ben ran in some. Theo is now one of those guys that's running. We have Noah Wiitala back too. We were close yet so far away last year. A couple of seconds is a big deal when it comes to regionals and sectionals in those sprint relays. Hopefully we can put something together and get the chemistry there."
Though cross country and track certainly have their differences, Campbell said the Redmen have the potential to score well in distance events with the additions they've gotten.
"When you're used to running a race at three miles instead of one or two, speed becomes a much different aspect," Campbell said. "But we have a good group just to see what they can do with Jack and Connor joining. I know Ryan has been running a lot through the offseason since he didn't play basketball this year. We'll see if that work can pay off in the mid or long distance. As far as points go, we should have some extra points coming from our distance when we have more than just one guy running. I think they're all capable runners. Hopefully there are some meets where we can be competitive points wise with strong distance guys."
In the field, Robisch looks to cap his career with a strong finish. He made a strong push late last year, getting to 38 feet, 2.5 inches in the triple jump at the Marawood Conference meet and qualifying for the sectional in that event. He went 17-9 in the long jump at the Flambeau regional. He also hit a personalbest 5-6 in the high jump at regionals.
"Hopefully we can get him going in all three jumps and pick up where he left off," Campbell said. "That's one of the bright spots we're looking forward to. Hopefully we can get him at least at the end of the season some kind of conference award."
Sophomore Kaedyn Kopelke is another newcomer, having transferred to Rib Lake from Flambeau. He brings some experience to the throws, having finished ninth at the regional in shot put and 10th in discus. Sophomore Logan Schmidtfranz is another newcomer who looks to make an impact in the throws and junior Xavier Johnson, who threw the discus last year, will throw in both events this year.
For the girls, the Redmen are excited to see what the next step is for junior Olivia Lopez after her successful sophomore year. She finished last year at the sectional with a school-record triple jump of 32-6, which placed ninth and she was part of sectional- qualifying 400- and 800-meter relay teams. Lopez was third in the Marawood Conference in the 200-meter dash at 27.86 seconds and was even faster in the preliminaries at 27.38 seconds.
"Olivia broke the school record at sectionals. She's also got the potential to do something big in running," Campbell said. "Getting on the podium at conference last year was huge for her. This is not an easy conference to do that in. If she can do that again and have success early, hopefully that motivates her for multiple events as far as goals for the post-season, making it to sectionals and hopefully getting at least one if not two of her events to move on to state. That would be awesome to see."
The other most experienced athlete on the roster is junior Amber Yanko, but unfortunately, the team isn't sure what it will get from her as she is dealing with some injury issues.
From there, the Redmen are curious to see what they have in a sizable freshman class of six girls, led by Isabelle Gumz, who is already hitting the high 20s in the shot put in practice and figures to be a key relay runner. In fact, Campbell said the plan is to run an all-new sprint relay crew at Marshfield Thursday with Gumz, Emma Tlusty, Hadassah Nelson and sophomore Madison Grzanna, who basically missed all of last year with an injury.
"Hopefully if Amber can come back and is able to run and can run successfully you'd have Amber and Olivia who are veterans and were a strong part of our relays last year and Isabelle being another girl who can fit into that mold," Campbell said. "Then it's seeing what we have with the other freshmen.
"With all of the freshmen, hopefully they find success this year," he added. "If not at least they have a year under their belt and they can come back next year. Hopefully we can get that experience built throughout the season."
Rib Lake will host its annual Northwoods Quad with Chequamegon, Prentice and Phillips on Friday, May 5. Stratford hosts this year's Marawood Conference meet on Monday, May 15. The big change for Rib Lake is a new WIAA tournament road. The Redmen have been assigned to the what figures to be a tough Stratford regional, where they will see teams from the Marawood and Cloverbelt conference before seeing more athletes from the northeastern side of the state at the Marathon sectional.