Posted on
Gilman's Weir gets All-State mention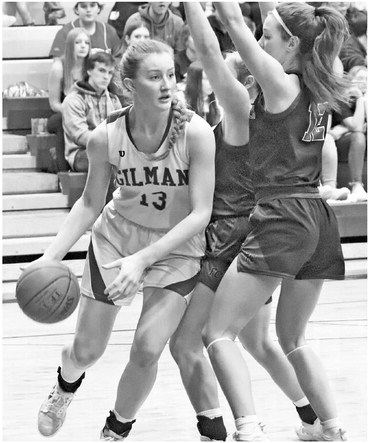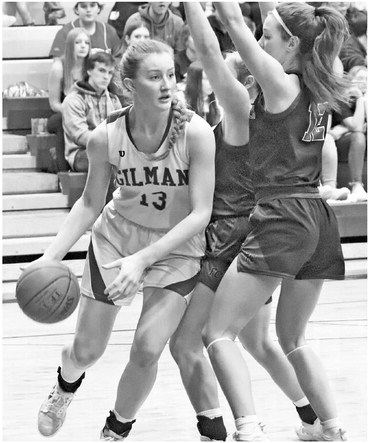 WBCA ALL-STATE GIRLS BASKETBALL
Gilman senior Tatum Weir made the honorable mention list for the WBCA's Division 5 All-State team, which was announced last week. The 6-2 Weir, a UW-Platteville recruit, averaged 20 points per game, 13.3 rebounds, 5.3 blocked shots and 2.7 assists per game in Eastern Cloverbelt Conference play, which easily put her on the All-ECC first team. Overall, Weir's numbers increased to 22 points, 15.2 rebounds, 6.5 blocked shots and 2.8 assists per game while appearing in all 25 of Gilman's games.
Weir led the state by far in blocked shots with 162 and recorded eight tripledoubles this season. She ranked fifth in the state in rebounds per game. When she didn't have triple-doubles, she had double-doubles in the other 17 games.
Weir's 71 assists led Gilman. She shot over 52% from the field, including 31% from 3-point range.
Weir closed her career with a 29-point, 20-rebound, 12-block triple-double in Gilman's 80-50 WIAA Division 5 regional semifinal loss to Prairie Farm on Feb. 23 and had a 26-point, 24-rebound, 14-block triple-double in the team's 71-33 win over Lake Holcombe in its first WIAA tournament game Feb. 21. She scored 30 points, had 15 rebounds and blocked 10 shots in a 62-50 win at Augusta on Jan. 5, the night she surpassed 1,000 points for her career. She passed 1,000 career rebounds on Feb. 10 when she scored 29 points, had 17 rebounds and blocked five shots in a 60-52 loss to an Alma Center Lincoln team that finished 24-2.
Weir is the 22nd Wisconsin player since 2013 to record 1,000 career points D-5
(1,339) and 1,000 (1,068) career rebounds. She blocked 389 shots in her career and added 168 assists and 122 steals.
Weir is one of 26 players to make the honorable mention list and the only one from the Eastern Cloverbelt to earn a Division 5 All-State honor from the WBCA. Conference Player of the Year Paris Opelt and Delaney Rochester of Neillsville got honorable mention in Division 4.
The 11-member Division 5 All-State team includes a handful of players from nearby schools including Addison Lavicka of Athens, Reagan Borchardt of Edgar, Sarah Shaw of Wisconsin Rapids Assumption and Emily Cooper and Aubrey Dorn of state champion McDonell Central.