Posted on
Clearly dominant, Raiders win top awards in the GNC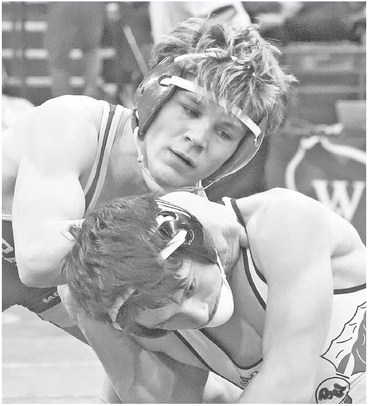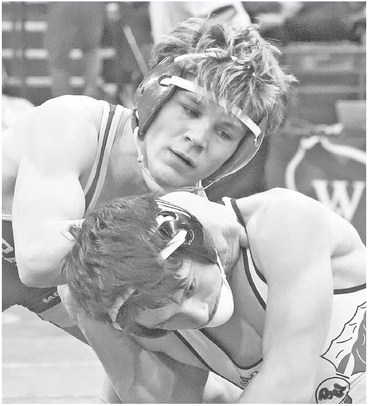 ALL-GNC WRESTLING
The Medford wrestling program won its sixth Great Northern Conference team championship in seven years under head coach Brandon Marcis and this winter's title may have been the most dominant one in that stretch.
The Raiders basically went unchallenged in the five GNC dual meets and then clinched the title by a 142-point margin over Lakeland in the GNC tournament held Feb. 4 in Tomahawk. In that meet, 11 of Medford's 14 wrestlers earned All-GNC awards by finishing among the top three in their weight classes.
That group was led by six champions, including senior Thaddeus Sigmund, who was named the Great Northern Conference's 2022-23 Wrestler of the Year following the meet. The Raiders won six straight weight classes from 120 to 152 pounds. Sigmund, Jude Stark, Owen Higgins, Parker Lissner, Gage Losiewicz and Cory Lindahl all earned All-GNC first-team honors by winning weight class titles.
Four more Raiders landed on the second team by placing second in the tournament. They are juniors Logan Kawa, Braxton Weissmiller and Max Dietzman and sophomore Paxton Rothmeier. Freshman Broden Schilling got honorable mention by placing third at 106 pounds.
With that success, it was no surprise Marcis was named the GNC's 2022-23 Coach of the Year. It's the fourth time he has won that award.
Medford finished with 486 points in the conference meet. After placing second in the meet the past two years behind Tomahawk and sharing league titles, the Raiders put a firm grip on this year's outright title. The Raiders have won 22 straight GNC dual meets and have gone 5-0 now for four straight seasons.
Sigmund won a conference title for the third straight season and finished off his year with a sixth-place finish in the 120-pound bracket of the WIAA Division 2 state tournament. His overall record was 49-11. He won the GNC's 106-pound title two years ago and the 113-pound title last season.
This year in conference competition, Sigmund was undefeated. In the duals, he earned four pins and a forfeit and he got three pins and two byes in the GNC tournament. He clinched the title with a pin in 2:30 over Mosinee sophomore George Ahles. He also pinned Ahles in 3:51 in the teams' Jan. 12 dual meet. Sigmund went on to place second in the WIAA Division 2 Osceola super regional and second in the Amery sectional and got a significant 7-5 win over second-ranked Colton Hush of Baldwin-Woodville at the WIAA Division 2 team sectional on Feb. 14.
Stark, a junior, successfully defended his 126-pound GNC title. He went 3-0 in the duals with two first-period wins and a forfeit. In the tournament, Stark got three pins and two byes and clinched the championship with a pin in 5:14 over runner-up Ashton Bremer of Lakeland, who he had also pinned in 52 seconds in the teams' Jan. 20 dual meet in Mosinee. Stark went on to win the super regional championship at 126 pounds and placed fourth at the sectional to finish 37-11.
Higgins, a sophomore, was Medford's next champion at 132. It was his second GNC title after he won it at 120 pounds as a freshman. Higgins went 3-0 in the duals and won his three contested matches at the tournament to go unbeaten. He clinched his title by defeating Tomahawk senior Addison Peissig 4-0 in his last match. He also beat Peissig 8-1 in the teams' Jan. 5 dual meet in Rhinelander. Higgins pinned Rhinelander's Cyrus Leisure in 38 seconds and Mosinee's Noah Nechuta in 30 seconds at the league tournament. Higgins finished the year at 21-15 after placing fourth at the super regional and advancing to the sectional tournament.
Losiewicz earned his second GNC title with this one coming at 145 pounds. He was the 138-pound champion last year. Losiewicz went 5-0 in the duals with three pins and two forfeits and was dominant in the GNC tournament as well. In his three contested matches, he pinned Tomahawk's Andrew Tollefson, took a 12-3 major decision over Lakeland's Jerome LaBarge and took care of runnerup Jason Arrowood of Antigo with a 15-0 technical fall.
For the second straight year, Losiewicz ended his year at the state tournament, where he went 1-2. He finished 42-12 and earned championships in the super regional and the sectional along the way, knocking off Griffin Marko of St. Croix Falls in both title bouts.
Lindahl, a junior, won his first GNC title by dominating his competition in the 152-pound weight class. He was undefeated in the duals with three pins and two forfeits. In the conference tournament, he earned three first-period pins and a 13-1 major decision over Mosinee's Oliver Janssen. His clinching pin came in 46 seconds over Tomahawk's Hudson Mattke. Lindahl finished his strongest season to date as the third-place wrestler at 152 pounds in the super regional, a sec- All-GNC
tional qualifier and with a 26-15 record.
Lissner, a sophomore, earned his first GNC title by going unbeaten at 138 pounds. He got two pins and three forfeits in the dual-meet season and finished things off with pins in all three of his contested matches at the GNC tournament. He stuck Mosinee's Jack Schippers in 50 seconds, Rhinelander's Dresden Klaver in 3:28 and Tomahawk's Ryan Larson in 3:57 to win the championship. Larson was the runner-up last year too at 138 pounds.
Lissner finished the season at 35-17 after placing third at the super regional and qualifying for the sectional.
Kawa, a junior, was a GNC runner-up for the second straight season but ended his year as the sixth-place wrestler in the state in Division 2 at 160 pounds. He went 49-13 this year.
Kawa went 5-0 in GNC duals, winning matches at three different weight classes (170, 182 and 160). After finishing second at 170 pounds in the GNC last year, he took second at 160 in this year's tournament, beating Antigo's Nolan Kielcheski 6-0 and then falling in a tight 2-1 decision to Lakeland's Zane Grams. Kawa beat Grams 5-2 in the teams' Jan. 20 dual.
In the post-season, Kawa won the championship at the super regional and placed second at the Amery sectional. He won two matches at the state tournament, advancing to the semifinals where he ran into four-time state champion Braeden Scoles of Kewaskum.
Rothmeier, a sophomore, won the GNC's 132-pound title last year, but he had a challenge bumping all the way up to 170 for this year's tournament. He went 5-0 in the duals, rotating between 160 and 170 pounds. In the tournament, he racked up three pins and a 14-5 major decision over third-place finisher Logan Schwinger of Rhinelander. In the title bout, he was outlasted by Antigo senior Robby Hagerty 14-7. Rothmeier finished a solid second season at 24-11, earning one win at the super regional.
Weissmiller, a junior, earned his first All-GNC award with a strong run at 220 pounds. He went 4-1 in the duals with two pins and two forfeits. His only loss was a pin to Lakeland's Division 1 state qualifier Landon Saglin and Saglin got him again in the GNC tournament, earning an 8-3 decision in the title bout. Before that match, Weissmiller got three pins, including one in 3:40 over third-place finisher Teryn Walls of Mosinee.
Weissmiller (34-21) ended his year at the Kohl Center after advancing with a third-place finish at the super regional and a third-place finish at the Amery sectional.
Dietzman, a junior in his first season as a wrestler, lost his first conference match by pin to Rhinelander's Owen Kurtz on Jan. 5 but then completed the duals with two pins and two forfeits and pinned Lakeland's Esaube Brown in 1:47 in the tournament to earn a championship rematch with Kurtz. Dietzman took Kurtz into overtime before losing 6-1 to place second. He advanced to the sectional with a second-place finish at the super regional, got a pin at the WIAA Division 2 team sectional semifinal against Baldwin- Woodville and ended a solid first year at 32-16.
Schilling, a freshman, gave Medford valuable points during the year at 106 pounds in a weight class not many teams were able to fill. He earned three forfeit victories there in the GNC duals and got three more in the tournament to earn honorable mention. He lost matches to champion and state qualifier Presley Gutbrod of Tomahawk and to junior Logan Gray-Ives of Lakeland.