Posted on
Baumgartner, Brown take top honors in All-GNC voting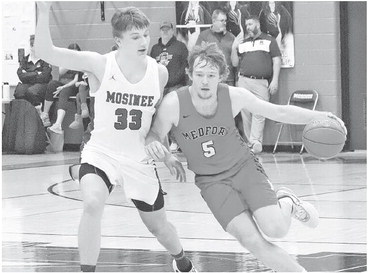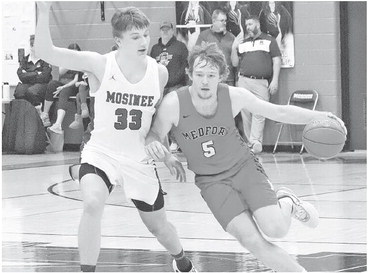 ALL-GNC BOYS BASKETBALL
All five Medford starters earn awards
With their names scattered all over the lists of statistical leaders after a 12-0 season in league play, all five of Medford's starters earned an award in the voting for the 2022-23 All-Great Northern Conference boys basketball teams.
After clinching Medford's third outright conference championship in four seasons, the Raiders' awards were highlighted by senior Logan Baumgartner repeating as the GNC's Player of the Year and head coach Ryan Brown being named Coach of the Year for the fourth time in seven years.
Junior Tanner Hraby joins Baumgartner as a unanimous All-GNC first-team choice, senior Charlie Kleist is on the second team and seniors Ty Metz and Zach Rudolph both are on the honorable mention list.
The awards come after Medford went 22-5 overall and won the program's third straight WIAA Division 2 regional championship under Brown's direction. The season ended Thursday in a 57-41 loss to La Crosse Central (23-5) in a WIAA Division 2 sectional semifinal played at Menomonie. Central beat New London in Saturday's sectional final and is playing at this weekend's state tournament in Madison.
Baumgartner, who shared the Player of the Year award last year with Northland Pines point guard Nolan Lurvey, won it outright this year after leading the league in scoring and free throw shooting in 12 GNC games and also ranking among the conference's top performers in rebounds, 3-pointers, steals and assists. He is a unanimous first-team choice for the third straight season.
The 6-4 Baumgartner scored 19.8 points per game in league play and shot 84.6% from the free throw line (33 of 39) to edge Hraby for the lead in that statistic. Hraby made 27 of 32 free throws (84.4%) in conference play. Baumgartner hit 2.8 3-pointers per league game to rank second behind Hraby's 3.3. Baumgartner ranked third in steals at 2.4 per game, tied for fifth in assists at 3.1 game and tied for sixth in rebounds at 6.3 per game.
Overall in 27 games, his numbers include 20.3 points, 6.4 rebounds, 3.2 assists and 2.0 steals per game. He shot 45.4% overall from the field and 33.8% (74 of 219) from 3-point range. He added a teamhigh 15 blocked shots and knocked down 79.5% of his free throws (97 of 122).
Baumgartner leaves Medford's program as the team's all-time leading scorer with 1,749 points and its career leader in 3-pointers with 269. Last year, he set the school record for 3-pointers in a season with 106 and in a game with 10.
In a 59-50 win at Northland Pines that helped put Medford in the driver's seat early in the conference race, Baumgartner had 26 points on 10-of-17 shooting from the field and 14 rebounds. He had 19 points and six rebounds in the Feb. 10 rematch at Raider Hall, which Medford won 59-58.
He scored 27 points in a 64-42 win at Rhinelander on Feb. 7, 27 points in a 92-50 home win over Antigo on Dec. 9 and had 21 points, 11 rebounds and three assists in Medford's narrowest road win of the GNC season, a 73-72 win at Lakeland on Jan. 20. He had one of his strongest allaround outings, according to Brown, in a 69-53 win Feb. 17 at rival Mosinee when he scored 15 points, five rebounds and three assists.
In non-conference play, Baumgartner scored 35 points and had 14 rebounds in a key 74-73 early-season win at New Richmond on Dec. 6 and tied his season-high with 35 points in an 81-57 win over Athens on Jan. 17 when he broke Peyton Kuhn's two-year-old career scoring record on his final basket.
Hraby, who got honorable mention last winter, ranked third in GNC scoring at 17.3 points per game and ranked third in assists at 3.6 per game after taking over the role as Medford's primary ball handler this season. Overall, he averaged 14.1 points, 3.0 rebounds, 2.5 assists and 1.3 steals in 27 games. He hit 39 of 100 3-point tries in league play and was 61 of 192 overall (31.8%) from long range. He led Medford in free throw shooting at 86.7%, hitting 65 of 75.
Among the games that got him pushed to the first team included the finale at Mosinee when he hit five of 12 3s and scored a season-high 25 points. He scored 23 points and nailed five of 9 3-pointers in an 82-72 win over Lakeland on Dec. 2, scored 23 points and hit four of 8 3s in the Dec. 9 win over Antigo, hit eight of 10 shots while scoring 23 points in an 8833 win at Tomahawk on Dec. 16 and had 19 points and made five of 12 long-range shots in the close win at Lakeland.
Hraby had a season-high seven assists in a 93-30 win over Tomahawk on Feb. 3 and had six assists at Rhinelander and in his big game against Antigo, when he also had a season-high four steals.
Hraby had 22 points in the New Richmond win and 20 points with four 3s in a 67-44 win over Wausau West on Feb. 24.
Baumgartner and Hraby join a talented All-GNC first team that includes Mosinee senior forward Davin Stoffel, who averaged 18.2 points and 8.1 rebounds per GNC game, Northland Pines senior forward Gabe Smith, who scored 14.6 points and grabbed 6.3 rebounds per GNC game, and Lurvey, who averaged 11.1 points, 4.7 assists and 6.1 rebounds per game, while also shooting 83.3% from the free throw line. Stoffel and Lurvey are repeat first-team selections.
Kleist's numbers might have made him a first-team candidate in several past GNC seasons. The 6-3 forward averaged 13.2 points and 5.2 rebounds in GNC play. He ranked second in GNC field goal percentage at 60.2%, while making 65 of 108 field goal attempts.
Overall, Kleist, a UW-Stout football commit, averaged 13.3 points, 5.8 rebounds and 2.1 assists per game and was a tough matchup for most teams due to his combination of strength, size and athleticism.
He had some big games in key moments during the season, including 18 points, four rebounds and three assists in a pivotal 69-65 win over Mosinee on Jan. 10, 18 points and eight rebounds in the title-clinching win over Northland Pines on Feb. 10 and 17 points and six rebounds in the one-point win at Lakeland.
He scored a career-high 22 points against one of Medford's toughest opponents, Onalaska in a 78-69 loss on Dec. 3 and had 20 points while making seven of eight shots from the field in an 81-50 win over Brookfield Academy Dec. 28 in the first game of the Sheboygan North tournament. Kleist had an 18-point, 13-rebound double-double to help Medford escape Altoona with a 56-54 win on Dec. 20.
Metz joined Kleist and Baumgartner to give Medford its strongest inside presence as a group in several years. The 6-2 Metz averaged 8.3 points in GNC play and ranked fourth in the conference by pulling down 6.8 rebounds per game. He also ranked third in field goal percentage at 59.4% while making 38 of 64 shots. Overall, he was at 8.5 points, 7.4 rebounds, 1.5 assists and 1.5 steals per game.
Metz had a 10-point, 12-rebound double- double to start league play against Lakeland, had 12 points and 10 rebounds in the big Jan. 6 win at Northland Pines and had eight points and 10 rebounds in the Feb. 17 win at Mosinee. He had nine points and 10 rebounds in the Feb. 3 win over Tomahawk.
He scored a career-high 19 points in a 72-34 win at Merrill on Dec. 13 and had eight rebounds. He set a high mark of 13 rebounds and scored nine points in a season-opening 71-69 loss to Chippewa Falls and had 11 points and 11 rebounds in Medford's 73-41 WIAA Division 2 regional semifinal win over Menomonie.
Rudolph developed into Medford's top defender, guarding opponents' top perimeter players in the last half of the year. He ranked fourth in the GNC at 3.3 assists per game and also averaged 5.0 points, 3.3 rebounds and 1.4 steals per game in GNC play. His overall numbers were 5.4 points, 2.8 rebounds and 1.4 steals per game. He shot 47.5% from the field (57 of 120) and 34.5% from 3-point range (20 of 58) during the year.
He had seven points, eight rebounds, three assists and forced the key turnover late that secured the 69-65 win over Mosinee, had five assists in the key win at Pines and had seven rebounds to go with three assists in the early win over Lakeland.
Rudolph had five points and a seasonhigh six assists in the tournament win over Menomonie. His 17 points and five 3-pointers were a big reason Medford got out of Altoona with a win with the Railroaders putting heavy defensive emphasis on Baumgartner and Hraby that night.