Posted on
Second trip to Antigo goes much better for gymnasts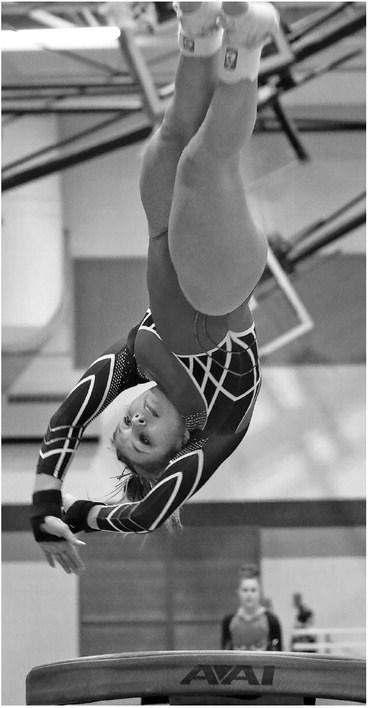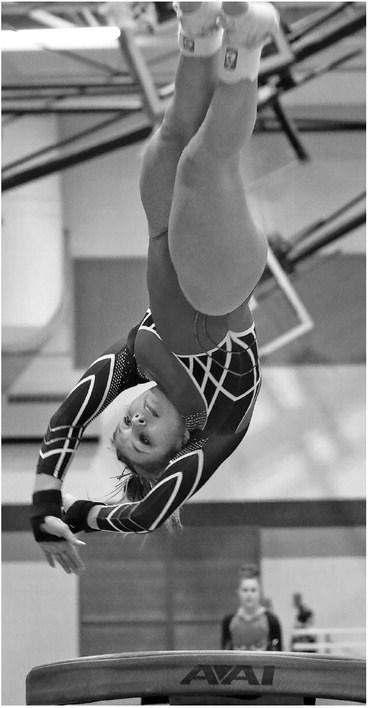 MEDFORD GYMNASTICS
The Medford Raiders returned to what head coach Steve Cain jokingly called the "scene of the crime" Saturday and redeemed themselves in their coaches' eyes with a second-place finish in Antigo's Julie Langseth Invitational.
Medford scored 133.275 points and fell a half-point shy of winning the meet behind West Bend West (133.775). The Raiders outscored Great Northern Conference Large School leader Marshfield (132.4) for the second spot and also finished comfortably ahead of rivals like the Ashland Co-op (130.325) and Antigo (127.45).
Four nights earlier, the Raiders had what they considered an off-night in Antigo even though they won a triangular with the host Red Robins and Mosinee with 129.2 points.
"Right from the time they were getting on the bus and seeing how they were they did not put in anything less than 100% with what they did," Cain said of Saturday's effort. "They placed second as a team. I was hoping to get close to 135, but I also wanted to be realistic with what we did Tuesday and with girls dealing with some colds and sicknesses. They scored 133.275, only 0.5 behind West Bend West. There were some pretty good girls on that team. They're a Division 2 team. It was close."
Kyla Krause certainly was one of the Raiders who got back on track. The junior started the meet with a bang, earning a winning score of 8.9 on the uneven bars that broke the school record of 8.85 that teammate Kate Malchow had set last year. Krause tied it Jan. 14. Krause went on to score 35.05 all-around points and win that competition as well.
"Kyla's bar routine is getting to the point where you can't find things to pick apart," Cain said. "That's how flawless it is. She got an 8.9 which is her new personal record and also broke the school record. That's going to be like a little inhouse competition with her and Kate, but it's a positive competition thing. They both are friends. That kind of stuff they'll handle extremely well."
Malchow was on point herself, coming close to Krause with a second-place score of 8.6, just ahead of four West Bend West gymnasts. Raider senior Avery Purdy tied for 15th out of 46 bars entrants with a 7.75, Delaina Meyer was 27th at 7.25 and Shayla Radlinger was 31st at 7.0. Medford's event team score was 32.5, its second-highest total of the season.
"The judges really picked apart things like bent legs, legs apart and pauses," Cain said. "That's the theme for our practices this week, what do we do to fix that? But it was a great job by them all on bars, every single one."
The momentum dropped a little bit on the balance beam, where the Raiders were down in the 31s for the second straight meet. The highlight, however, was a personal-best tying score of 8.375 on a no-fall routine by sophomore Veronica Mateer that was good for sixth place, just ahead of Krause's 8.35. Purdy was 13th at 7.95, while Malchow and Kaileigh Mientke were 30th and 31st at 7.05 and 7.0. Marshfield's Ellie Jensen was the event champion with a 9.025.
"I could tell a couple girls just had an angry frustration," Cain said. "I said 'well, you guys need to get back up again and dig in. We're going to floor and this floor is going to be pivotal. The floor is going to be your proving ground to gain momentum. Don't expect to pick up the pieces just on vault.'" The Raiders earned 34.65 team points on the floor, close to a season best. Malchow led the way with a season-best 8.825 that won the event championship. Krause tied Ashland's Jaycee Erickson for second with an 8.8 and Meyer, a freshman, got the last top-five spot with a personal-best 8.625. "Kate definitely earned her first place on floor with her 8.825," Cain said. "Kyla was very close behind. Delaina Meyer she placed fifth, but it was a confident fifth. She had so much fun. With floor it was like, 'OK we're back.'" Radlinger tied for ninth on the floor with her 8.4 and Mateer tied for 12th with an 8.2.
Medford finished with a solid team outing on vault that resulted in 34.4 points, not far from the Raiders' seasonbest of 34.8.
Krause picked up another win with a strong 9.0 on her second attempt and Meyer earned another personal-best with an 8.6 while placing second out of 45 vaulters. Malchow tied for fifth with an 8.5 and finished seventh in the all-around competition with 32.975 total points. Raiders Ellison Carbaugh and Bridget Cloud were part of a nine-way tie for 17th with their 8.3s.
"With Bridget, Ellison, Avery, Kaileigh, Shayla, if it wasn't for them and being part of that score overall, I mean they're there for the last oomph to get that team score," Cain said. "You can't just depend on two or three girls to get that score and always placing high to get that team score. Great job by them."
Medford is back in action tonight, Thursday, with the home finale against Wisconsin Rapids. The GNC Large Division dual meet starts at 5:45 p.m. at Medford Area Elementary School. Medford is 1-1 in Large Division duals and Rapids is 0-2.