Posted on
Defense gets it done in two home wins; RL falls Friday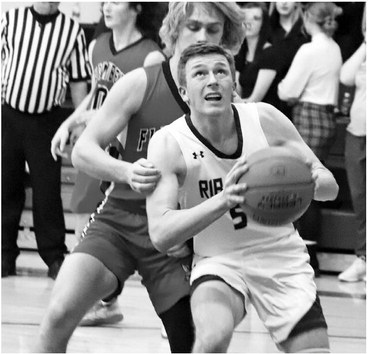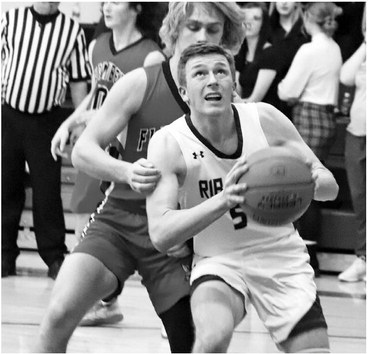 RIB LAKE BOYS BASKETBALL
Isaiah Deitz remained a tough player for the Rib Lake Redmen to defend Tuesday, but they limited his teammates, held their own on the boards and only turned the basketball over three times to earn a hard-fought 52-47 home win and a season sweep of the Chequamegon Screaming Eagles.
The win kept Rib Lake tied with Prentice for second place in the Marawood North standings at 5-6 with five league games to play. Catching 8-2 Athens won't be easy, and if it does turn into a battle for second, it could come down to the Feb. 23 regular-season finale at Prentice.
Deitz, Chequamegon's 6-6 All-Marawood North standout, hit 11 of 20 shots from the field to score 26 points and he had 12 rebounds. But unlike the first meeting Dec. 13, Rib Lake refused to let the Screaming Eagles dominate inside. Sticking with their man-to-man defense throughout, they shut out 6-7 senior Dawson Heizler, who scored 22 points in the first meeting, and made things tough for point guard AJ Morgan, an honorable mention pick in the North last year who made just five of 15 shots while scoring 13 points. He did not play in the first matchup, a 64-59 Rib Lake win.
Good patience and shot selection allowed Rib Lake to lead most of the way. The Redmen trailed 14-11 but went on a 9-0 run to grab control late in the first half. Donovan Sutherland cut to the hoop and got an assist from Jackson Blomberg, then Andrew Wudi pivoted around a couple of defenders in the lane to give Rib Lake the lead. After Heizler missed two free throws, Wudi stuck back a missed 3-point shot by Dominic Quednow and Talon Scheithauer nailed a 3 to open up a 20-14 edge. Scheithauer scored again late to give Rib Lake a 23-18 halftime lead.
The Redmen got the lead to six on three occasions early in the second half with the last time being 33-27 when Blomberg split two defenders to get to the rim. Deitz went on a personal 7-0 run to give the Eagles a 34-33 lead that lasted eight seconds because Tanner Vlach sank two 3s in a 40-second span to put Rib Lake back on top. Blomberg's high-arcing 3 from the left corner made it 42-34 with six minutes to play and, moments later, Sutherland got an assist from Vlach on a hoop that made it a 10-point game.
Chequamegon (3-7, 5-10) got a 3-pointer from Corbyn Phelps and started chipping away, making it a one-score game at 46-43 on two Deitz free throws with 2:04 left. Wudi hit two bonus free throws with 1:55 left and he found Vlach behind the Screaming Eagle defense for a crucial layup that made it 50-44 with 43 seconds left. Deitz banked in a 3 with 26.4 seconds left to keep Chequamegon alive, but Michael Borchardt shut that door by dropping in two free throws with 24.7 seconds left.
Vlach rebounded from a scoreless outing the night before by leading Rib Lake with 14 points in Tuesday's win. Sutherland was a big factor on both ends of the floor with 13 points and eight rebounds. He made six of eight shots. Blomberg had 10 points, six rebounds and three assists.
Wudi, Rib Lake's primary ball handler, had just one turnover and dished out seven assists while scoring seven points and pulling down seven rebounds. Scheithauer's five first-half points were big. Borchardt had three points and two rebounds. Chequamegon had a slight 3329 edge in rebounding and was held to 40.4% shooting from the field (19 of 47). Rib Lake shot 43.2% (19 of 44).
Two non-conference games are next on Rib Lake's schedule. They'll visit Spencer on Friday and host Tomahawk on Monday. Those games lead up to a Tuesday test at league-leading Athens and another one Feb. 3 at home against Marawood South power Newman Catholic. All upcoming games tip at 7:15 p.m.
"There's good signs," Rib Lake head coach Todd Henderson said early in the week. "We have to start putting full games together. We look forward to making a good run at the end of the season and taking it into the playoffs."
Rib Lake 62, Flambeau 33
On Monday, Rib Lake made things tough for Flambeau's shooters and, after the first couple of possessions, the Redmen locked out the Falcons on the boards as well and cruised to a 62-33 nonconference win on their home floor.
Blomberg hit more 3-point shots by himself than the entire Flambeau team with four and he poured in a game-high 22 points. Rib Lake held the Falcons scoreless for well over six minutes to start the game and led 26-2 at one point in the first half. Flambeau made one big run to cut the deficit to 13 early in the second half, but Rib Lake re-established control after that to drop Flambeau to 7-8 overall.
Flambeau shot just 17.6% from the field (12 of 68) and hit only three of 29 3-point attempts.
"That's what we challenged the guys with when we came out was that good tough defense," Henderson said. "We have to set the tone on that end and we have to hold them to one shot. We have to rebound. That was an emphasis against Auburndale (Friday) and I felt like our guys played a good half there. Tonight we also needed to come out and do that. Flambeau can be a streaky 3-point shooting team, so if we're not closing out and we know they're going to shoot 3s which create long rebounds, everybody has to box out and get those boards."
Rib Lake finished with a 59-36 advantage in rebounding and limited Flambeau to two second-chance points.
Blomberg's first two 3s opened up a 12-0 lead before Kevin Ross finally got the Falcons on the board 6:39 into the game. After Quednow scored inside, Scheithauer and Blomberg sank 3s for a 20-2 lead. Dalen Gebauer scored, then Blomberg drove to the rack and then had a chance for a three-point play at the 6:36 mark. He missed the free throw, but the lead was 26-2. The Redmen eventually settled for a 30-10 halftime lead.
"Jackson has had the hot hand the last two games," Henderson said. "I think he only missed one 3 against Auburndale and just a couple tonight. He's definitely been stroking the ball on 3s. He's put in a lot of work. It's good to see it pay off."
Rib Lake got a bit sloppy to start the second half and Flambeau got within 37-24 before the Redmen restored order by getting a short shot from Donovan Sutherland, a 3-pointer from Wudi, free throws from Borchardt and Quednow and an inside score from Borchardt to push the lead back to 19 at 46-27.
Quednow continued his recent string of solid outings with eight points, eight rebounds and two assists.
"He's a great sixth man off the bench," Henderson said. "He's one of those kids that could be a starter and he has started a couple of games for us. He gives us a good boost. He's long, he rebounds well, plays good defense. He's got good post moves and he's a good 3-point shooter. He's a good complete player and good asset to the team."
Wudi finished with nine points and four rebounds. Sutherland had four points and shared the team rebounding lead with Vlach with 10 each. Vlach had a team-high three assists. Borchardt and Gebauer scored five points each and both grabbed five boards. Scheithauer had three points, three rebounds and two assists. Rib Lake was able to empty the bench late and Michael Butler, Seth Borchardt and Jed Henderson all got buckets.
Ross led Flambeau with 10 points, while Oliver Taylor added nine. Rib Lake used its man-to-man defense most of the way and switched well on screens on the perimeter. The Redmen did sprinkle in its 1-3-1 zone at times, which was effective as well.
"It's nice when you have the athletes we do that are all similar in build and athleticism that they're pretty interchangeable on defense and that can cause some problems for certain teams," Henderson said.
Eagles 78, Redmen 60
Rib Lake's offense was humming Friday in the first half, allowing the Redmen to build a 10-point lead, but host Auburndale got on a run to tie the game by halftime and kept it going through the second half to pull away for a 78-60 win.
The game was closer than the final score indicates. Rib Lake was still within six with five minutes to go but was outscored 14-2 down the stretch.
Rib Lake shot the ball extremely well in the first half, beating whatever defense the Eagles tried to play, whether it was man-to-man or a little bit of zone pressure they tried midway through the half. The Redmen were 14 of 24 from the field in the half (58.3%), including eight of 11 from 3-point range.
"That was pretty satisfying because they are a great defensive team," Henderson said. "To put up 40 on Auburndale in a half, I don't know of too many teams that have done that this year. They just capitalized on a couple of turnovers and we had a couple of quick possessions that they turned into offense."
Quednow was in the starting lineup and responded with two early 3s to give Rib Lake a 10-9 lead. Blomberg's first 3 of the game put the Redmen ahead 17-15 before Auburndale went on an 11-1 run to go up 26-18. Then it was Rib Lake's turn.
Blomberg, Scheithauer and Quednow all knocked down 3-pointers and then Blomberg hit another to put up a quick 12 points and push Rib Lake ahead 30-26. Vlach's triple extended the lead to 34-28 and his assist to Quednow, followed by Wudi's backdoor basket off a Michael Borchardt assist made it 38-28, to cap a quick but impressive 20-2 run.
But Auburndale is 13-2 for a reason and part of that is its balanced offensive game. The Eagles countered with a 12-2 surge with 3s from Blake Raab and Alex Willfahrt, four inside points from Willfahrt and a Lucas Yeske score off a Mason White Eagle steal to tie it at the half at 40-40. Willfahrt's 3 came at the buzzer after Rib Lake had a defensive rebound, but turned it over to give Auburndale a baseline inbound play and the last shot of the half.
Willfahrt, who scored a game-high 25 points, got a three-point play 20 seconds into the second half and Auburndale never trailed again, but Rib Lake stayed right on the Eagles' heels until the final moments.
Down 55-45 with 12:45 left, Rib Lake got two free throws from Vlach, a Blomberg 3 and baskets by Quednow and Sutherland in a 9-4 spurt to pull within 59-54. Gebauer scored inside to make it 61-56 and a Quednow hoop kept it a twopossession game at 64-58.
White Eagle, however, scored inside off a nice pass from Evan Scholl and Scholl hit a crushing 3 with 3:41 left that pushed the lead to 69-58.
Not surprisingly, Rib Lake wasn't quite able to stay as hot from the field in the second half, cooling off to 31.8% from the field to finish at a still-solid 45.7% overall (21 of 46). The Redmen finished nine of 18 from long range.
Blomberg and Quednow each scored 16 points, while Wudi added 10. Blomberg had six rebounds and four assists. Wudi also had six rebounds and four assists. Vlach had eight points, five rebounds and a team-high five assists. Scheithauer and Sutherland scored three points each. Sutherland had five rebounds. Borchardt and Gebauer each added a hoop. Borchardt had five rebounds, two assists and two blocked shots.
Auburndale took over the game inside, scoring 42 of its points in the paint and turned the ball over just four times. The Eagles turned Rib Lake's 15 turnovers into 16 points for one of the game's top statistical edges. Yeske had 17 points, White Eagle had 12 and Caden Weinfurter added 10. Willfahrt had seven rebounds and eight assists. The Eagles shot 48.3% from the field, including 23 of 38 (60.5%) on two-point shots.