Posted on
Irish Invite tough as always; Raiders stay unbeaten in GNC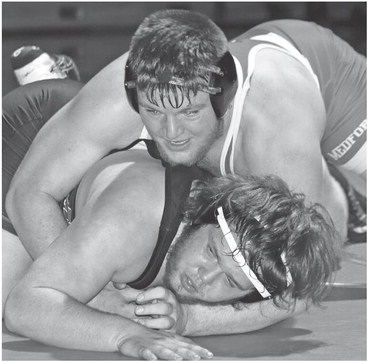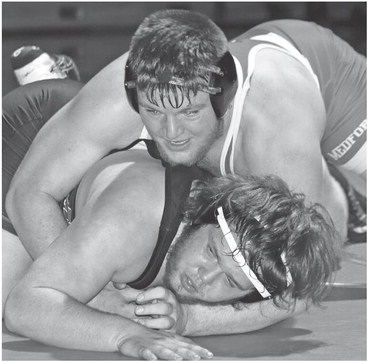 MEDFORD WRESTLING
Jude Stark made a run to the 126-pound championship match, while three other Medford wrestlers were top-five finishers during the team's 10th-place team finish at Saturday's 16-team Freedom Irish Invitational.
The tournament has never been an easy one for the Raiders in the handful of years they've been going to it, but head coach Brandon Marcis said Thursday that's why he likes going there because the competition only makes the Raiders better, which is especially important with February's big meets rapidly approaching.
Medford finished with 98 team points, one-half point behind ninth-place Brillion. Amery, one of the teams the Raiders will be up against in post-season competition, won the tournament with 189 points, getting by host Freedom (167.5), Shiocton (143), Burlington (129) and Hortonville (127). Appleton North was sixth with 109.5 points, just ahead of Evansville (109) and Denmark (108).
Stark was the fourth seed in an eightman bracket at 126 pounds and pinned fifth-seeded Trenton Nicklaus of Brillion in 5:32 in the quarterfinal round. He got a big win in the semifinals, knocking off top-seeded Brett Soquet of Denmark (186) with a 5-4 decision to set up the title bout with third-seeded Lincoln Keller (24-5), a freshman from Evansville, that Keller won 5-1.
Parker Lissner got to the 138-pound semifinals before he settled for fourth place. He took care of Freedom sophomore Vincent Cook with a pin in 5:34 in the quarterfinals but then ran into Shiocton's top-seeded Blake Carton in the semifinals. Carton (25-9) took a 13-0 major decision over Lissner and went on to lose 10-2 in the finals to Hortonville's 24-3 Henry Niebauer. Lissner was upset by Hortonville's Jack Cleereman 7-2 in the third-place match and sits at 21-12 for the season.
At 120 pounds, senior Thaddeus Sigmund took fifth while going 4-1 for the day to improve to 27-6 for the season. After pinning Ashwaubenon's Carter Bona in 53 seconds in the first round, Sigmund went to overtime with Hortonville's Nolan Skebba in the quarterfinals but got taken down and lost the match 8-6.
Sigmund dominated from there, pinning West De Pere's Ethan Agnew in 2:14 and Appleton North's Jackson Kolasinski in 1:56 to get to the fifth-place match, where he took care of Auburndale's 20-10 Zade Grassel 14-0.
Logan Kawa (29-7) got a bye into the 170-pound quarterfinals where he lost a close 8-7 decision to Denmark's Luke St. Peter (22-6), who wound up placing third. Like Sigmund, Kawa dominated the consolation side of things, pinning Hortonville's Austin McHugh in 1:31, Ashwaubenon's Jacob McVane in 58 seconds and Evansville's Charlie Braunschweig in 1:26 in the fifth-place match.
Three Raiders earned seventh-place finishes.
Braxton Weissmiller (20-12) started 220-pound competition with a pin in 1:54 over Mishicot's Logan Marshall before getting pinned by 37-0 Koy Hopke of Amery in 24 seconds in the quarterfinals. Weissmiller stayed alive with a pin over Evansville's Tucker Peterson in 1:02, got knocked down to the seventh-place match when getting pinned by Burlington's Grant Otter and won that seventhplace match 8-2 over Denmark's Jonah Goetsch.
At 285 pounds, Medford's Max Dietzman (18-11) had a similar day, getting a first-round pin in 1:46 over Burlington's Jordan Moldenhauer before getting pinned by second-seeded Troy Dietzler (20-3) of Ashwaubenon in 57 seconds in the quarterfinals. Dietzman avoided elimination by pinning Appleton North's Cal Greenslade in 3:26, was dropped to the seventh-place match with a loss by pin in 5:23 to Connor Sanford of Two Rivers and won that seventh-place match by medical forfeit of Mishicot.
At 160 pounds, Paxton Rothmeier (14-6) was pinned in the quarterfinals by Slinger's Calvin Coffeen in 3:53, but came back in consolation competition to pin Freedom's Nixon Heinke in 3:55. A loss by pin in 1:10 to Amery's Cole Andren sent Rothmeier to the seventh-place match, which we won by pin in 5:22 over Mishicot's Kyler Walske.
Raiders Owen Higgins and Matt Gebert both wrestled at 132 pounds and wound up facing each other in the consolation side of the bracket. Higgins won his first round match by major decision 15-3 over Freedom's Grayson Ratajczak but he then ran into top-seeded Danny Heiser of Evansville (30-2), who pinned him in 49 seconds. Gebert was pinned in 5:04 in his first-round match by Appleton North's Tyson Salm.
Those results set up the matchup between teammates, which Higgins won 10-6. Slinger's Grant Dickensen sent Higgins to the seventh-place match with an 8-2 decision. Higgins lost the seventhplace bout by pin in 2:46 to Burlington's Brody Toledo.
Evan Wilkins lost both of his contested matches at 182 pounds as did Cory Lindahl at 152 pounds. The Raiders were without one of their top wrestlers, 145-pounder Gage Losiewicz.
Medford is scheduled to finish the dual-meet portion of its Great Northern Conference schedule tonight, Thursday, at Mosinee by facing Antigo in round one and Lakeland in round two. The second dual with the T-Birds would be a matchup of 4-0 teams if both teams win their first meets. Wrestling starts at 6:30 p.m.
Medford makes its annual trip to the Arcadia Challenge on Saturday and then is off until the Great Northern Conference tournament in Tomahawk Feb. 4.
Medford 69, Mosinee 9
In their second and final home appearance of the season Thursday, the Raiders got 11 wins by pin or forfeit and added an exciting closing win from Dietzman in a 69-9 blowout win over Mosinee in GNC competition.
"It was a good night," Marcis said. "They were fired up because this is our last home dual. I know we were kind of the favorite to win, but you can always go out and wrestle to your competition. In my little spiel beforehand, I just told them that every time you step on the mat, it's important but no time is any more special or less special. You want to treat everything the same. I think they wrestled hard and wrestled good and they listened."
The 285-pound bout between Dietzman and Mosinee's Teryn Walls was one of only two matches to go the full six minutes. For Dietzman, a first-year junior on the squad, it was just his second match to go the distance. He's won both.
"You want a little bit of a struggle bus," Dietzman said. "It makes you want more. It was a good scrambling match. That's what it was, a couple of big guys moving fast. That's always fun to watch, fun to be a part of."
Dietzman nearly had the first takedown, but Walls slipped out of his grasp and got the takedown instead. Dietzman escaped, got Walls' leg and took him down before Walls escaped at the buzzer to tie the match at 3-3 two minutes in.
Dietzman got Walls to that mat with a head throw in the second period and nearly got the pin, but he had to settle for a near fall and an 8-3 lead.
"I went for the head throw and when I had his other arm I was trying to pull his head up so his shoulders would touch the ground," Dietzman said. "My other arm went above his elbow, which made it illegal. I was a little bit peeved about that."
Walls pulled within 8-7 by the end of the period. In the third, Dietzman started on the bottom and as he was getting warned for stalling, he made his move, getting a reversal and two-point near fall that wound up being the difference in a 12-9 win.
"When he wrestles he does a couple things where you can tell that this is his first year," Marcis said. "He's so athletic and I think he's matured to the point where he just picks things up quick. It's so fun to coach. Part of learning wrestling is just learning to grind in a match, staying in good position, take your chances when they're there. But you have to stay in good position."
"I feel like I'm doing great," Dietzman said, adding his goal is to get another shot later in the conference season at Rhinelander's Owen Kurtz, who pinned him last week. "Obviously there's always more to improve on. You try to move up and pick up on stuff as fast as you can."
The other full-length match came at 182 pounds where Wilkins got taken to the mat in the last 10 seconds and dropped an 8-6 decision to Andrew Nevienski. Wilkins had led throughout, getting a quick takedown in the first period and riding Nevienski out and getting two more takedowns in the second period to lead 6-2.
Wilkins started the year at 152 pounds, but his ability to move up should strengthen Medford's lineup down the stretch.
"We start messing with guys too much in the tie and you start playing with fire there and he got head tossed," Marcis said. "If we stay in on the legs in that match, take a couple more of those shots, close the gap and take a shot, maybe that doesn't happen. But you know what, something like that keeps a kid hungry. He's tall, he's lengthy, he's got leverage, he's got muscle. He asked me a couple of weeks ago (to move up). I think he's going to fill into it nicely."
Other than a forfeit at 113 pounds to Mosinee's Jackson Nechuta, the Raiders didn't even allow a takedown the rest of the night.
Sigmund had to work deep into the second period, but he got his pin of George Ahles in 3:55 at 120 pounds. Stark returned after being out a week and pinned Kory Rescheske in 37 seconds at 126 pounds and Higgins got four takedowns before sticking Noah Nechuta in 1:43 at 132 pounds.
At 138 pounds, Lissner built a 14-1 lead before pinning Chris Strejc in 4:26. Lindahl got the first takedown and turned that into a pin in 1:42 in the 152-pound match with Oliver Janssen. Kawa got his pin at 1:13 on his third takedown of Bruce Hintz at 170 pounds.
Forfeits were earned by Broden Schilling at 106 pounds, Losiewicz at 145, Rothmeier at 160, Jonathan Bartnik at 195 and Weissmiller at 220.