Posted on
GNC foes too much, but Raiders outscore Merrill Co-op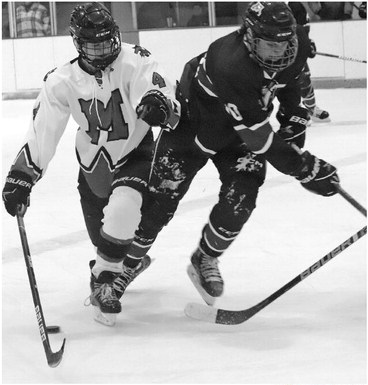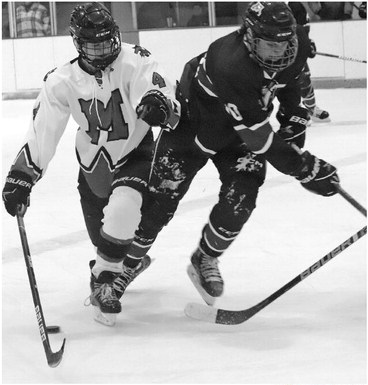 MEDFORD BOYS HOCKEY
Medford did well to keep Mosinee off the scoreboard for about 12 minutes, but after that, the Indians were a scoring machine that couldn't be stopped in a 13-1 rout Tuesday at the Simek Recreation Center.
The victory put Mosinee in a firstplace tie with Lakeland atop the Great Northern Conference standings at 4-1 with each team having two league games yet to play in the round-robin portion of the season. The Indians improved to 10-5 overall and got three goals from Caden Schmirler and two apiece from Gavin Obremski, Spencer Swiderski and Ethan Oatman.
Rhinelander and Tomahawk are tied for third at 3-1 with both teams still having three league games to play. Rhinelander was slated to host Lakeland Tuesday in a pivotal battle between contenders, but weather forced that game to be postponed to Jan. 26.
"They're just a talented team," Medford head coach Galen Searles said of Mosinee, adding that the Indians' passing was hard for Medford to keep up with. "We don't have the guns to go with them. They had a set breakout where they were sending a guy on the off-side high and just firing it out to him and he handled the puck. It was just hard to stay with them. In front of the net, they constantly had guys coming in and (defenseman) Isaac (Schaefer) was like I don't know who to cover."
Mosinee scored its 13 goals on 42 shots on net with Talan Albers collecting 29 saves for the Raiders. Aiden Karst had 18 saves for the Indians. Down 9-0 to start the third period, Medford had a modest goal of breaking the shutout and it did at the 2:55 mark when freshman Tucker Phillips picked up a loose puck just before the red line, carried it into the offensive zone and beat Karst low to the stick side.
"It was very nice to see Tucker go down and score that goal," Searles said of Phillips, who started the year on Medford's top offensive line, but has done well in a recent switch to the second line. "He's got the speed to do it. We took him off the top line because he's played center basically his whole life and he's been playing a lot better I think at center."
Mosinee scored its first goal on an Obremski slap shot 4:59 in. It stayed 1-0 for almost eight minutes. Oatman knocked a high rebound out of the air past Albers at 12:36 and that set off a spree that included three more goals before the period ended giving Mosinee a 5-0 lead. The Indians' constant traffic in front of the net produced four more goals in the second period to make it 9-0 and one more 1:46 into the third before Phillips got his unassisted goal.
Each team had just one power play. Mosinee scored its last goal while shorthanded 10:23 into the third period on a backhanded shot by Swiderski.
Medford (1-5 GNC, 5-11 overall) is set to host the Shawano Co-op tonight, Thursday, at 7 p.m. in non-conference play. The two teams met last week with Medford winning 9-4. The Raiders have a tough trip at Lakeland scheduled for Tuesday with the puck again dropping at 7 p.m.
Third at Merrill
After falling 8-1 to Rhinelander in Friday's first round of the East-Merrill United tournament, Medford regrouped Saturday and beat the host team 8-5 in the consolation game to claim third place and earn its fifth victory of the season.
Logan Searles scored four times for the Raiders and Connor Gowey added three in a high-scoring back-and-forth battle that Medford took control of late in the second period.
Galen Searles said the Merrill Co-op might have had a little more depth than the Raiders, but he felt as the game unfolded the BlueJacks didn't have finishers like Gowey and Searles and that proved to be the difference.
Gowey and Searles struck 70 seconds apart late in the first period to give the Raiders a 2-0 lead. Persistence kept the puck in the BlueJacks' zone and Kaden Kennedy fed Gowey for a goal into a virtually open net at 15:03. With 47 seconds left, Searles carried the puck end-to-end along the right boards and beat goalie Truman Shull.
At the 2:20 mark of the second period, Gowey answered a Sergei Wunsch goal, getting free after the BlueJacks hit a post behind Albers and firing a shot past Shull's glove. Right after that, Medford wasn't able to get out of a five-on-three situation, allowing a power-play goal to Zach Pagel at 4:36 just after the first penalty expired. It was Searles' turn to answer at 6:15 as he flipped a rebound past Shull off the rebound of a Logan Koski shot. But that two-goal lead, quickly went to a 4-4 tie on goals by Parker Klebenow at 7:15 and Pagel at 8:35.
A power play gave Medford a chance to regain momentum and the Raiders did just that, getting Gowey's third goal of the game at 12:19 on a blast he unleashed just as he crossed the blue line. The Raiders then got two big short-handers just before the period ended as Searles picked up a mishandled puck at one blue line and skated to the other end put it in the back of the net at 13:35. At 16:03, Phillips got a breakaway chance and went to his backhand side to beat Shull for a 7-4 lead.
Nick Bodner scored for the BlueJacks 2:30 into the third period and it stayed 7-5 until Searles put in the clincher with 1:54 left as Gowey flipped a shot on goal from the blue line and Searles was there for the rebound.
The BlueJacks had a 38-25 edge in total shots, but Albers came up with 33 saves to complement Medford's offensive success. Shull had 17 saves for the BlueJacks, who fell to 3-10 with the loss. They were beaten by Jeffers, Mich. 8-2 on Friday night.
Just eight days after losing 8-3 to Rhinelander in conference play, the teams met again on Friday and the Hodags controlled this one from the outset, scoring five times in the first period and coasting from there to their 8-1 win. Gavin Denis scored twice for the Hodags and Leo Losch had a goal and three assists.
The Hodags scored three times in the second period to go up 8-0 before Medford got its lone goal 3:57 into the third from Schaefer, who scored unassisted.
Rhinelander held a 44-28 advantage in shots on goal. Albers had 36 saves for Medford, while John Turek had 27 saves for the Hodags, who won the tournament title with a 4-3 victory Saturday over Jeffers.
Pines 11, Medford 2
Already without injured defenseman Cameron Bull, the Raiders had to play without Miles Searles Thursday and visiting Northland Pines took advantage, scoring 11 consecutive goals in between Medford's scores in an 11-2 final at the Simek Center.
Luke Wessel had a hat trick for the Eagles, Josh Graves scored twice and six others scored once as Northland Pines climbed out of the GNC basement with the win, jumping over Antigo, Medford and Waupaca at the time.
Gowey was left as Medford's main scoring threat by the absence of Searles, which came due to an unfortunate penalty call two nights earlier in Shawano that resulted in a disqualification. Gowey did get both of Medford's goals in the game, starting the scoring 3:06 in with a Gavin Phillips assist and then finishing it with a short-handed goal at 12:48 of the third period, going top shelf off a Tucker Phillips assist.
The Raiders' defense and Albers did a good a job of clearing away traffic in front of the net for awhile but the dam burst midway through the second period.
The 1-0 lead lasted for three minutes before Graves tied it at 6:06. It stayed 1-1 until Gage Marien gave the Eagles their first lead 47 seconds into the second period with an unassisted goal.
Anderson Kielty scored at 5:44, Wessel converted a power play goal at 7:40, Graves got one with the Eagles shorthanded at 10:41 and Wessel slid one just past Albers' skate at 14:06 to blow the game open at 6-1.
Thanks to two five-minute major penalties and two two-minute minors, the Raiders spent the majority of the last 18 minutes short-handed and Pines buried them with five more goals, four of them on power plays.
Albers finished with 31 saves, while Eli Kerner had 18 for the Eagles.