Posted on
Best meet of the season so far comes in home finale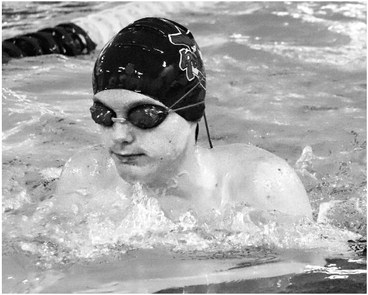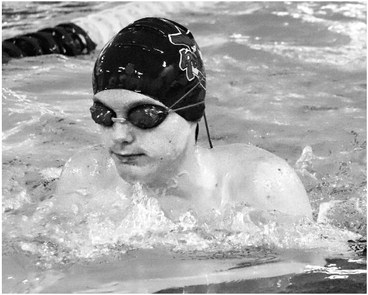 MEDFORD BOYS SWIMMING
The Medford Raiders couldn't have scripted a much better final home meet for their 2022-23 boys swim season as they smashed several season-best times and earned their third dual meet win of the winter with an 82-70 victory over the Shawano Hawks.
This was Medford's second win of the season over the Hawks, who made things more competitive this time by bringing seven swimmers, a big jump from the four they brought the first time on Dec. 1. Lakeland was also scheduled to attend to make it a double-dual, but the Thunderbirds did not show, so 12-0 forfeit wins were credited to the Raiders and Hawks.
"Many individual best times were broken and we were able to come from behind early in the meet to edge out a victory over Shawano," head coach Terry Werner said. "Every once in a while the stars line up and everything clicks. This was one of those nights for the boys swim team."
The Raiders won four of the meet's 11 races, capped off by a solid effort from the 400-yard freestyle relay team of Hudson Briggs, Logan Rouiller, Ervin Ulrich and Dylan Kraemer. With senior Ulrich and Kraemer swimming their last events in the home pool, they brought home the win with a team time of 4:31.36 that beat Shawano's team by 3.55 seconds that was easily the fastest time a Raider team has posted in that event this season.
Silas Briggs, Roger Mann, McKay Gurney and Hunter Briggs got the thirdplace points in 5:19.88.
Ulrich and Kraemer also celebrated Senior Night by winning a race individually.
Ulrich continued to make big strides in the 500-yard freestyle, winning in 6:29.23, improving by more than 11 seconds over his previous best. Gurney, a freshman, took second in 7:10.23, cutting nearly 45 seconds from his only other 500-yard race back on Dec. 13. He beat Hawk Baelyan Putz by 16.59 seconds.
Kraemer swam the 100-yard freestyle for the first time this season and won it in 1:07.02, finishing just ahead of Hudson Briggs (1:09.68). Silas Briggs got the fifthplace point in 1:16.62, beating his previous best time by 5.13 seconds.
Gurney, who Werner said had a huge night, won a close race in the 100-yard breaststroke, finishing in 1:26.06 to beat Shawano's Daniel Bergmann by 0.63 seconds. Gurney cut almost five seconds off his previous best time. Naut van Meurs, Medford's senior exchange student from the Netherlands, was third in 1:29.26 and Hunter Briggs was fourth in 1:30.51, a new personal best.
Kraemer added a second-place finish in the 200-yard freestyle at 2:26.47, cutting almost six seconds off his previous top time of the winter. Bergmann won in 2:17.55. Raider Logan Rouiller was third in 2:29.23, cutting over seven seconds, and Hudson Briggs was fourth in 2:34.33, knocking off 2.84 seconds. Rouiller cut 4.73 seconds while taking second in the 100-yard backstroke at 1:23.82, while Mann dropped four seconds to 1:41.35 and took fourth. Braden Barkley won for Shawano in 1:12.55.
Mason Reimann earned a pair of seconds in his individual races. He dropped 4.62 seconds to finish the 100-yard butterfly in 1:11.7. He trailed Ben Langlois (1:05.77). In the 200-yard individual medley, Reimann cut 3.56 seconds and finished in 2:37.36, again behind Langlois (2:27.22).
In the 50-yard freestyle, van Meurs placed second in 28.68 seconds, just behind Barkley (26.77). Mann (32.75) and Silas Briggs (33.11) both lowered their times while placing fifth and sixth. Reimann, Hudson Briggs, van Meurs and Ulrich had a lead in the 200-yard freestyle but couldn't quite hold on, finishing 1.1 seconds behind the Hawks in 1:54.16, a season best for Medford by more than four seconds. Senior Jimmy Murillo Aguirre, Mann, Hunter Briggs and Silas Briggs were third in 2:12.74.
Ulrich, Gurney, Reimann and Kraemer swam the 200-yard medley relay in 2:18.46, another season-best time for Medford. Murillo Aguirre, Hunter Briggs, Rouiller and van Meurs were third in 2:23.97. Shawano's winning time was 2:03.92.
"Dylan, Ervin, Jimmy and Naut all celebrated the last races they would swim in the MASH pool by blazing away at relay and individual events," Werner said. "It really is something special to see swimmers put it all out there in the pool the last chance they get. Our swim family also celebrated our parents and the support they have given throughout the season as well as our team managers. I could not be more proud as a coach than I was Thursday night."
Medford is on the road today, Thursday, visiting Menomonie in the make-up date of a Dec. 22 postponement. Medford's last Great Northern Conference doubledual is Jan. 26 at Shawano with leagueleading Rhinelander being there as well.