Posted on
Abby brings numbers, experience to the table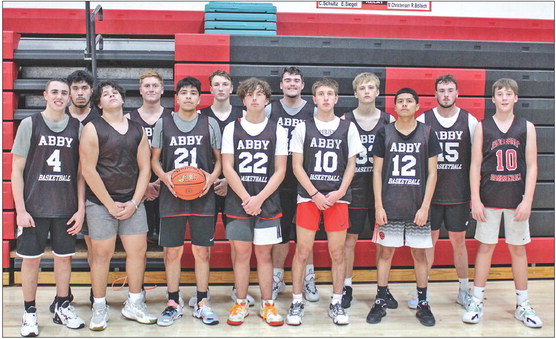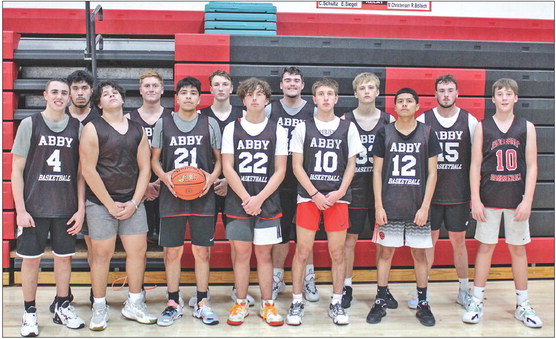 The Abbotsford Falcons boys basketball team will be bringing in a wealth of varsity experience into the 2022-23 season. They return a good portion of their roster from last year and will be looking to capitalize on both that experience and the number of players they can shuffle in and out of the lineup to improve on last season's performance.
In 2021, Abbotsford struggled with injuries and youth, leading to a 4-21 overall record and a fifth place finish in the Marawood-North conference. The Wisconsin Basketball Yearbook, which prints predictions for all teams across the state, has the Falcons finishing sixth this year, something that head coach Brent Faber said his team will use as motivation as the season begins.
"I told them that right away," the third-year varsity coach said. "I think we're better than that and I think the kids do too. We were plagued last year with some injuries and missing some kids."
There is certainly reason to believe that they will be better than they were a year ago. They will be returning their top two scorers in seniors Brandon and Adam Diedrich, both of whom averaged over 10 points per game last season. Their third scorer and defensive minded guard Esteban Gomez, who led the team with 54 steals last year, will also be coming back for his senior season.
Behind that trio, they will also have a number of other upperclassmen and a few sophomores that all will likely make an impact this season. Seniors Gatlin Faber and Jacob Hirsch and juniors Preston Bunkelman, Blake Bargender and Evan Reis should all receive minutes and the Falcons' head coach said he can see himself utilizing ten to twelve of his players in each game.
"Last year we got some of the younger guys in and got them some playing experience," Faber said. "So hopefully that's something to build off of with all of these seniors coming back. We do have quite a few upperclassmen, so we can run pretty deep."
With these numbers, Abbotsford will look to have a more balanced attack on the offensive side of the ball, spreading it around and giving opportunities to a number of different players. This approach differs from more recent Abbotsford teams, which often saw the offense revolve around one or two big playmakers.
The numbers will also allow the Falcons to experiment with increasing the pace of their game. With the ability to sub on a regular basis, Abbotsford hopes that they can push the floor and potentially exhaust teams that lack the same depth that they possess.
"We hope that the more guys we can play will help in the long run, because hopefully the other teams will get tired or get into foul trouble," Faber said. "That's what we ran into last year at times, when guys would get into foul trouble, we didn't know where we could go to on the bench. Now it's like 'who do we go to?' We have a lot of guys who can play for us, so it's kind of the opposite."
While having numbers is a luxury in a lot of ways, there are drawbacks as well.
"Obviously everyone wants to play, but you can't put twelve guys on the court," Faber elaborates, "so it's just getting everyone to know their roles and where they fit in the rotation, knowing what their job consists of. I think we'll have a lot of close games and hopefully if they can figure out their roles, this will help us close out on the winning end more often this year."
The Falcons will be tested early and often, starting their season with six games over seven weekdays. This early season gauntlet includes a nonconference game against a top 10 ranked Auburndale squad on Friday, Dec. 2 and a Newman Catholic team that reached sectionals last year and is led by last year's Marawood-South player of the year, Mason Prey, the following Friday. Their first game of the season will be this Thursday, Dec. 1 at home against Marawood-North opponent Chequamegon. The Screaming Eagles are 0-1 after falling to Ladysmith 9266 in their season opener. They will also be returning their top two scorers in Isaiah Deltz and AJ Morgan. Last year, Chequamegon defeated the Falcons 57-40 in their first game of the season and then completed the sweep later in the season with a 52-47 win. This year's opener is slated for a 7:15 p.m. start.