Posted on
Author tells story of 'The Christmas Spirit'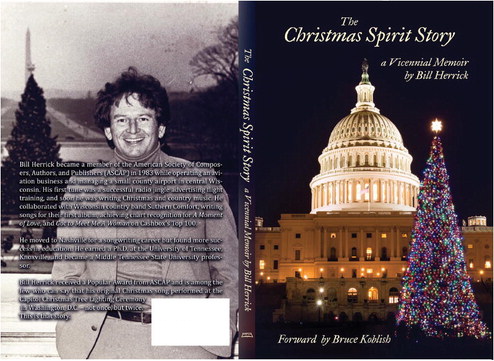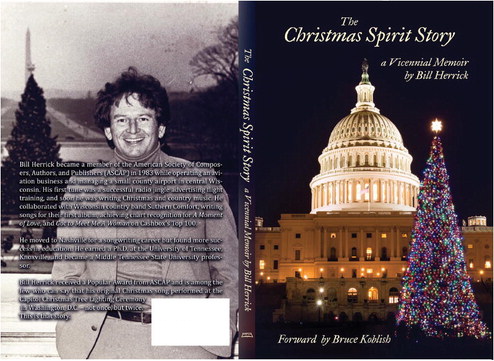 Former county airport manager, songwriter and professor Bill Herrick shares stories of his life in new book
"Come to the Airport where great pilots learn to fly.
Come to the airport, take a lesson in the sky, You can be a private pilot. It's been done in 60 days, So come to the airport, learn to fly, and get away." This was the jingle that started it all for William 'Bill' Herrick.
Herrick was born and raised in Rutland Vermont but now lives in Elkins, New Hampshire.
Once he entered high school, he got into an apprentice program with General Electric that he continued for four years until he graduated.
After he graduated, he got drafted into the Army, but instead of going into the Army, he decided to go into the Air Force. He spent four years with the Air Force including a year in Vietnam.
When he retired from the Air Force, he went back to General Electric for a short time. In that time, he attended the University of Vermont.
While he was working at General Electric, a high school friend, Al Greenwood, who owned Rutland Airways, asked Herrick if he would come work for him.
Herrick said, "I had a GI Bill from the military and with that I earned my Private, Commercial, and Flight Instructor certificates at Rutland Airways and taught flight training there until 1970."
During that time he did a lot of flying around the country. When he moved to Wisconsin, he met his then wife. Herrick got a job flying for E & S Manufacturing, which was located where Phillips Medisize is currently.
In 1976, Herrick decided to start his own company called Herrick Aviation out of the Taylor County Airport. It was there that he wrote his Come to the Airport jingle for a commercial, which was produced by Bruce Koblish. Together they wrote a few more songs and it was then that he realized his love for writing. In time, he had built up enough of a name for himself as a successful flight instructor with a successful flight school.
Along with getting his jingle recognized, in 1983, he hosted the Come to the Airport Air Show, which generated a lot of interest with more than 3,000 people attending.
Herrick loved writing so much that he wanted to try his hand at writing song lyrics including some country and Christmas songs. He felt there was a need for a new Christmas song because there hadn't been a new song in some time.
Herrick's father had found a box of belongings from his late mother. Herrick didn't know his grandmother that well, but in the box of belongings was a poem that became his inspiration for The Christmas Spirit song.
Herrick was overjoyed when the Medford Area Senior High School choir performed his song during their holiday concert.
"That was the first recognition that I got for being a song writer," Herrick said.
In 1983, when the Capitol Christmas Lighting Ceremony came around, he heard that the tree that the Capitol was getting their tree from the Chequamegon National Forest. Herrick thought that if the tree is coming from Wisconsin, why shouldn't the song come from a writer in Wisconsin.
Bruce Koblish, who produced the Christmas Spirit Song, had a brother Don, who was one of Herrick's former flight school students.
Don had just moved to Nashville and was a music producer there.
"Don's wife had a beautiful singing voice, so she became the vocalist for The Christmas Spirit Song," Herrick said.
Herrick had one goal in mind, to get his song performed at the Capitol Christmas Tree Lighting Ceremony in Washington D.C.
With self-motivation, he wrote several letters to Wisconsin Congress Representatives explaining why his song should be performed at the lighting ceremony. He explained in the letters how the song came about and that the composer for The Christmas Spirit Song was a Medford graduate.
Even today, this is the only original song that has been chosen to be performed at the Capitol Christmas Tree Lighting Ceremony.
After that, he heard that the Capitol in Madison was getting their Christmas Tree from Perkinstown. He again wrote to the local government representatives and then got his song performed during that lighting ceremony as well.
In 1994, as he was looking through his hometown paper in Vermont, he discovered that the Christmas Tree was coming from Vermont that year. So Herrick once again wrote letters to his Vermont representatives to get his song performed a second time during the Capitol Christmas Tree Lighting Ceremony.
Throughout the years, he has spent a great deal of his time achieving his goals. One of his greatest accomplishments was when he got four degrees in five years.
"I basically studied 24/7 for five years," Herrick said.
Herrick has recently crossed another thing off his bucket list when he wrote a Memoir entitled The Christmas Spirit Story. This was his life in a story of the past 20 years.
He continues to set goals for himself including a plan to write a book a year for ten years.
If you would like to purchase his book The Christmas Spirit Book, it is available on Amazon and Kindle.