Posted on
Gilman begins its year-end push with win at Colby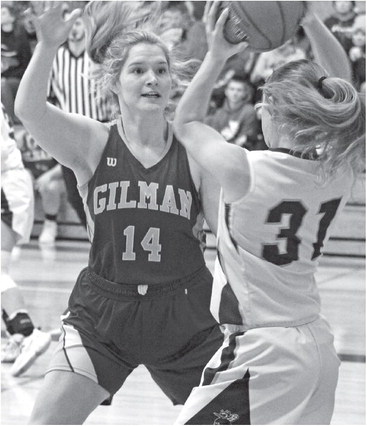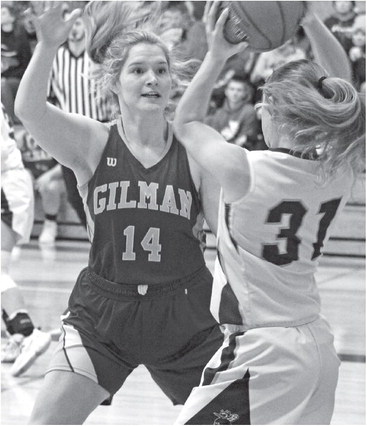 GILMAN GIRLS BASKETBALL
With their eight-game winning streak snapped by league-leading Neillsville on Thursday, the Gilman Pirates took the first step in starting a new streak Tuesday with a dominant 69-43 Eastern Cloverbelt Conference win at Colby.
The Pirates got off to a sluggish start but then caught fire, breaking the game open with a 24-0 run that put them 29-8 with 6:25 left in the first half. The lead never came close to dipping under double digits after that.
"The girls got off to a rough start," head coach Tammy Weir said. "We weren't handling the ball very well and we were just playing too fast. But, once we settled in it was fun to watch."
The Pirates moved to 6-4 in conference play and 11-6 overall, while Colby went to 4-7, 5-11. Gilman sits in a third-place tie in the conference standings with Loyal, who the Pirates have swept this season.
Four players hit double digits for Gilman in the scoring column, led by Madisyn James, who sank six 3-pointers to score 18 points, and Aubrey Syryczuk, who scored a season-high 18 points while leading the Pirates' transition game.
Tatum Weir added 17 points and 15 rebounds and Kya Dietzler scored a career- high 12 points, with six coming in each half. Gilman's 69 points marked its second-highest offensive output of the season. Weir had four blocked shots and Dietzler had four rebounds.
The game-breaking run started with Gilman trailing 8-5. Weir got it going with an inside score, and Dietzler followed with a bank shot off from the left baseline to put the Pirates on top. James sank the first of 3s and got another one after Syryczuk scored off a steal. Dietzler got fouled as she got an offensive stickback with 9:12 left in the half. She missed the free throw, but Weir cleaned it up for a 22-8 lead.
Weir sank two bonus free throws at the 8:53 mark, Emma Grunseth's offensive rebound led to another triple for James, Ava Warner got her lone hoop of the night and Syryczuk scored off a steal before Colby finally ended its drought with a Brett Schmitt 3-pointer.
The Hornets got the deficit down to 13, but Syryczuk found Grunseth for an easy two on a press breaker and Syryczuk hit a long two-pointer. James drilled a long triple with four seconds left for a 38-20 halftime lead.
Colby shaved a 22-point deficit to 15 at 44-29 when Gilman hit the Hornets with another surge with Weir hitting a jumper off an offensive rebound, Syryczuk scoring at the end of a beautiful twoon- one fast break with James and four straight points from Dietzler that made it 52-30 with 10 minutes to go.
Kya Viegut and Schmitt led Colby with 11 points each. Grunseth had 14 rebounds for Gilman and Syryczuk had six to go with four steals and three assists. James had six assists.
Gilman could still make push for second place in the Eastern Cloverbelt, but to do it, they'll have to knock off the 9-1 Spencer Rockets Friday in Gilman. The Pirates should stack some wins next week with games against winless Granton at home Tuesday and on the road Feb. 4. They travel to Owen-Withee on Feb. 3.
Warriors 59, Pirates 26
Grunseth scored the game's first basket, but Neillsville quickly took away hopes of an upset after that by scoring the next 18 points and then rolling to a 5926 win Thursday night.
Neillsville kept a stranglehold on the top spot in the conference, going to 10-0 in league play at the time.
The Pirates were much better handling the ball against Neillsville's defense in this one than they were while turning it over 25 times in a 61-17 loss on Dec. 2. They reduced that to 17.
This time, Neillsville was just too effi cient on offense, moving the ball well against Gilman's 2-3 zone and putting the ball in the basket in the first half.
"I had quite a few girls out earlier in the week and we just couldn't find our groove," head coach Tammy Weir said. "Neillsville is so disciplined that they are able to capitalize on the slightest mistake. We didn't get near enough shots off and shot quite a few 3-pointers, because we just weren't able to find the openings to take it to the basket."
Emma Moseley was the key piece to Neillsville's first-half attack, which produced a 35-12 halftime lead. She scored 10 first-half points, primarily working out of the high post and also had a couple of assists. Moseley finished with 12 points. Guard Delaney Rochester scored all nine of her points in the first half, while Paris Opelt led all scorers with 13. She had seven of those in the first half.
Weir scored 12 points for the Pirates and grabbed nine rebounds. James knocked down a 3-pointer in each half to score six points and had two assists and two steals. Grunseth and Dietzler scored four points apiece. Grunseth had seven rebounds and two assists. Deitzler had four rebounds. Hannah Vick added three boards and Warner had two assists. Syryczuk had two rebounds, two assists and a steal.