Posted on
Auburndale shoots past Redmen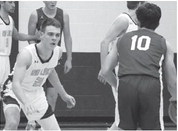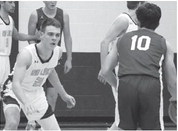 RIB LAKE BOYS BASKETBALL
Using a 3-point shooting barrage, the Auburndale Eagles had little trouble distancing themselves from Rib Lake Thursday night, taking the Marawood Conference boys basketball crossover 7240 at Rib Lake High School.
Auburndale hit 13 of 26 attempted shot from long range and got eight of those in the first half to build a comfortable 3819 halftime lead. The Eagles didn't slow down much in the second half, outscoring Rib Lake 34-21 to pull away for the convincing win.
Junior Lucas Yeske was the sharpest of Auburndale's sharp shooters, knocking down six 3-pointers on his way to a game-high 24 points. He sank five of those 3s in the first half, while Caden Weinfurter added two more in the half. He put down two 3s in the second half and finished with 16 points.
Rib Lake got nine points apiece from Michael Borchardt and Logan Blomberg in the loss. Blomberg scored all of his points in the first half, including a 3-pointer, while Borchardt scored seven of his points after halftime.
Andrew Wudi scored all five of his points in the second half, including a triple and Tanner Vlach also had five points. Jackson Blomberg and Sam Gumz scored four apiece and Jordan Yanko and Trey Klemann added a hoop apiece.
Auburndale currently holds a 5-6 record in the Marawood South and is 7-8 overall.
Rib Lake fell to 3-6 in the Marawood North and 3-9 overall following a 76-64 loss at conference rival Chequamegon on Tuesday. Details of that game were not available at press time. Chequamegon kept its hold on second place in the North with a 6-5 league record. By completing a season sweep of the Redmen, the Screaming Eagles improved to 11-5 overall.
Rib Lake will play some catch-up this week after getting some games postponed earlier this month. First, the Redmen will be in Prentice tonight, Thursday, to make up a game with the Buccaneers that was originally scheduled for Jan. 11. On Monday, the Redmen will head to Wisconsin Rapids to face the Assumption Royals to make up a Jan. 7 postponement. That will be followed by a Tuesday matchup with North-leading Athens in Rib Lake. All three games are scheduled to tip at 7:15 p.m.