Posted on
Two 2nds and a 3rd at DCE; Raiders rout Rhinelander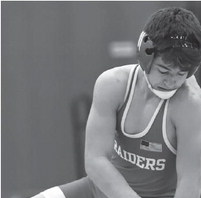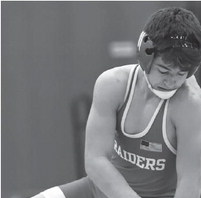 MEDFORD WRESTLING
A short-handed group of seven Medford Raiders compiled 116 points and tied for sixth place Saturday at the 65th annual Fred Lehrke Invitational hosted by D.C. Everest.
The Raiders tied Bonduel and finished ahead of Mosinee (81), Spencer-Columbus (38) and Rosholt (21) in the 10-team tournament. River Falls outscored the host Evergreens 334-267 to win it. Stratford (210), Auburndale (181) and Tomah (175) took the third through sixth spots.
Thaddeus Sigmund, Gage Losiewicz and Logan Kawa again earned the highest places for Medford in their weight classes.
Sigmund reached the championship bout at 113 pounds, where he fell 11-6 to Colton Weiler of Auburndale, a 20-4 freshman wrestler who also beat him a week and a half earlier at the Bi-State Invitational.
Before that, Sigmund (18-4) pinned Bonduel's Jon Gibbs in 57 seconds and D.C. Everest's Taylor Dillion in 1:56 in pool competition. Those wins put Sigmund in the semifinals, where he pinned Stratford's Cayden Leonhardt in 1:53.
Losiewicz was second out of just four wrestlers who competed at 138 pounds. The Raider freshman pinned Teddy Meyer of Spencer-Columbus in 1:20 and Bonduel's Madalyn Sokolski in 2:55 before losing what wound up being the title bout to Blake Heal of D.C. Everest 7-2. Heal also beat Losiewicz at the Bi-State.
Kawa got pins in his pool matches at 170 pounds, sticking D.C. Everest's Cole Petit in 1:22 and Stratford's Carter Lueck in 2:45. That put him in the semifinals, where he got pinned by 21-9 Bonduel junior Donovan Vigue in 1:28. Kawa (116) rebounded in the third-place match, downing Lueck again by a score of 6-1.
Raider junior Blake Schilling was fourth in the 152-pound bracket. He went 1-1 in his pool, pinning Bonduel's Evan Wilcox in 4:37 and getting pinned by 23-3 Miles Longsdorf of River Falls in 40 seconds. In the semifinals, Schilling was pinned in 57 seconds by Stratford's Dillon Kirsch. Tomah's Kaleb Rose took a 5-2 decision over Schilling in the thirdplace match.
Braxton Weissmiller went 1-3 to place fourth in a five-man round-robin competition at 220 pounds. His win came in his final match when he pinned Auburndale's Adam Dorshorst in 3:18. Weissmiller was pinned by Mosinee's Teryn Walls in 3:25, D.C. Everest's Mitchell Danielski in 1:02 and undefeated Vito Massa of River Falls in 15 seconds.
Freshman Owen Higgins placed fifth at 120 pounds by going 1-2 in contested matches. He lost his pool matches by pin in 3:16 to Aidan Peterson of River Falls and by a 14-1 major decision to Tomah's Landen Bloom. Higgins finished by pinning Bonduel's Hailey Berg in 1:31 in the fifth-place match.
Freshman Evan Wilkins placed sixth at 145 pounds, losing 10-0 to Tomah's Logan Boulton and 11-5 to Ashton Curtin of Spencer-Columbus in his pool. D.C. Everest's Cameron Saari pinned him in 1:22 in the fifth-place match.
Medford returns to Raider Hall for the first time in over a month for a Great Northern Conference dual meet tonight, Thursday, against Mosinee. Varsity action is set to start at 7 p.m. The Raiders will go to the always-tough Freedom Invitational Saturday before hosting Antigo on Jan. 20.
Raiders 52, Hodags 21
The Raiders finally began Great North- ern Conference competition Thursday and did so with a solid 52-21 win at Rhinelander.
Medford compiled four pins and four forfeit wins to secure the majority of its points. Higgins added an 11-3 major decision in his 120-pound match with Kyle Wiese. Higgins nearly won by pin in the first period but had to settle for a 5-0 lead with his takedown and near fall. A second-period reversal and third-period takedown put him up 9-0.
Higgins nearly lost the major decision when Wiese got an escape and takedown, but a late reversal gave Higgins the necessary eight-point margin.
Wilkins opened the dual at 145 pounds with a pin in 3:04 over Joseph Evenson. Wyatt Johnson ended what had been a close 195-pound match with Reid Schultz by getting a pin at 2:56. Paxton Rothmeier was physically dominant in his 132-pound match with Robert Schramke and finally got his pin at 3:05 after building a 14-3 lead. Losiewicz finished the dual with a quick 36-second pin on Sean Boman at 138 pounds.
Winners by forfeit were Schilling at 152 pounds, Kawa at 170, Sigmund at 113 and Jude Stark at 126. There was a double forfeit at 160.
The closest match of the meet came at 220 pounds where Hodag Joseph Fugle outlasted Weissmiller 5-2. Weissmiller scored on a takedown with 10 seconds left in the second period, but Fugle escaped just before the horn to tie the match at 2-2. Fugle rode Weissmiller through the third and turned him for a late near fall to win it.
Gavin Ostermann pinned Medford's Tripp Reamer in 30 seconds at 182 pounds and Aiden Ostermann pinned Nicholas Malchow in 1:59 at 106 pounds. Owen Kurtz took a forfeit for Rhinelander at 285 pounds.