Posted on
Raiders take some steps forward despite loss to unbeaten Mosinee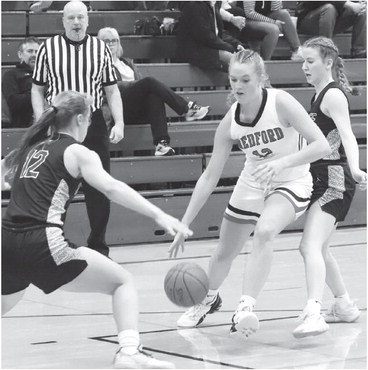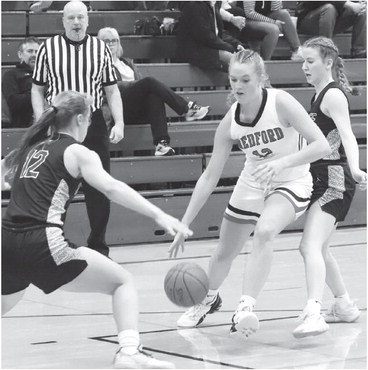 MEDFORD GIRLS BASKETBALL
The Medford Raiders wouldn't go away Tuesday night, but the undefeated Mosinee Indians got the key shot, key steal, key rebound or just a key stop whenever they needed it to stay unbeaten with a 56-47 win at Raider Hall.
Medford gave up the game's first six points and never led while falling to 2-3 in the Great Northern Conference and 3-6 overall with its third straight loss.
On the plus side, the effort was certainly an improvement over Medford's 51-33 loss to Rhinelander a week earlier as the now 14-0 Indians had to earn it.
"We had it down to four or six a few times," Medford head coach Greg Klapatauskas said after the loss. "It was single digits almost the whole game until we started getting into foul trouble. We were right there against a good team. I thought we played better team ball tonight. I thought we felt more like a team."
For the most part, the officials let the teams play, which worked well for Mosinee's aggressive style of play. The Indians pressured Medford's ball handlers throughout and forced several turnovers. Maybe more importantly, the Indians crashed the offensive boards hard and it paid off with numerous offensive rebounds and second-chance points.
Medford used a trapping 2-3 zone that worked well in the second half of the Rhinelander loss and Klapatauskas said that help set the aggressive mentality the team was looking for. Medford turned Mosinee over several times as well.
Unfortunately, when the whistles did blow, the Raiders weren't usually the ones benefiting and that was a factor at times. Medford had 22 fouls compared to Mosinee's 10 and had four starters in foul trouble during portions of the game. One of them, Rynn Ruesch, was on her way to a nice night but wound up being limited to eight points before fouling out on a questionable offensive foul with 3:15 left.
"Our defensive intensity was good," Klapatauskas said. "I like how we've kinda morphed to trapping when available. But Mosinee moves the ball well. They made us work. That's why we had everyone on a three, three-and-a-half minute leash because they were going to be tired. I was just hoping the girls had enough in the tank."
Things got off to an ominous start when Mosinee jumped out to its 6-0 lead and the Raiders had a handful of quick turnovers against the full-court pressure. But once the Raiders broke the press a couple of times, they attacked the basket and started scoring, tying the game at 6-6, 8-8 and 10-10 before Mosinee's Hailey Shnowske drilled a right-wing 3-pointer and was fouled at the 8:46 mark. The foul was Medford's seventh of the half, while Mosinee had none at the time.
Shnowske got to the line four more times in the next minute and made three for a 16-10 Mosinee lead. Katie Brehm powered in for a score and Lindsey Wildberg swished a left-corner 3 to pull Medford within 16-15, but Mosinee standout Kate Fitzgerald, who scored 14 first-half points and a game-high 20 points, buried two 3s to give the Indians a 22-17 lead.
"Katie attacked the basket," Klapatauskas said. "It was too bad Rynn was in foul trouble, because she was finishing and having a good game."
That lead got as high as 10 in the half at 28-18, but Bryn Fronk scored off a Brooke Rudolph steal, Rudolph sank two free throws with 1:08 left and she hit a running jumper just before the horn to pull the Raiders within 30-24.
The Raiders pulled within 34-28 on two Laurissa Klapatauskas free throws with 15:19 to go, but the Indians went on a little 6-0 spurt to go up by 12. Lydia Pernsteiner knocked down a triple off a Wildberg assist, but Jenna Placek scored inside for the Indians, an offensive rebound led to an Adalyn Lehman score and, after Fronk banked in a 3, a series of offensive rebounds by Mosinee finally led to a Lehman hoop that made it 46-34.
"They rebound well," Greg Klapatauskas said. "They're undefeated for a reason. That's a good team. They're fast, they move the ball well, they see each other and they finish."
Medford could only get as close as nine the rest of the way.
Fronk scored nine of her team-high 11 points in the second half, while Brehm scored seven of her nine points before halftime. Pernsteiner had five points, Rudolph scored four and Autumn Krause and Wildberg each finished with one 3-pointer. Sophie Brost and Laurissa Klapatauskas chipped in with two points apiece.
Placek and Lehman both scored 12 points for the Indians, who are 5-0 in GNC play.
The Raiders begin a very busy and challenging back half of January with three games in four days starting Friday when they host D.C. Everest for a 7:15 p.m. tip time. Medford is off to La Crosse Central Saturday for a varsity doubleheader with the Riverhawks that starts with the girls game at 4:15 p.m. The boys game follows at 5:45 p.m.
After a breather on Sunday, Medford travels to Northland Pines Monday to make up a Jan. 7 postponement. A Jan. 21 trip to Lakeland will start a stretch of four games in five days.
"We have to find a way to get some wins coming up and make a second-half run," Klapatauskas said. "Just keep getting better."