Posted on
Undermanned Rib Lake battles but comes up short in Friday loss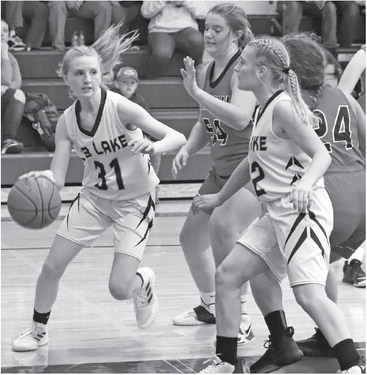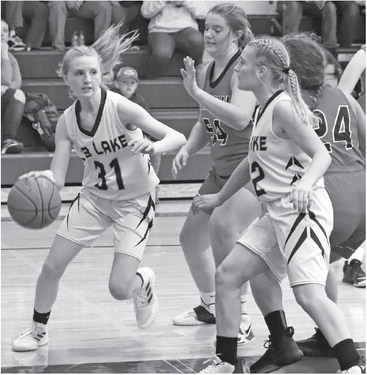 RIB LAKE BASKETBALL
The Rib Lake girls basketball team played its first game of the season without four seniors. The Lady Redmen were without six of them Friday but made a game of it in a 54-42 non-conference loss to Flambeau.
In their 2021-22 home opener, the Lady Redmen fought back from an eight-point first-half deficit to take a 32-31 lead on Danielle Mann's 3-pointer with 9:46 to go, but Flambeau countered with a 9-2 surge that put the Falcons up 40-34 and gave them the separation they needed to win their season opener.
"I felt we did a better job on the defensive end with rebounding," Rib Lake head coach Wayne Mann said. "We went to the free throw line 26 times, which means we started to offensive rebound and started driving to the basket to draw fouls."
Senior guard Kirsten Lawton led Flambeau with 23 points and the Falcons, after some struggles through much of the second half, executed when they had to offensively down the stretch to pull away from the undermanned Redmen.
Mann led Rib Lake with 13 points and hit three second-half 3-pointers to give her team a chance. Her first bomb made it a 28-24 game, her second one made it 2927 and the third one put Rib Lake ahead not long after Addison Gumz scored off a baseline inbound play to pull the Redmen within 31-29.
Flambeau regained the lead at 33-32 with free throws by Lawton at the 8:48 mark and added free throws from Ali Hruby 18 seconds later. Lawton's hoop opened up a five-point lead that was cut to three on a putback by Molly Heiser with 7:09 left. But Falcon Elizabeth Niller-Skogstad kept the momentum for the visitors by banking in a 3-point shot from the top of the key.
"We had the lead with seven or eight minutes left and came down three times and turned the ball over," Wayne Mann said. "We need to work hard on limiting turnovers as the season progresses."
Gumz banked in a 3-pointer of her own to pull Rib Lake within 44-40 with just over four minutes left, Hruby scored and then assisted on an inside bucket for forward Brooklyn Ludescher that opened up a 48-40 lead.
In the first half, Rib Lake quickly fell behind 8-2 but got back into it with some aggressive offensive rebounding as well as aggressive drives to the basket. The Redmen shot 19 first-half free throws, but unfortunately made only nine of them. For the game, the Redmen were 12 of 26. Flambeau wasn't much better, making 10 of 22.
An Annala 3-pointer got Rib Lake within 15-14, but Lawton capped an 8-1 spurt by the Falcons with a triple to make it 23-15. Annala worked to earn four straight trips to the free throw line in an 84-second span and made five of seven to pull the Redmen within 23-20 with 1:30 to go. Heiser made one of two free throws with 1.7 seconds left to make it 25-21 at the half.
Gumz scored seven of her 11 points in the second half and Annala scored all 10 of hers in the first half. Heiser scored seven points and freshman Tracey Schmidt, pressed into duty with all of the senior absences scored one point, but got to the rim several times and earned seven free throw attempts.
Hruby was the only other Falcon in double figures with 10 points.
The quarantined Redmen were due back ahead of Tuesday's Marawood North opener against Chequamegon that was played after this week's early holiday deadline for The Star News. However, the team was holding its breath for senior guard Reagan Reinhardt, who injured a knee near the end of practice on Thursday and had an MRI scheduled for Monday.
Rib Lake's Thursday game with Phillips was postponed to Jan. 17.