Posted on
New leaders take over; team aims to steadily improve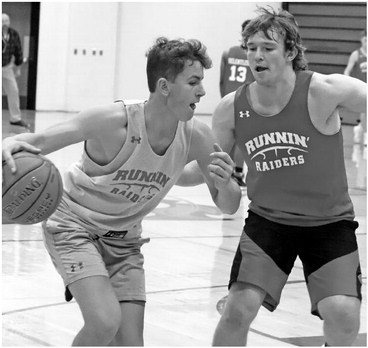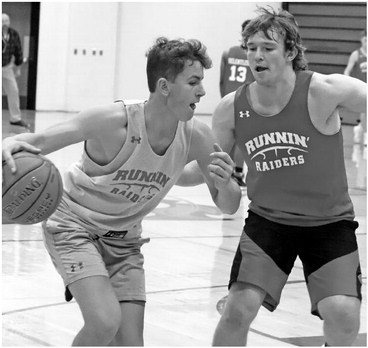 MEDFORD BOYS BASKETBALL PREVIEW
Without question, the 2020-21 season will go down as one of the best, if not the best, in the history of Medford's boys basketball program.
With five outstanding players from that 24-3 team having moved on, the time has arrived to see what the next wave of talent can do.
This year's Raiders will debut Tuesday at Chippewa Falls with a superb talent in junior Logan Baumgartner, a rising leader in senior Joe Sullivan, a role player with a now-expanded role in senior Caleb Guden and a host of others who either played limited roles or weren't with the varsity on game days last winter. Not only that, the Raiders are staring at a 24-game schedule that might be the toughest a Medford hoops team has ever put together.
It won't be easy, but Medford head coach Ryan Brown can't wait to see how the Raiders respond and improve during the season's peaks and valleys.
"I think we're not going to be a team like last year where we can hit the ground running from day one," Brown said Friday afternoon before the team's 10th and final practice of its opening week. "But I think by the time we hit mid-season and hit the playoffs, especially with the schedule we're playing, we're going to be battle-tested. We're going to know where our weaknesses are and we're going to hopefully scare anybody we play."
Brown said the journey got off to a great start during the grueling week of two-a-day practices thanks to the team's leadership, work ethic and coachability. The Raiders installed what they needed to be ready for their scrimmage at Eau Claire North on Monday, they'll make the necessary adjustments and be as ready as they can be for the first game week, which features the tough opener at Chi-Hi and the Great Northern Conference opener Dec. 3 at Lakeland, a team Brown thinks might be the most improved in the GNC from last year to this year.
Fifteen players start the season suiting up with the varsity, though some of them will be splitting time at the varsity and JV levels. Eight of them are returning letter winners.
That list includes Sullivan and Guden, the team's captains, as well as Sam Blair and Brigham Kelley from the senior class; Baumgartner, Charlie Kleist and Zach Rudolph from the junior class and sophomore Tanner Hraby.
New seniors to the varsity roster this year include Stephen Hraby, Quinton Tlusty and Nick Buchan. Ty Metz, Vincent Seidel and Anakin Stokes are the new juniors and sophomore Nick Steliga is in the mix too.
The Raiders have breathed a collective sigh of relief as Baumgartner has returned from a football knee injury suffered in August and seems primed for a big year. Baumgartner was a unanimous first-team All-GNC selection last year after averaging 15.5 points, 4.3 rebounds, 2.9 assists and 2.1 steals in 24 games.
Sullivan took a big jump as a junior and Brown said he continued to elevate his play during the summer. He averaged 8.3 points, 2.7 rebounds, 2.4 assists and 1.3 steals as one of Medford's top players off the bench.
Those two players figure to be the foundation this year's team will build from. How the rest of roles and playing time rotations evolve will be fascinating to watch for fans and coaches alike.
"We're going to see things like Tanner, who had a little bit of a role last year, coming in as a starter now," Brown said. "We're going to see other guys like Brigham and Charlie step in and try to be the guy that's hitting the boards or guarding the other team's big guys. You're going to see Chubs move from a role player to more of an attacker. You're going to see guys like Zach Rudolph and Sam Blair getting their opportunities to play their role. Then even with Logan, we're seeing him go from kinda being 1B to 1A. He knows a lot of things will be ran through him but he's also such a smart player and we've seen it so far. Logan has been so willing to catch the ball in the post and see where the double team goes, kick it opposite, just zip it there.
"There are going to be a lot of guys that get good shots just because of him and he's willing to make that pass. That gives a lot of confidence to those other guys. I think people are really looking forward to it." One thing that's given the coaching staff confidence this team will grow and succeed as the year progresses is its leadership.
"Our leadership is amazing," Brown said. "We had a team meeting prior to the season and we had four guys who could have been great captains step up and say they wanted to be captains. Everyone got up and really gave their heart about why they would be a good captain and how they could help our team. It wasn't a joke. It was serious. Our two captains for the season are Chubs and Joey. There were multiple votes that went into that. It was really close. But I've seen great leadership from Logan, he's really taken that next step in all phases of his game. Great leadership from Sam Blair. He just goes hard in every drill. He's always locked in. He's always encouraging people. Even our younger guys like Tanner and Nick, our two sophomores, are leaders in their own ways. We have said we want to be a player-led team this year versus a coach-led team."
While it's very early, Brown said he could see this team being very good at pushing the ball and producing points with early offense. He also thinks it has the potential to shoot the ball well. His biggest concerns going into the year are defense and rebounding.
"Defensively we have a long way to go," he said. "The effort's there, but the ability to keep people pinned to the side- line and not allow them to get middle we're still not very good at. We'll have to really box out and rebound versus bigger teams. That's where we really need to grow, not giving up middle and not being able to clean up the first shot. The speed and the agility and the footwork are there, but the willingness to fight to not give up middle and keep guys on a side and to go hit somebody that's another thing. I think we can actually become a better talking team than last year. Right now we're a bunch of very coachable but quiet kids. I think with that coachability by the end of the year, we're going to hear guys really stepping up and talking on the floor."
As for the schedule, the route to a third straight GNC title could be a bumpy one. Brown sees Mosinee as an athletically gifted squad, Rhinelander as the constant threat and Northland Pines as the team everybody has seen coming for the last year or two. Lakeland, as stated earlier, was very young last year and should only get better.
In non-conference play, Medford faces four schools from the Big Rivers Conference which has turned into one of the state's best boys basketball leagues, three schools from the Wisconsin Valley Conference and La Crosse Central, who Brown thinks will be ranked among the top two or three Division 2 teams in the state. Medford has entered the Sheboygan North Raider Shootout during the holidays and will face Oshkosh North in round one. Medford alum Paul Henrichs brings his Altoona Railroaders into Raider Hall on Dec. 21.
Brown said he's let the team know he will not allow for it to feel awed when it goes into any of these games.
"You better go in there believing that if we do what we do, we have a chance," he said. "I don't care if we're up 20 or we're down 20, your effort doesn't stop in trying to get that 1% better.
"I'm anxious from the standpoint of, OK where do we stand?" Brown added. "I feel like we have the pieces, but I know it's going to take some time. To what level did the other teams (in the GNC) make that jump? This summer once we started running our offense and got the ball moving, I think we realized we can get the shots we want to get. If we can defend the way we want to defend we can be right there with teams."