Posted on
Gilman's Krizan again wins DPOY award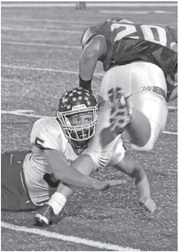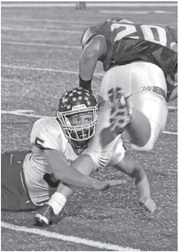 GILMAN FOOTBALL
For the second straight year, Julian Krizan of Gilman has been named the state's Eight-Player Football Defensive Player of the Year by WisSports.net.
The announcement was made Nov. 18 by WisSports.net general manager and football editor Travis Wilson.
Krizan was the winner of the award through a three-step process. It started with a preseason Watch List, with those candidates then being narrowed down to a field of five finalists that was announced after the first week of playoff games. Those finalists were Krizan, his teammate Bryson Keepers, Hunter Cronauer of Wabeno-Laona, Josh Kristoff of Lena-St. Thomas Aquinas and Ashton Maney of Three Lakes.
From his middle linebacker position, Krizan finished with 92 tackles and three sacks in nine games played. He had 58 of those tackles in Gilman's Central Wisconsin West Conference games. He also forced two fumbles and recovered one.
Krizan was involved in a season-high 14 tackles in a 44-6 win over New Auburn on Sept. 17. He had 13 tackles in wins over Bowler-Gresham and Bruce, 12 stops in a 42-6 win over Phillips and 11 tackles in a 58-24 win at McDonell Central to end the regular season on Oct. 15. He had nine tackles in Gilman's 29-28 loss to eventual state champion Newman Catholic in a WIAA state semifinal Nov. 5.
Krizan earned 8-Player All-State honors in 2020 and 2021.
Keepers, primarily a defensive end, was named a finalist for this award after collecting 83 total tackles, recovering five fumbles, forcing two fumbles and intercepting two passes during Gilman's 10-1 season.