Posted on
Putting pen to paper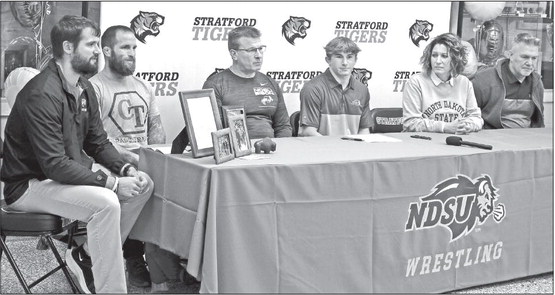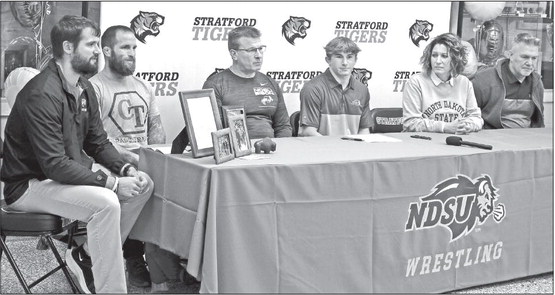 Drexler signs to wrestle for NDSU Bison
By Casey Krautkramer
Stratford senior Gavin Drexler is relieved to sign his college wrestling scholarship letter last Wednesday, before practice began on Monday during his final high school season. He will wrestle at Division 1 college North Dakota State University (NDSU) next year.
"It was very exciting to sign the letter and confirm my commitment to the school and program," Gavin said. "I was grateful to sign and to then be able to put my focus toward improving my wrestling."
He committed last spring to wrestle at NDSU after touring the following other four Division 1 colleges that gave him scholarships to wrestle: University of Arkansas at Little Rock, Northern Illinois, Minnesota and Wisconsin. He felt most comfortable with the NDSU wrestling program.
Gavin, the son of Dan and Cara Drexler of Stratford, began wrestling at an early age.
"I started wrestling at the age of four in the Stratford youth wrestling program, but at around the age of 14 was when I really wanted to focus on wrestling from other sports and pursue my dream of wrestling at a D-1 college," he said. "I am thrilled to be able to compete at this level soon and to help the program climb in the Big-12 Conference."
Gavin has a 116-2 high school career record in matches thus far. His only match losses came in the WIAA Division 3 individual sectional during his freshman year. Since then, he's gone undefeated while winning back-toback Division 3 individual state championships. He's continued to work hard in the offseason in his attempt to win three straight Division 3 individual state titles this season.
"I continued to wrestle throughout the summer and work to improve my technique," he said. "Just like any other year, whoever outworks the other will most likely come out on top, so that is what I plan to do once again this season."
Adam Davison, who begins his second season as Stratford's varsity head wrestling coach, is proud of Gavin's tremendous high school success that led to him signing on to wrestle at NDSU. Davison describes what makes Gavin such a dominating wrestler.
"Obviously I'm super excited for Gavin and proud of him," Davison said. "He has worked incredibly hard for this and I think that is what stands out most to me about Gavin; he's always working and takes nothing for granted. His mindset toward matches makes a huge difference, he respects every opponent that he goes up against but he doesn't get caught up in rankings or worrying about what the other guy is going to try and do.
"Gavin goes out and attacks every match. His mixture of quickness, functional strength and technique makes him super hard to stop and his work ethic will translate to the next level because he always works hard, and despite his exceptional high school achievements, is always looking to learn when he is on the mat."