Posted on
Volleyball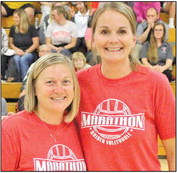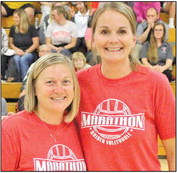 ference player, and Wausau Newman junior Grace Carlson was also named to the first team.
Davis led Edgar with 64 aces and 722 pass assists. Ava Krueger, meanwhile, paced Marathon with 309 kills, 84 aces and 87 blocks. Weise led Stratford with 167 kills and 34 blocks.
Athens sophomore Jazelle Hartwig was a unanimous Marawood North all-conference player this season. She helped the Bluejays to a second-place finish in the Marawood North Conference in 2021.
Athens beat Edgar in the Marawood crossover second-place match in Marathon, but then lost to Edgar, 3-2, in a WIAA Division 4 regional championship. Athens concluded this season with a 25-10 match record. Hartwig led Athens with 300 kills and she was second on the Bluejays with 334 digs and 356 assists.
Bluejay sophomores Addison Lavicka and Sophia Coker received second team all-Marawood North Conference this season. Sophia Coker paced Athens with 58 blocks and Lavicka led Athens with 378 assists in 2021.
Lavicka tied junior Celina Ellenbecker for the team lead with 47 aces, and Lavicka was second on the team with 298 kills.
Other players to earn second team all-Marawood North Conference are sophomore Sydney Falteisek and senior Lydia Carlson of Abbotsford, junior Mallory Burcaw of Prentice and senior Lainie Heizler of Chequamegon.
Juniors Kendalyn Dahlke of Edgar and Ashley Phakitthong of Marathon, along with seniors Hailey Chapel and Ally Zuleger of Stratford, garnered second team all-Marawood South Con­Volleyball
ference honors this season.
Dahlke was second on Edgar's squad with 175 digs. Phakitthong was second on Marathon with 403 assists.
Chapel paced Stratford with 78 aces and she was second on the team with 118 kills and 291 assists. Zuleger led Stratford with 349 assists and she was second on the Tigers with 59 aces.
Stratford beat Colby at home in the playoffs and then upset Westfield on the road, before losing to Marathon in a WIAA Division 3 regional championship.
Other players to earn second team all-Marawood South Conference are freshman Lily Shields of Wausau Newman, sophomore Kendal Duellman of Wisconsin Rapids Assumption and junior Bri Weller of Auburndale.
The following local volleyball players earned honorable mention all-Marawood South Conference this season: Junior Natalie Krause and senior Malia Hoesly of Edgar, seniors Alyssa Hall and Allison Wokatsch of Marathon and freshman Kalyn Schueller and junior Tessa Berg of Stratford.
Athens sophomore Sydney Coker and junior Savannah Epping received honorable mention all-Marawood North Conference in 2021.