Posted on
Doubles team finds some early success in state tourney match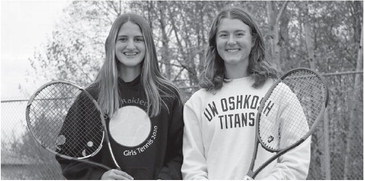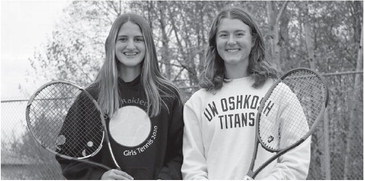 WIAA DIV. 2 STATE GIRLS TENNIS
Just as Medford's Sophie Brost and Lindsey Wildberg got some momentum going in their first-round match at the WIAA Division 2 state tennis tournament, their opponents from Waukesha Catholic Memorial made a key adjustment and went on to a 6-3, 6-1 win Thursday at UW-Madison's Nielsen Tennis Stadium.
The Raider seniors fell behind early in the first set against the Crusaders' team of senior Reagan Rebholz and freshman Mary McCaffery, dropping the first three games before going back and forth in the final six game of the set.
"At 3-5, they had a couple game point opportunities to bring it to 4-5, but they couldn't quite capitalize on those points," Medford head coach Jake Bucki said. "Heading into the second set, the girls felt good about being able to play right with their opponents. Most of the games were very close in the first set and we seemed to have the advantage at the net. Sophie and Lindsey were both looking to be aggressive at the net, which we planned on being essential to winning the match.
"Late in the first set, Catholic Memorial, hit two or three returns in a row right down the alley and made us cover the alley a bit more," Bucki added. "Credit to them for recognizing that we were poaching heavily and having the ability to put the ball where they needed to."
Bucki said the Catholic Memorial team continued to try to stay away from volleys at the net in the second set and instead kept forcing the match to be played baseline to baseline, which was to their advantage.
"I knew Catholic Memorial would be more of a baseline/groundstroke team and that we likely wouldn't be able to outhit them in long points," Bucki said. "This proved to be true in the second set as they were able to keep the ball away from us at the net and extend points. Catholic Memorial came out strong the second set and really didn't give us any points until the end of the set. They were hitting everything in and the longer the point went, the more likely they were going to win it."
The Crusaders went up 5-0 in the set before Brost and Wildberg held serve and took a game. The Raiders nearly broke Catholic Memorial's serve in the next game, but the Crusaders eventually won it to advance to a Friday match against top-seeded and eventual champions Rebecca Daskal and Isabel Werner from the University School of Milwaukee. Rebholz and McCaffery gave Daskal and Werner their toughest match of the tournament. The USM team (25-7) won 6-3, 6-4. They took the championship match on Saturday 6-2, 6-3 over secondseeded Sophia Rondeau and Katie Metcalf of East Troy (33-2).
"I am incredibly proud of these two, along with their teammates that traveled along to support them," Bucki said. "We had an amazing group of fans and teammates supporting us. Once again, we had one of the biggest fan sections in the building.
"To get to the doubles state tournament with only having about one month experience of playing doubles is an outstanding achievement," he added. "It's an amazing memory that they will always have and they deserved that opportunity by working in the off-season to improve their games and always having a positive attitude. Thank you to all the families, teammates, and fans that supported our tennis team this year."
The Baldwin-Woodville sectional had eight representatives in the Division 2 doubles field of 28 teams. Great Northern Conference and sectional champions Ella Schroeder and Marissa Stolt of Stevens Point Pacelli won their first three matches before settling for fourth place. They fell 6-2, 6-1 to Daskal and Werner in the semifinals and lost 6-3, 6-1 to Catholic Memorial's number-one team, Jeslyn Singson and Courtney Sturm, in the third-place match.
Evie Shepich and Teigan Petersilka of Eau Claire Regis were 6-1, 6-4 winners over Rice Lake's Lexington Berger and Kallahan Bowman in the fifth-place match. Baldwin-Woodville's Brooke and Allison Albrightson, who beat Brost and Wildberg in the sectional quarterfinals, won their first match 6-0, 6-1 over Katherine Dickrell and Lauren Olig of Kiel.
In singles play, Antigo's Margo Kelly was defeated 6-0, 6-0 in her first match by Natalie Cartwright of Brookfield Academy, while Newman Catholic's Becky Larrain was unable to play and forfeited her first-round match. In Division 1, Rhinelander's Annika Johnson was defeated 6-3, 6-1 by Quin Babiarz of Wausau West.