Posted on
Athens remains undefeated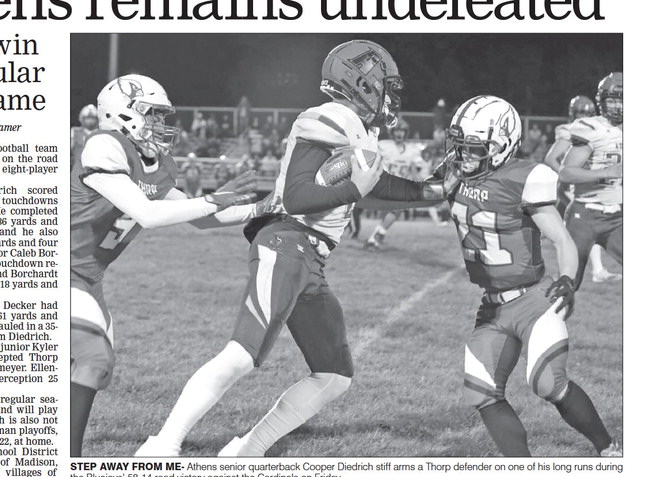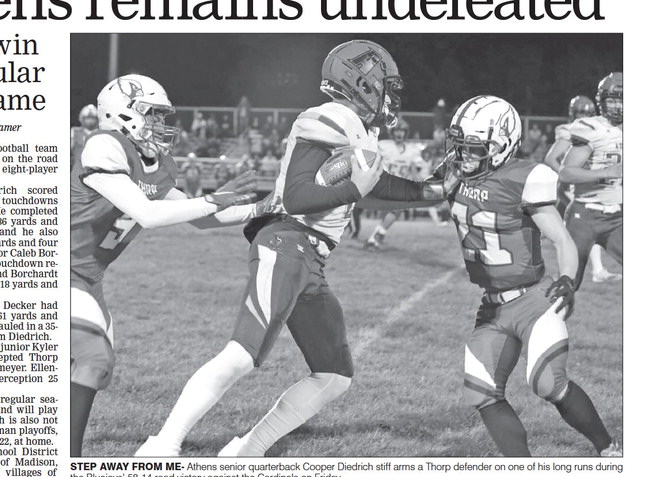 Raiders win final regular season game
By Casey Krautkramer
The Athens varsity football team easily beat Thorp, 58-14, on the road Friday to win the Rogue eight-player conference this season.
Senior Cooper Diedrich scored six of the Bluejays' 10 touchdowns against the Cardinals. He completed three of five passes for 86 yards and a pair of touchdowns, and he also rushed 12 times for 298 yards and four touchdowns. Athens senior Caleb Borchardt caught a 25-yard touchdown reception from Diedrich, and Borchardt also rushed 18 times for 118 yards and a pair of touchdowns.
Bluejays senior Caden Decker had two pass receptions for 61 yards and one touchdown. Decker hauled in a 35yard touchdown grab from Diedrich.
Senior Kody Lepak and junior Kyler Ellenbecker each intercepted Thorp quarterback Aiden Rosemeyer. Ellenbecker returned the interception 25 yards.
Athens concludes the regular season with a 10-0 record, and will play Wisconsin Heights, which is also not eligible yet for the eight-man playoffs, at 7 p.m. this Friday, Oct. 22, at home.
Wisconsin Heights School District is located 20 miles west of Madison, and it encompasses the villages of Black Earth and Mazomonie. The Vanguards tied for second place in the Southern Conference with a 7-1 record this season.
Tigers clipped by Falcons
Stratford's varsity football squad couldn't hang onto its 14-6 halftime lead against Amherst on Friday, and the Tigers ended up falling, 28-14, to the Falcons on the road.
Senior Raife Smart led the Tigers with 16 rushes for 138 yards and a touchdown in each of the first two quarters against the Falcons. Senior Darin Heeg caught a 29-yard reception in the game.
Heeg paced Stratford's defense with 13 tackles, while senior Dillon Kirsch and junior Johnny Seitz added 12 tackles apiece. Senior Kaden Griesmer contributed nine tackles, while senior Noah Barrett and junior Jackson Ormond had seven each.
The Tigers end the regular season with a 6-1 record in the Central Wisconsin Conference-Large (CWCLarge) and an 8-1 overall record. Unde- feated Amherst wins the CWC-Large.
Stratford received a No. 2 seed in its WIAA Division 5 playoff region and will play against No. 7 Westby this Friday, Oct. 22, in a home Level 1 playoff game. Stratford could potentially play CWC-Large foe Spencer/Columbus, the No. 3 seed, at Tigers Stadium in a Level 2 playoff game on Friday, Oct. 29. Stratford wouldn't need to play against Amherst until Level 4.
Raiders win last game
Senior quarterback Ben Robbins scored four of Marathon's five touchdowns in helping the Red Raiders win their final game this season, 32-8, against Rosholt on the road Friday.
Marathon didn't win enough conference games to become eligible for the playoffs this season. The Red Raiders conclude their season with a 2-7 record. Marathon's other victory was against Bonduel this season.
Robbins completed nine of 18 passes for 180 yards and four touchdowns with an interception in the team's big win against Rosholt. He also rushed six times for 45 yards. Junior Matt Annis led Marathon with 11 rushes for 71 yards and one touchdown. Senior Nathan Hanke had 10 rushes for 97 yards.
Sophomore Daniel LaQua caught three of five passes for 79 yards and a pair of touchdowns against the Hornets, while Mason Seehafer had two receptions for 41 yards and one touchdown.
Peyton Lawrence led Marathon's defense with six tackles, including four of them for lost yardage. Senior Nick Sommers and junior Hector Pintor contributed five tackles each. Lawrence also paced the team's defense with three sacks.
'Cats shut out Knights
Edgar's varsity football team crushed Benton/Scales Mound/ Shullsburg, 42-0, on the road Friday. Edgar last won the WIAA Division 7 state championship in 2016 against Shullsburg when it wasn't in a cooperative.
Senior Mattison Butt completed five of eight passes for 119 yards and a pair of touchdowns in Edgar's huge victory. Sophomore Kohlbe Weisenberger led the Wildcats with three rushes for 90 yards and one touchdown, while his older brother, senior Ayden Weisenberger, rushed seven times for 46 yards and one touchdown.
Edgar senior Everett Brehm had four rushes for 77 yards and one touchdown, along with three receptions for 94 yards and a touchdown. Senior Ashton Schuett caught an 18yard touchdown pass from Mattison Butt.
Sophomore Karter Butt paced Edgar's defense with 10 tackles. Keghan Hartway, Jase Apfelbeck and Brehm added five tackles apiece. Apfelbeck and Kohlbe Weisenberger each had a quarterback sack.
Edgar concludes its regular season with a 6-3 overall record. Edgar received a No. 4 seed in the WIAA Division 7 playoffs and will play against No. 5 Iola-Scandinavia this Friday, Oct. 22, at home. The Wildcats easily defeated the Thunderbirds, 36-0, at home during the third week of the regular season.
Edgar is likely to play a rematch road game against unbeaten No. 1 Hurley in Level 2 of the Division 7 playoffs on Friday, Oct. 29. The Wildcats lost to the Northstars in overtime a few weeks ago. Edgar won't need to play against Eau Claire Regis until Level 4 in the playoffs.