Posted on
Turnovers costly in Medford's first GNC loss since 2018 finale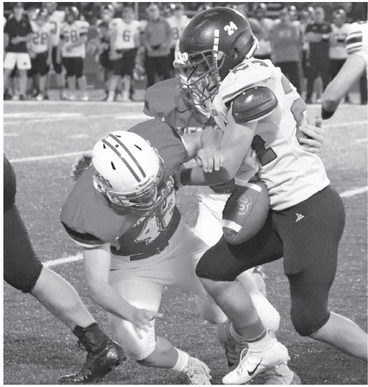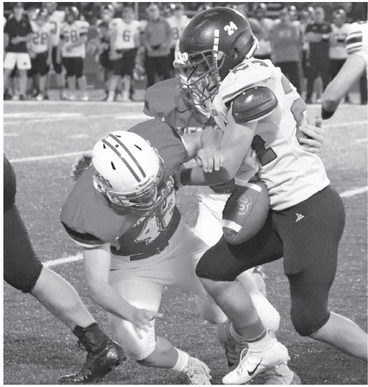 Friday's mid-season football matchup to stay in first place in the Great Northern Conference was the ground-game, defensive and field position battle most expected until the Hodags took that defensive approach a step further by forcing four turnovers in the last 25 minutes to secure a 28-14 win over the Medford Raiders.
All five turnovers during the game hurt, but none more than a 6-yard fumble recovery for a touchdown by Cayden Neri with 4:57 left in the third quarter that doubled Rhinelander's lead to 14-0 and put Medford in chase mode for the last 17 minutes.
Medford (2-1 GNC, 2-3 overall) did make it a one-score game on its next drive, pulling within 14-6 with 33 seconds left in the quarter and got the ball back with a chance to put together a long drive to tie it, but a Cole Worrall interception set up a short 42-yard drive that ended with Jacksen Smith's 1-yard quarterback sneak with 7:24 left that upped the Hodags' lead to 21-6. Neri's strip-sack and recovery led to a clinching 28-yard touchdown run by Caleb Olcikas with 2:09 left.
Medford forced two turnovers of its own in the loss, but turned the ball right back over after both of them.
"You have to take care of the ball," Medford head coach Ted Wilson said. "You're losing opportunities to score and you're giving the other team opportunities to score. You fumble on the six and they get a touchdown, that's a 14-point swing right there if you think about the fact you might have been able to go down and score on a long drive."
The win puts Rhinelander (3-0, 5-0) in good position to win its first-ever GNC football championship, although the Mosinee Indians still have a lot to say about it as they are also 3-0 in league play and 4-1 overall. Mosinee hosts Rhinelander on Oct. 1 and visits Medford Oct. 8.
The Raiders were on the verge of setting an early tone, getting a 23-yard run by Aiden Gardner and a 13-yard burst from Tukker Schreiner to bull their way into Hodag territory. After three first downs, a fourth-and-five play came up a yard short at the 16.
The teams exchanged punts, then Rhinelander took the lead, capping off a 65-yard, eight-play drive with Neri's 20yard run off the left edge with 11:09 left in the second quarter.
The speedy Neri came into the game with 869 yards in Rhinelander's first four games. He had 132 yards on 32 carries Friday (4.1 yards per carry).
"I thought we did pretty well," Wilson said. "He came in averaging over 200 yards per game and we kept him to 130. He only averaged 4 yards a carry. I thought the kids defensively did OK against him."
The Raiders came within inches of a touchdown at the 3:11 mark when a long fourth-down pass down the right sideline by Ty Metz was barely beyond the reach of Caleb Guden, who had a step on his defender. Guden intercepted a tipped pass thrown by Smith on the ensuing Hodag drive, though his return into Hodag territory was shortened due to a block in the back. Medford was penalized seven times which cost it 55 yards in the game.
Rhinelander's Joseph Fugle stripped Gardner at the end of a solid first-down run on the next offensive snap and Olcikas recovered at midfield, but Medford's Max Dietzman forced a 22-yard intentional grounding penalty on Smith to eliminate any scoring chance Rhinelander had before halftime.
Olcikas made a momentum-shifting play on Rhinelander's first possession of the third quarter, bouncing out the left side for a 28-yard gain on third and 15. Instead of punting in its own territory, Rhinelander now had the ball on Medford's side of the field.
"That was a tough one for us," Wilson said.
The drive eventually stalled on the six, when Guden stopped Neri for a 1-yard gain on fourth and three. But three plays later, a fumbled exchange gave Neri an easy scoop and score.
Medford overcame a holding penalty and answered with its best drive of the night, covering 65 yards. Guden caught a 16-yard pass and drew a key pass interference call on the drive, which ended with Gardner bouncing out the left side for a 10-yard touchdown. He was close to adding the two-point conversion, but the ball got punched out as he about to break the plane. Still, it was back to a one-score game with plenty of time remaining.
"I thought we were going to possibly make a little push there," Wilson said of the momentum the Raiders seemed to be gaining at that point. "Their defense has good speed sideline to sideline. We ended up having to attack more straight at them. We got some room, got some push. We just didn't string enough plays together to make a difference."
Worrall's interception and a 39-yard pass from Smith to Brenden Eckrich set up Rhinelander's third touchdown of the game. Olcikas got an interception, but Medford got the ball back on a Brigham Kelley fumble recovery, but Neri got his sack and fumble recovery on the very next play, setting up the Olcikas touchdown.
Down 28-6, the Raiders completed three passes on their final drive, includ- ing a pretty 43-yard bomb from Metz to Guden with 16 seconds left.
The Raiders finished with 236 yards of total offense, including 150 on the ground. Gardner had 92 yards on 23 carries, while Schreiner added 59 yards on 12 carries. Metz was five of 11 passing for 86 yards. Guden caught four passes for 74 yards.
Rhinelander had 267 yards of offense with 223 of those coming on the ground. Olcikas had 88 yards on 12 carries.
"I don't think that we were dominated necessarily in any facet of the game and neither were we dominant," Wilson said. "I think it was a matchup of two pretty even teams and the one that had fewer mistakes, fewer turnovers was the one that came out on top."
Medford looks to get back on track Friday when it makes its first trip to Hayward since 2008 for a 7 p.m. matchup with the Hurricanes. Hayward got its first win of 2021 on Friday, knocking off Merrill 13-12.