Posted on
Granberg in top 15, Goodrich in top 30 at Barron meet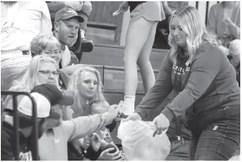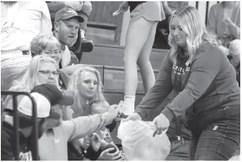 HAWKS CROSS COUNTRY
The Prentice-Rib Lake Hawks headed west Tuesday and came home with fifthand eighth-place team finishes in the 16team Barron Invitational.
The boys were the fifth-place finishers, totaling 150 points to trail Bloomer (67), Rice Lake (68), Ladysmith (136) and Shell Lake (144) in a competitive field of 98 runners. The Redmen beat sixth-place Frederic-Luck by 21 points.
The Hawks' senior leader Adam Granberg earned a solid 14th-place finish with his time of 19:16.5, while freshman Jack Regier snuck into the top 30, taking 29th in 20:25.5. Ryan Buehler was 34th in 20:36.7 and Will Hartke was right behind him at 20:44.5. Ben Petersen was just off his season-best time at 21:10.8, good for 42nd, one spot ahead of teammate Elijah Scott, who finished in 21:12. Matthew Schmidt was 48th in 21:53.9, Reese Isaacson was 52nd in a season-best 22:18.3 and Connor Highfill was 82nd in 24:38.3.
Everyone was chasing Bloomer's Lucas Anderson, who won the race in 17:28.3 while helping his team win the meet. Viktor Knigge of St. Croix Falls was second in 17:42.8 and Elijah Poppe of Chetek-Weyerhaeuser was the only other runner to crack the 18-minute barrier, taking third in 17:53.3.
Cameron (179) was seventh in the team standings, followed by St. Croix Falls (183), Clear Lake (206), Chetek-Weyerhaeuser (230), Spooner (235), Barron (243) and Cumberland (316). Flambeau, New Auburn and Lac Courte Oreilles were incomplete.
Senior Kylee Goodrich made the top 30 in Tuesday's girls race for the Hawks with her time of 24:19.9, which was good for 28th place out of 73 finishers. Leah Thums got into the top 40 with her 39thplace time of 25:12.5, while JeAnn Johnson was 47th in 26:41.1. Lydia Holm placed 57th in 27:58.4, while Ryean Gorski was the team's fifth scorer, taking 65th in 29:45.1. Right behind Gorski were teammates Emma Orlandini (29:48.6) and Cristy Hartmann (29:52.7). Hawk Amy Espinoza was 71st at 35:31.7.
Rice Lake senior Alexi MacDonald was the individual champion with a time of 19:30.3. She had the only sub-20 minute time. Barron's Fran Peterson was second in 20:28.8 and Flambeau's Kristen Lawton was third in 20:51.5.
Rice Lake won the team title with 28 points, 19 fewer than Cameron. Barron was a distant third with 119 points, followed by Ladysmith (128), Bloomer (135), St. Croix Falls (136), Clear Lake (141) and Prentice-Rib Lake (186). Flambeau, Chetek-Weyerhaeuser, Spooner, Cumberland, Shell Lake and Frederic-Luck were all incomplete.
Prentice-Rib Lake continued to dominate the area's middle school boys circuit, winning that meet with 50 points, 30 better than Shell Lake. Henry Regier was third in 11:28 to lead the Hawks, while Josh Hartke was eighth in 11:57.8.
Prentice-Rib Lake will next compete in the Sept. 30 Athens Invitational to be held at Erbach Park.