Posted on
Whittlesey's bats relentless in two lopsided victories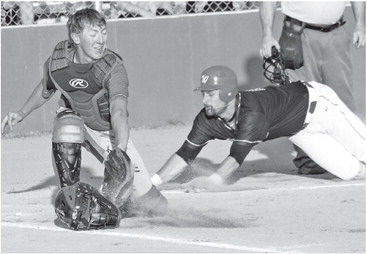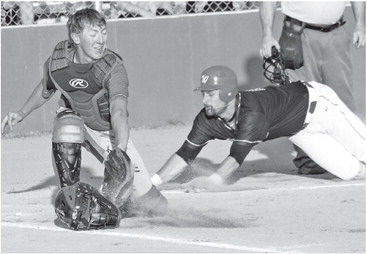 DAIRYLAND LEAGUE
Relentless offense combined with strong pitching produced two lopsided wins this past weekend for the Whittlesey Reds, who solidified their hold on an upper-division spot in the Dairyland Baseball League standings.
The Reds improved to 6-3 in league play on Sunday afternoon, scoring early and often to put an early end to the suspense Sunday in an 11-2 win at Medford. The Reds led 9-1 just three and a half innings in and coasted from there. They blistered Medford pitching for 15 hits, six of which went for extra bases.
Nick Meyer, Ben Meyer and Taylor Reinhardt had three hits apiece. Reinhardt hit two doubles and also hit two balls that were misplayed by Medford's infield to reach base in all five of his plate appearances.
Nick Meyer's two-run homer over the leftfield fence in the top of the second inning off Medford starter Brayden Boie was a sign that momentum Whittlesey built in a win at Rib Lake Friday was going to continue.
The Moondogs (3-6) actually took a brief lead in the bottom of the first inning. Seth Mudgett drew a walk from Whittlesey starter Nick Retterath and Trenton Woebbeking reached on an error. Kole Karaba grounded into a forceout at third. After Woebbeking and Karaba pulled off a double steal, Boie's grounder drove in Woebbeking.
But Whittlesey quickly grabbed the lead in the second and dominated from there. Cody Loertscher drew a leadoff walk and Reinhardt singled. Both runners stole bases during Jon Laher's atbat, which resulted in a sacrifice fly. Ben Meyer doubled in Reinhardt and Meyer hit his two-out home run to push the Reds to a 4-1 lead.
Reinhardt's two-out double drove in Jeff Kraschnewski, who had led off the third with a double, and started another four-run rally. Laher singled in Reinhardt. After Ben Meyer singled, Cade Alexander and Nick Meyer hit RBI singles.
Cody Loertscher and Reinhardt hit back-to-back two-out doubles in the fourth to make it 9-1.
Two Whittlesey errors led to Woebbeking's RBI single off reliever John McMurry in the bottom of the fifth, but the Reds capped things by adding an RBI groundout by Laher in the sixth and an RBI single by McMurry in the seventh.
Retterath went four innings for the Reds, allowing two hits, an unearned run and one walk while striking out two. Mc-Murry allowed two hits, an unearned run and a walk while also striking out two in two innings. Alexander covered the last three innings, allowing two hits and a walk. He struck out one.
Boie went 5.1 innings for Medford and was tagged for 13 hits and 10 runs, nine of which were earned. He struck out one and walked two. Woebbeking allowed two hits and one run in 3.2 innings. He struck out five and walked three.
Boie led Medford by going two for four at the plate.
Whittlesey can lock up an upper-half finish and a Wisconsin Baseball Association tournament berth Sunday by knocking off visiting Merrill Sunday at Mike Roiger Stadium. The Rangers are also in the post-season mix at 5-3 after their 14-1 loss Sunday to Wausau.
Medford will face Interwald in Rib Lake Sunday afternoon.
Reds 13, Osprey 2
Cody Loertscher drove in six runs, including three on a game-changing home run in the third inning to lead Whittlesey to a 13-2, seven-inning win at Rib Lake Friday night.
The loss ended a four-game league winning streak Rib Lake carried into the game and dropped the Osprey to 4-4.
Staked to a big early lead, Brandon Loertscher cruised through six innings on the bump, allowing just six Rib Lake hits, no earned runs and two walks while striking out four. Tyler Thicke closed things out by striking out the side in the seventh.
Thicke also had a big offensive night, going three for four with four RBIs and he had a key defensive play from rightfi eld when the game was still close in the early going.
Thicke's first key hit came in the top of the second after Cody Loertscher reached on an error and Reinhardt blooped a single into right. With Reinhardt running on the pitch, Thicke pulled a base hit into rightfield that scored both runners for the game's first runs.
In the bottom half of the inning, he threw out Rib Lake's Austin Ewan at home plate as he tried to score on a wouldbe sacrifice fly by Scott Hueckman.
Mildbrand led off the Whittlesey third by walking and Jeff Kraschnewski hit an infield single. Brandon Loertscher was ruled out on his sacrifice bunt attempt for running inside the baseline and interfering with the throw from Rib Lake catcher Bryant Konieczny. That call didn't please the Reds, but it was quickly forgotten when Cody Loertscher drove an Austin Edwards offering over the leftfi eld fence for a 5-0 lead.
Rib Lake hung around, getting an RBI infield single from Levi Ewan in the bottom of the third. A double play, however, ended that threat. Konieczny hit an RBI single with two down in the fourth to pull the Osprey within 5-2. But the Reds put it away in the fifth. Mildbrand walked and Kraschnewski doubled. Levi Ewan took over for Edwards and was greeted by an RBI single from Brandon Loertscher. Cody Loertscher hit a sacrifice fly and Thicke singled. McMurry hit a drive to left that glanced off Jake Brehm's glove and knocked in two for a 9-2 lead.
Cody Loertscher and Thicke hit tworun doubles in the sixth to close the scoring.
Edwards allowed six hits and seven runs, six of which were earned in fourplus innings. He walked three and hit a batter. The Reds tagged Levi Ewan for six runs and four hits in his 1.2 innings. Konieczny got the last four outs for Rib Lake and struck out two while allowing three hits, a walk and a hit batter.
Levi Ewan had two of Rib Lake's six hits.
The Osprey will host Wausau (4-3) Friday at 7:30 p.m. in the make-up date of a July 10 postponement. A big weekend for Rib Lake continues Sunday when the Osprey host league-leading Everest (8-1).